We're still in the middle of the COVID social-distancing woes, which means a lot of public spaces are closed for business. With the cooler months fast approaching, I'm giving some serious thought into how I'm going to prolong the life of my outdoor space this year.
After all, we'll likely be stuck at home for at least a few more months!
With that in mind, I've been in the market for a new patio heater (we had to leave our last one at our last house). And one thing I don't ever want to do again is lug a 75 pounds patio heater across a concrete patio.
Instead of half-carrying, half-dragging the steel across my outdoor space, I'd like to simply pick it up and roll it. Because of that, I researched the best outdoor patio heaters with wheels.
Now, I'm going to share the results with you, kind reader.
What to Look For
I don't want to dive in without first giving you a rough idea of my selection criteria. So with that being said, let's examine the attributes we're going to look for in a patio heater on wheels.
Fuel Type
Fuel type is one of the most important factors to consider when choosing any type of patio heater. This is especially true for one on wheels. You might be wondering, "Well, what are the options?"
When buying a patio heater, you'd usually have the choice between wood, electric induction, electric infrared, and liquid propane/natural gas. However, if you want a patio heater with wheels, we're going to eliminate wood from the list.
There are just aren't enough options available, unless you start counting fire pits.
Heat Output
Heat output is an obvious consideration with any patio heater model. I've covered the importance of BTU output in other guides, but suffice it to say that you want to make sure you have enough heat for the job at hand.
However, it's also important that you set your expectations realistically.
No patio heater on the market will turn your outdoor space into a sweat lodge in the middle of February. The heater is just meant to take the edge off of the cool weather!
Safety
Any time electricity, gas, and/or heat enter the equation, you need to pay a bit more attention to safety features. This is doubly true if you have children or pets running around.
Some features to look for:
Automatic shut-off triggers for heat and tilt
Heat shields around sources of flame
Elevated gas outlets (far from reaching hands)
Weight
While having wheels will certainly reduce the amount of effort needed to move your patio heater, you may still want to opt for a lighter option. Conversely, if you live in a windy area and are afraid of your patio heater falling over, you may want one with a little extra heft.
The Products
Without further ado, let's dive into the best patio heaters with wheels.
---
Best Propane Patio Heater With Wheels
| | |
| --- | --- |
| Fuel Type | Propane |
| Height | 87″ |
| Heat Output | 48,000 BTUs |
| Safety Features | Top heat shield |
| Weight | 42 pounds |
| Warranty | 1 year limited |
This patio heater from Hiland boasts an impressive 48,000 BTUs and is light enough to easily move around even the most textured patio. However, it does offer a weight bladder at the bottom of the unit that you can fill with sand or water to weight it down.
Not only does it include a generous one-year limited warranty, but the manufacturer offers an array of affordable replacement parts in case anything goes wrong after that.
Finally, it has an interesting waist-high table you can put food or drinks on during any get together. It seems far enough away to not heat up your cool beverage and is a nice-enough detail.
---
Best Commercial Outdoor Patio Heater With Wheels
| | |
| --- | --- |
| Fuel Type | Propane |
| Height | 87″ |
| Heat Output | 48,000 BTUs |
| Safety Features | Top heat shield, overturn/flameout protection |
| Weight | 42 pounds |
| Warranty | 1 year limited |
If you're looking for a commercial option, this portable propane outdoor patio heater from Klismos is a fantastic option. It's durable, which means even the rowdiest customers will find it hard to damage.
It's also remarkably safe. Sure, it has a top heat shield, but that's standard with these types of patio heaters. But it also boasts both overturn and flameout protection. That means two things:
Folks will find it difficult to topple over.
When the flame goes out, the gas will also stop coming out.
The latter is important for patio heaters that will be in operation for a long while. The last thing someone needs is a persistent gas leak!
---
Best Infrared Outdoor Patio Heater With Wheels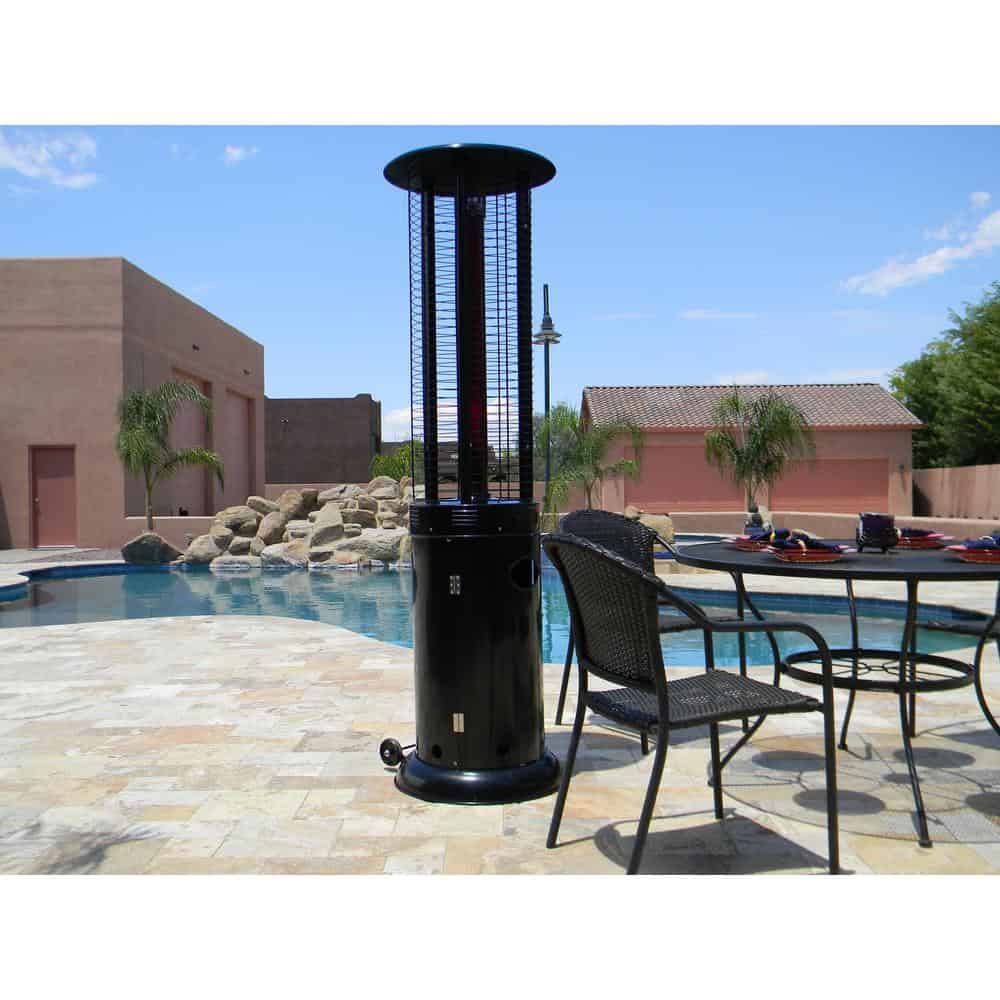 | | |
| --- | --- |
| Fuel Type | Propane (Infrared) |
| Height | 80″ |
| Heat Output | 44,000 BTUs |
| Safety Features | Hidden ignition, heat screen |
| Weight | 72 pounds |
| Warranty | 1 year limited |
---
Here's another attractive option from Hiland, this time in an infrared option. I'll go ahead and get this out of the way — this is a pricey unit. This is over twice as expensive as other similar options. So, what do you get for that extra money?
Three main things:
More radiant heat. The infrared heater naturally radiates the warmth better than its convection counterpart.
Better energy efficiency. Likewise, the infrared heater is more energy efficient than other heater types.
Increased durability and craftsmanship.
If those aspects are worth a lot to you, consider the Hiland infrared patio heater!
---
Best Electric Outdoor Patio Heater With Wheels
| | |
| --- | --- |
| Fuel Type | Electric (Infrared) |
| Height | > 72″ |
| Heat Output | 1500 Watts |
| Safety Features | Tip-over protection system |
| Weight | 48 pounds |
| Warranty | 1 year limited |
If you're more interested in simply plugging in your patio heater to the wall, or if you'd like to be more Eco-friendly, then this electric patio heater from Fire Sense might be for you.
Equipped with wheels and a 12-foot electrical cord, this heater has an impressive range and is sure to find a spot at home on your patio.
Because it's electric, this portable heater can be used outdoors as well as indoors and runs on your standard household electric current. It will also have a much lower cost of ownership than the propane options listed above.
As a bonus, the heater itself is detachable from the telescoping arm. This makes it ideal for balconies or other places where portability is a concern.
---
Common Questions
Can You Install Wheels On An Existing Patio Heater?
Perhaps you've already purchased a patio heater you're happy with, but unfortunately, it didn't include wheels. If you'd still like to avoid the soul-wrenching sound of metal grinding against concrete, there is hope.
You can easily install wheels onto an existing patio heater. The following kit from Amazon gives you everything you need to convert your patio heater into one with wheels.
Will a Dolly Work?
Regular dollies (also known as hand trucks) also enable you to easily move your patio heater across concrete without causing offensive noise or damage to your unit. Simply follow these steps:
Slide the lip of the dolly underneath the patio heater.
Check to see if the heater is snug by lightly shifting it from side to side.
If the heater wobbles, add a bungee cord or a ratchet to the heater until it feels snug.
Tilt the heater back and move it to the new desired location.
Don't have a dolly?
Want to know more about patio heaters?
I've covered more than a few topics about patio heaters. If you're warm to the idea of learning more, check out the rest of Captain Patio's fiery articles. There are more puns within.