Everyone has had at least early weekend morning interrupted by the noise of an angry sounding leaf blower. In fact, I don't think there is another lawn implement quite as controversial as this roaring menace. Even the rain can't block out the sound of these machines!
But what makes these gas-powered tools so darn loud?
The answer lies in the frequency of noise produced by the engine. A study conducted out of Harvard University identified that the low frequencies of the leaf blower engine caused the sound to travel further. This subsequently caused the sound to hold onto its volume for a longer period of time.
Plainly put, the same type of physics that causes sub-woofer vibrations to travel also makes leaf blower noises a neighborhood menace.
For specifics, let's take a look at the following graph from the study above.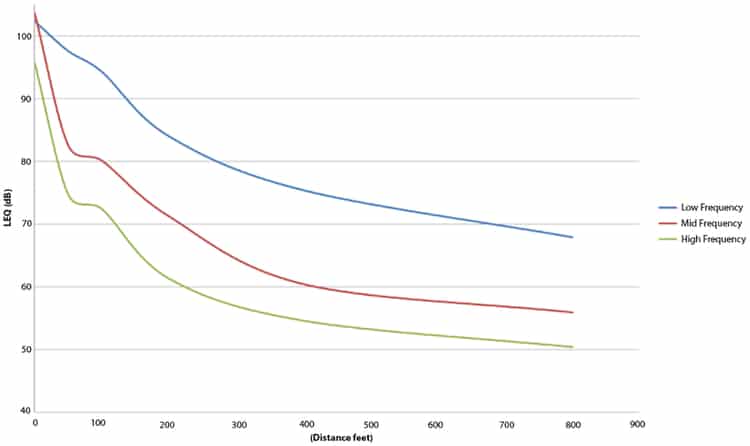 As you can see, the low frequency sounds are still at 70 dB at 800 feet away!
This clearly identifies the reason why you can hear a neighbor's leaf blower from down the road. However, what causes leaf blowers to produce the loudness to begin with?
American Green: The Obsessive Quest for the Perfect Lawn is a 2007 book exploring the American obsession with lawn-care. It identified the key reasons why leaf blowers operated at such a high volume.
Most commercially available leaf blowers are powered by inefficient 2-stroke engines and are framed by flimsy, lightweight metal. Because of this, very little sound insulation exists on the frame.
Additionally, the small engines run at up to 9000 RPMs. This is far faster than automobile engines and greatly contributes to their sound profile.
So, now we know why leaf blowers are so loud. But how loud do they really get?
Quantified Loudness
Let's look at some actual figures to determine how loud an average leaf blower gets.
The following figure is from an anti-leaf blower activist group based out of Portland, Oregon. They compared two leaf blowers (one gas, one electric) to see what the sound profile was at 400 feet.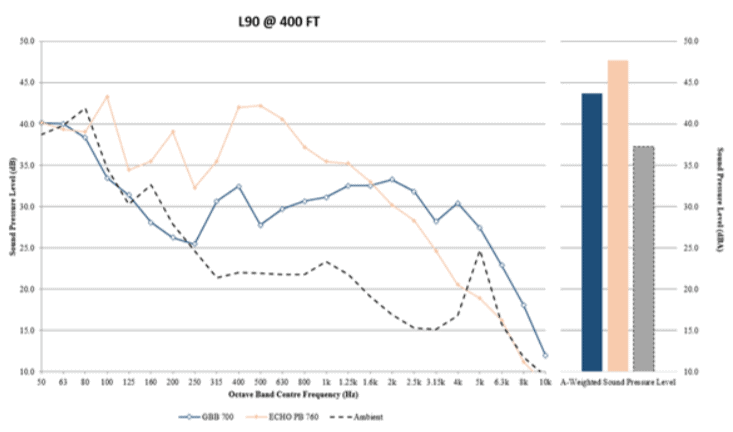 As you can see, the gas leaf blower has a much higher noise impact than the electric leaf blower at 400 feet precisely because of the low frequency content of the noise.
With hard data in hand, we can safely say that electric leaf blowers are quieter than gas models. However, it's not by much!
You may be wondering at this point if this is unique to leaf blowers, or whether this is a characteristic of all small engines. Let's take a look at how the different small-engine outdoor power tools compare.
| Outdoor Power Tool | Loudness |
| --- | --- |
| Leaf blower | 90-100 decibels |
| Chain saw | 110 decibels |
| Air compressor | 92 decibels |
| Pressure washer | 100 decibels |
| Table saw | 93 decibels |
| Weedeater | 96 decibels |
| Riding lawn mower | 90 decibels |
Sources: [1], [2]
As you can see, leaf blowers exist on the upper end of the loudness scale for outdoor power tools. Although they aren't as loud as chainsaws, they're usually louder than mowers, weed-eaters, and air compressors.
At this volume, hearing damage can occur in as little as 20 minutes. Because of that, you should always use hearing protection when operating leaf blowers (and other loud machinery).
Even with protection, the benefits may not outweigh the cost of gasoline leaf blowers when also taking particulate matter and other air pollution into account.
Choosing Peace & Quiet
There are options if you require the utility of a leaf blower but don't want you or your neighbors to suffer the noise pollution of a standard model.
Most manufacturers offer quieter options, many clocking in at under 70 decibels. However, it may be difficult to pick out which models operate at this volume.
To save you the trouble, I've identified a list of the quietest leaf blowers available today.
| Manufacturer | Model | Loudness |
| --- | --- | --- |
| Stihl | BR 500 | 65 dB |
| Stihl | BGA 85 | 64 dB |
| Stihl | BG 66 L | 65 dB |
| Stihl | BGE 61 | 64 dB |
| Stihl | BGE 71 | 58-64 dB |
| Husqvarna | 356BT | 64 dB |
| Husqvarna | 356BF | 64 dB |
| Black & Decker / Dewalt | BV 2500 | 65 dB |
| Echo | PB-265 L | 65 dB |
| Echo | PB-460 LN | 65 dB |
| Echo | PB-255 | 64 dB |
| TORO | 51585 Power Sweep | 63 dB |
| TORO | 51599 Ultra Blower Vac | 67 dB |
| TORO | 51592 Super Blower Vac | 67 dB |
| TORO | 51574 Rake and Vac | 66 dB |
As you can see, there are many products that offer performance while also staying relatively quiet. Even if your municipality has enacted a noise ordinance against leaf blower loudness, there is likely an option for you.
With so many options above, it's understandable that you might feel a bit overwhelmed. So which option does the Captain recommend?
You can't go wrong with anything from Echo, and here's why:
Not only are Echo leaf blowers quieter, the company has custom-designed the fan and mufflers to something that attenuates sound better.
If I had only one leaf blower to pick, it would be an Echo.
Ettiquete and Protocol
Often, you don't necessarily need a quieter leaf blower. You may simply need a better relationship with your neighbors. I try to always be respectful when operating my leaf blower and make an attempt to be mindful of their space.
A small bit of consideration can go a long way when it comes to how annoying a leaf blower can be.
Here are a few tips to help you take your neighbors' feelings into account.
Avoid running your leaf blower in the early hours of the morning when people are likely to be sleeping.
If your neighbor has animals, try to wait until they're inside before operation to limit the trauma caused.
To avoid complaints from your neighbor, you can always wait until they're not home to run the equipment.
Consider offering to clean their driveway/facade. This way, they'll be thankful to hear the engine start-up.