Artificial grass and concrete are durable landscaping options, but neither lasts forever. Artificial grass is a viable alternative for natural lawns, softscaping, and both outdoor & indoor turfs. Concrete is suitable for any outdoor or indoor site that requires a hard turf or foundation.
Artificial grass and concrete costs depend on the material quality, total area, and site condition. Both artificial grass and concrete are appropriate for various settings, including similar sites, but with significant advantages and disadvantages.
Although you can consider artificial grass and concrete as interchangeable landscaping materials, their differences distinguish the feasibility and your user experience. This guide elaborates on all practical disadvantages, viable uses with caveats, and costs.
Artificial Grass vs. Concrete – Cost
Artificial grass costs around $2 to $10 per square foot (0.09 sq m), excluding the prices of other essential materials, labor, and site preparation. The artificial grass turf aside, you need road base, weed barrier fabric, bender board, infill, and essentials like nails, stakes, seaming tape, and glue.
According to one estimate by Install It Direct, the total cost of artificial grass installation is around $12,000 for an area spanning 1,000 sq ft (92.90 sq m).
This cost accounts for all taxes in Southern California, 10% company overhead, and 10% profit. The artificial grass type considered for this analysis is of ordinary to moderate quality.
Hence, an approximate cost of artificial grass is around $12 per sq ft (0.09 sq m) or $130 per sq m (10.76 sq ft). Concrete usually costs around $4 to $10 per sq ft (0.09 sq m).
According to Landscaping Network, plain concrete is the cheapest, around $2 to $5 per square foot (0.09 sq m). Stamped concrete can cost up to $10 per square foot (0.09 sq m). Colored concrete costs are between $5 and $15 per square foot (0.09 sq m).
Any special feature of concrete increases the cost. Thus, if you want customizations like a particular color, the cost could be more than $15 per square foot (0.09 sq m).
Likewise, if you want a specific pattern of installation, thereby changing the pouring process, the cost surges northward.
The cost of concrete ranges between $5 to around $8 per sq ft (0.09 sq m), including installation.
Here are a few caveats for both artificial grass and concrete costs:
Artificial grass for a small area may cost less than $12 per sq ft (0.09 sq m) subject to site condition.
Premium-quality artificial grass may cost more than $12 per sq ft (0.09 sq m), including installation.
Reinforced concrete costs around $10 per square foot (0.09 sq m), excluding labor & installation.
Unique needs can increase the cost of pouring or installing concrete beyond $8 per sq ft (0.09 sq m).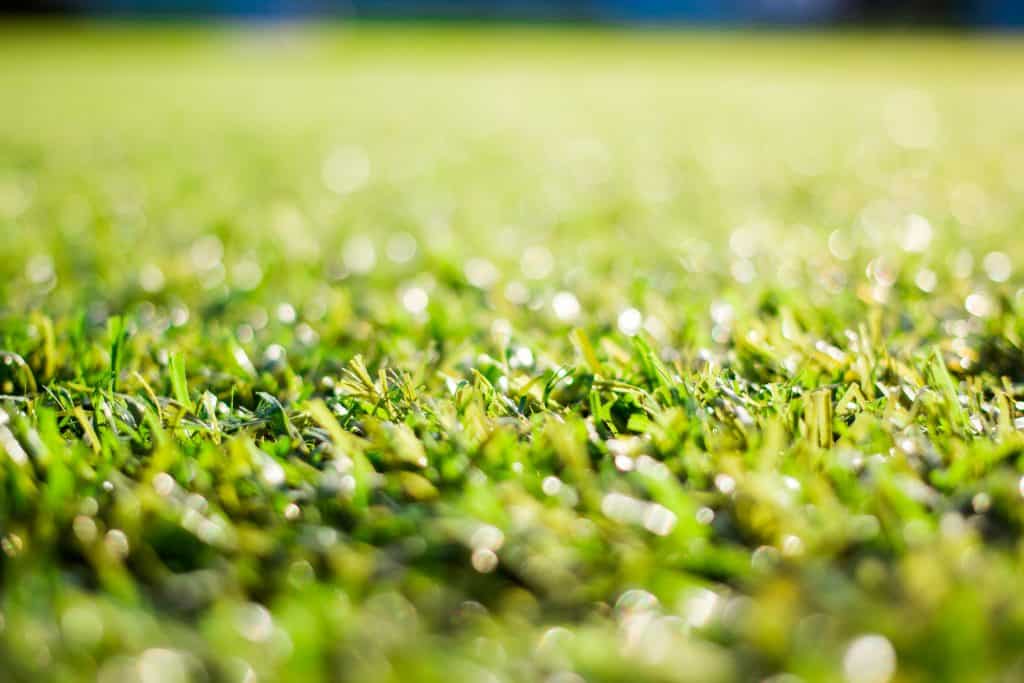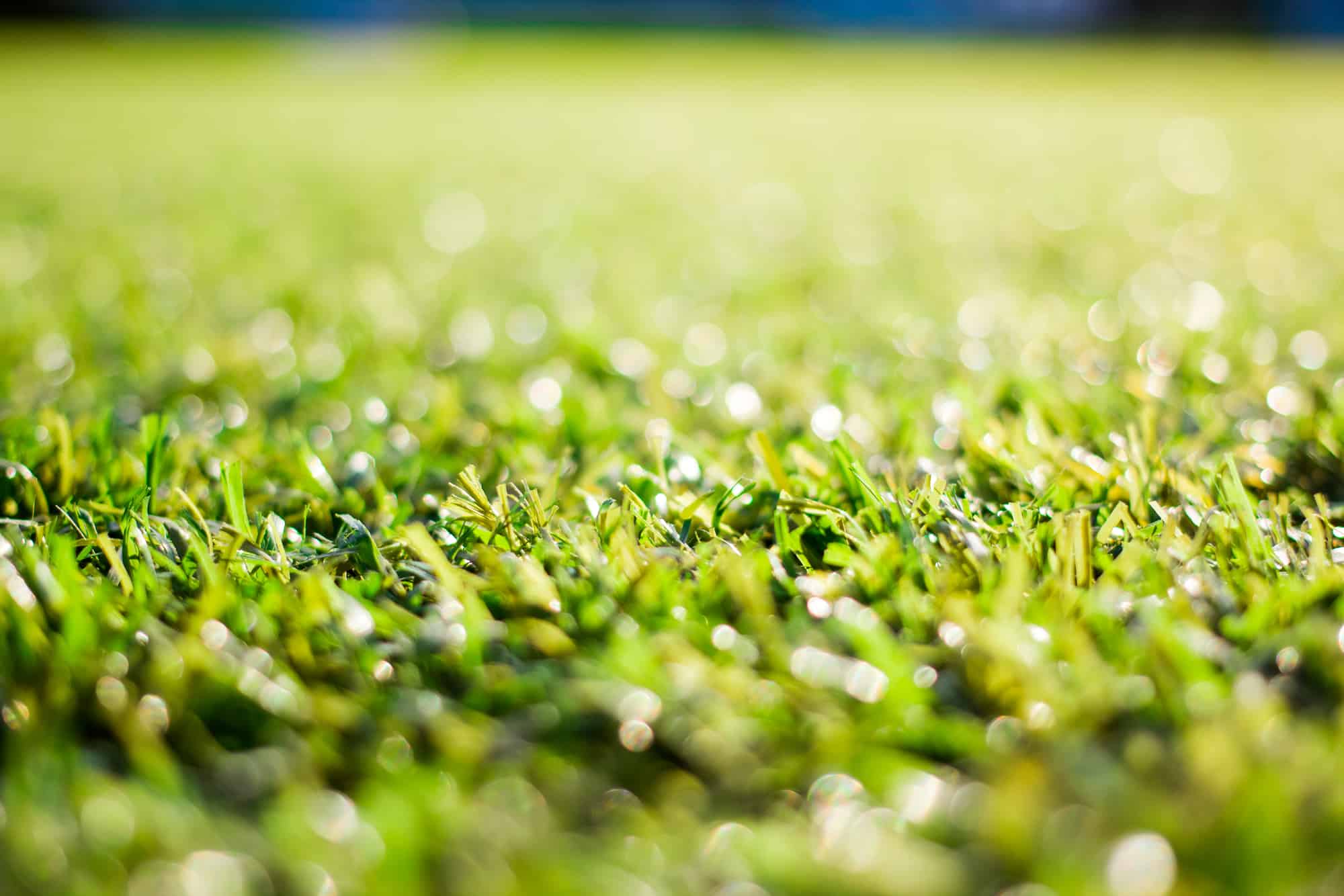 Artificial Grass vs. Concrete – Uses
Artificial grass is better suited for softscaping. Concrete is appropriate for hardscaping. You may consider artificial grass for sites that require a hard turf, but there are disadvantages. Likewise, you can consider concrete for areas where a soft turf will be ideal, but a few demerits exist.
Here's a comprehensive take on the various uses of artificial grass and concrete:
| | | |
| --- | --- | --- |
| Site | Artificial Grass | Concrete |
| Lawn | Suitable | Unsuitable |
| Driveway | Unsuitable | Suitable |
| Yard | Suitable | Suitable |
| Roof | Suitable | Suitable |
| Garage | Unsuitable | Suitable |
| Deck, Patio, and Paving | Suitable | Suitable |
| Edging and Curbing | Suitable | Suitable |
| Sports Facilities | Fields and soft courts | Hard courts and rinks |
| Commercial Spaces | Suitable in no-traffic areas | Suitable |
| Industrial Premises | Unsuitable | Suitable |
Both artificial grass and concrete need appropriate site conditions for installation. The current state of a particular area is an immensely significant decider, not only regarding the cost but also feasibility at the outset.
While a site's purpose and condition are quintessential factors, the precise nature of intended use should be the ultimate decider. Artificial grass and concrete don't have identical resilience.
Also, they're not equally compatible for all types of activities.
Artificial Grass vs. Concrete – Similarities and Differences
Artificial grass and concrete couldn't be more dissimilar. Yet, both are interestingly considered comparable options for landscaping and other purposes, such as sporting arenas.
Weigh all the fundamental differences and implied similarities between the two materials before deciding.
Softscaping vs. Hardscaping
Artificial grass is softer than concrete. If a site requires a cushioning effect, such as lawns and yards, go for artificial grass. If a site must have a hard turf, such as driveways, concrete is the better material.
The choice becomes complicated when a site can function with a somewhat soft or a hard turf; and in this case, artificial grass isn't as soft as natural grass. The cushioning effect is limited. The infill will compress in due course, and the artificial grass will harden over time, unless it's a unique material like ZeoFill. Concrete doesn't soften or harden in time.
Both softscaping and hardscaping require site or land preparation. Artificial grass isn't necessarily more demanding because its total cost of materials and installation already factors in the essential preparation.
Concrete installation may cost more if the land isn't suitable. For instance, if the surface isn't flat or has a gradient unsuitable for pouring concrete, the land must be appropriately sloped or graded before installation.
Any complex pre-installation process increases the cost for both artificial grass and concrete.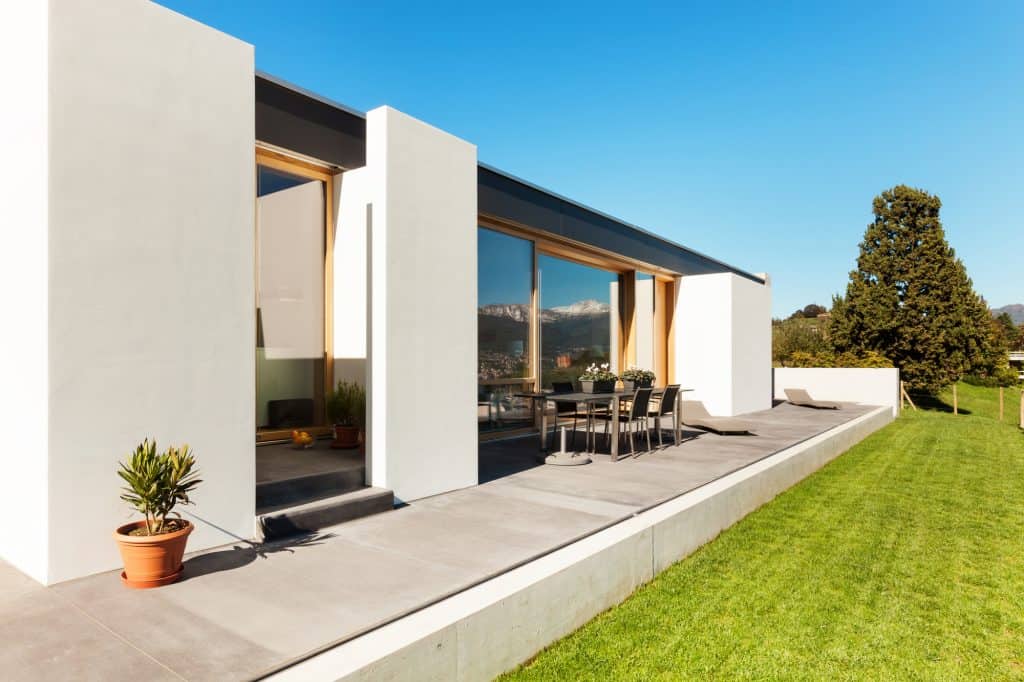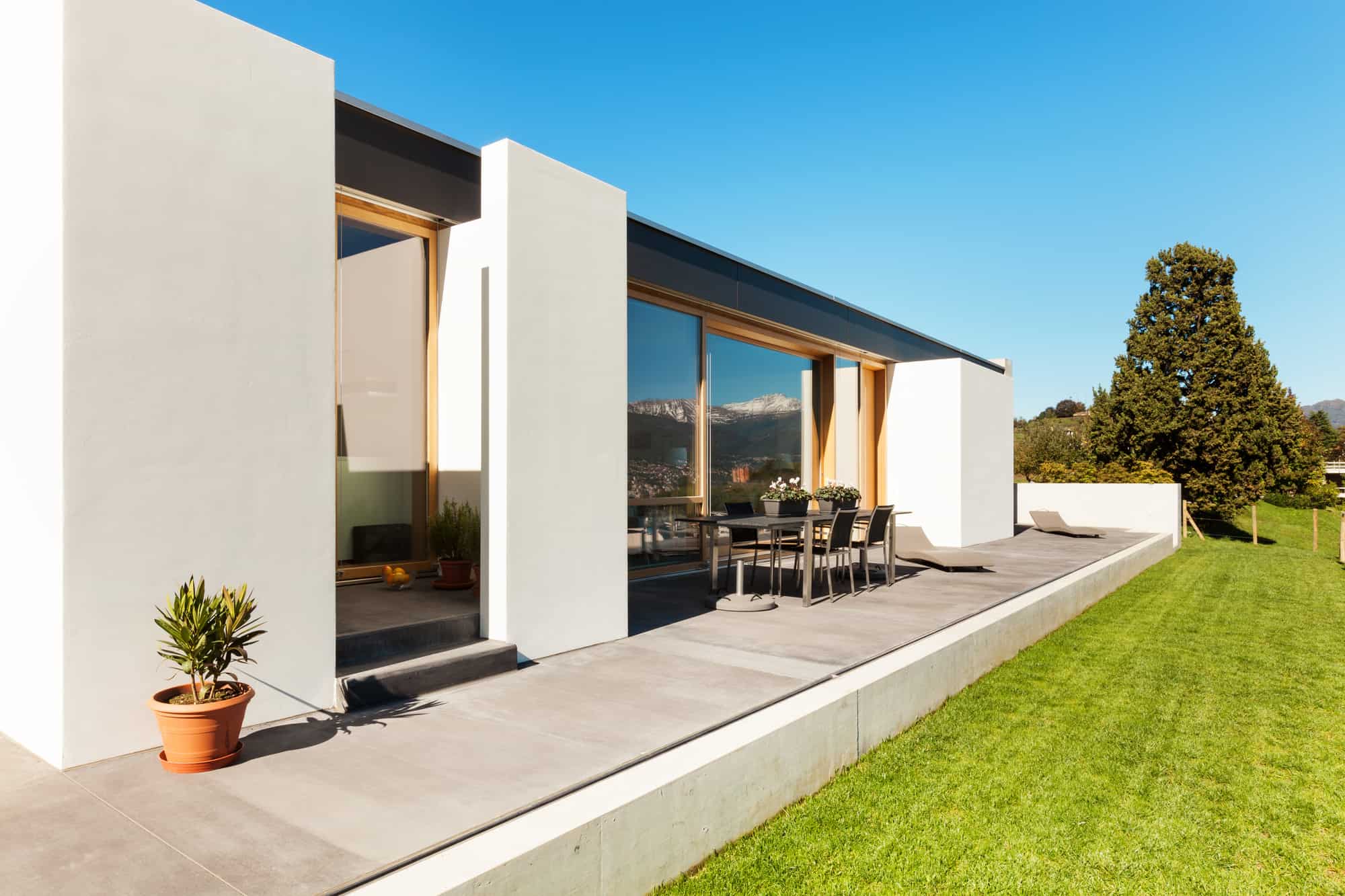 Functional Performance and Resilience
Artificial grass isn't as resilient as concrete, which is why it's not suitable for driveways. Any site that must endure heavy-duty loads or significant pressures, such as the weight of a car or extensive foot traffic, calls for concrete.
Also, artificial grass isn't appropriate for turfs that must support convenient mobility. Take skateboarding or cycling, for instance. The wheels won't roll as effortlessly as they would on concrete.
Furthermore, wheels, frequent foot traffic, and dragging on artificial grass will tear and rip the material.
Some types of artificial grass can facilitate vehicular movement or mobility, such as putting green. However, synthetic putting green costs more than regular artificial grass turfs.
Concrete has its share of limitations, too. The functional performance and resilience of concrete depend on many factors, such as grade, thickness, and land preparation. In some cases, concrete may require a finish or protective coating. Such features increase the cost.
Cleaning and Maintenance
Artificial grass and concrete are low-maintenance materials. You can bid adieu to mowing, weeding, seeding, fertilizing, and watering, otherwise necessary for natural grass. However, you'll still need to clean artificial grass and concrete turfs.
The cleaning process may or may not be complicated depending on the site's purpose. Neither artificial grass nor concrete is completely immune to stains.
Some manufacturers use UV stabilizers and chemicals to thwart stains. Polished concrete is stain-resistant. However, any caustic material can stain artificial grass and, in some cases, concrete.
You can use a pressure washer for both. Just be sure to regulate the pressure for artificial grass to avoid damaging the turf.
Sustainability and Durability
Concrete turfs can last for around 20 years, if not longer. Unlike enormous concrete structures that can survive for over a century, turfs and similar installations are relatively less durable.
However, concrete remains sustainable throughout its longevity.
Artificial grass sustainability and durability depend entirely on its quality. Concrete's grade and thickness have a consequential effect, too. However, concrete has fewer varieties, and it's time-tested and proven to be a durable material.
Comparatively, artificial grass is an evolving landscaping solution. The glues, tapes, nails, infills, barriers, and base materials affect the sustainability and durability of artificial grass.
Concrete has fewer consequential elements. If you choose premium-grade concrete and a reliable contractor, the only challenge remains site preparation and pouring. Once the concrete is poured and cured, you don't have to worry about anything (save a mini armageddon).
Artificial grass manufacturers and some contractors claim durability of 10 to 15 years. In reality, the standard quality artificial grass may last up to half of that time. Besides, artificial grass discolors and the appearance, feel, and texture deteriorate upon use and weathering.
Artificial Grass vs. Concrete – Disadvantages
Artificial grass has a few more disadvantages than concrete, albeit the latter also needs some extra features for perfection. Furthermore, these disadvantages have an inevitable impact on user experience, and should be considered before you decide.
The Heat Problem
Both artificial grass and concrete get hot when exposed to the scorching heat of the summer sun. Neither material poses a problem in a frigid or temperate region with mild summers.
However, artificial grass isn't ideal for tropical climates.
Artificial grass can get around 40 °F to 70 °F (4.4 °C to 21 °C) hotter than the surrounding air temperature on sunny days. According to this Synthetic Surface Heat Studies, the surface temperature can be 37 °F to 86.5 °F (2.8 °C to 30 °C) hotter than asphalt and natural turf, respectively.
The same Brigham Young University report states that irrigation can reduce the artificial grass surface temperature on a hot day from 174 °F to 85 °F (78.9 °C to 29.4 °C). However, the temperature rebounds within minutes of stopping the water-induced cooling.
In contrast, the study notes that concrete turf gets heated to around 94 °F (34.4 °C). However, concrete driveways or sites exposed to direct sunlight can get as hot as 135 °F (57 °C).
The Verdict
Artificial grass is made of synthetic fibers, such as polypropylene, and rubber, among other materials. Hence, it's not eco-friendly. Also, artificial grass is vulnerable to damage, particularly from heavy objects and if the edges of patio or lawn furniture are sharp.
Concrete needs reinforcement for enhanced strength & durability and polish, stain, or color for a desirably aesthetic finish. These reinforcements increase the cost. Compare all such factors when choosing between artificial grass and concrete.
Sources