Porch swings are truly the heroes of most front porches. Many a cool night has been spent swinging idly back and forth in them watching the world go by. Trust us — we know exactly what the appeal is.
We've written a lot on the subject, actually. And we want to share our learnings so that you, as a responsible porch swing owner, have everything you need. While they are simple contraptions, things can go wrong!
So let's buckle up and explore everything Captain Patio has to offer in the realm of porch swings.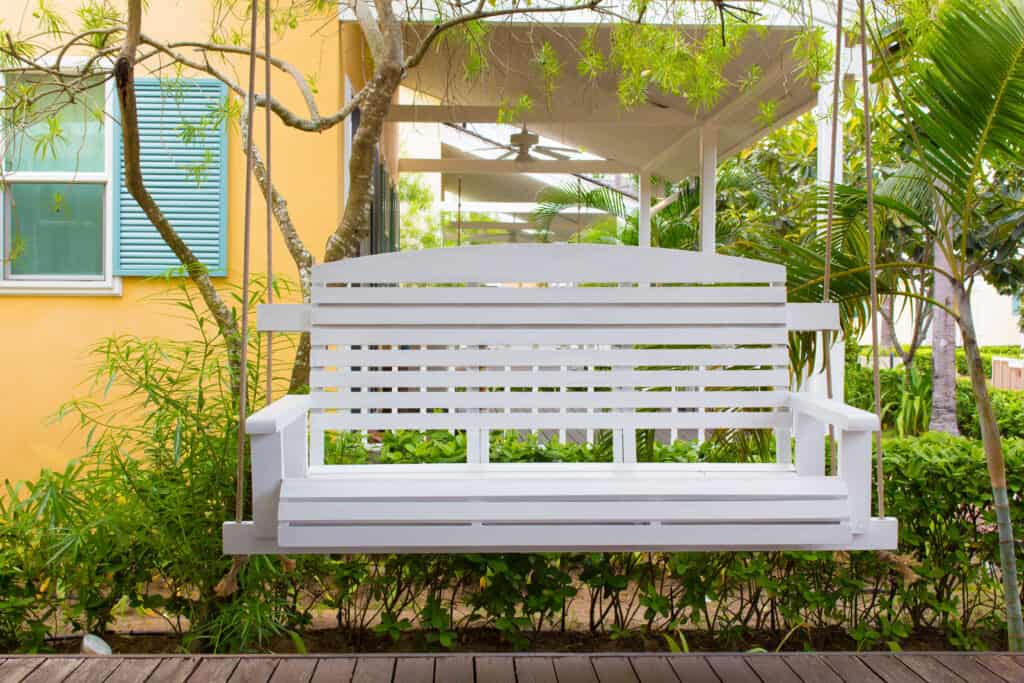 Installation
After choosing a porch swing to build or buy, the first thing you need to do is install it. Luckily, installation is a relatively straightforward process — you choose a location, get the necessary hardware, and hang the swing.
But there are pitfalls and considerations to make before you jump in.
The Best Wood
If you're building or buying your porch swing and it's made out of wood, you have a very important choice to make. What kind of wood should it be made out of?
The longest-lasting wood to pick for your porch swing is cedar — this will keep it resistant to rot and humidity. However, there are many options. We actually wrote an entire article comparing the pros and cons of various woods to use.
The Best Hardware
After choosing the wood, you have to pick the hardware necessary to hang your porch swing. There are a lot of considerations to make and you'll want to first determine how much weight your porch swing is going to need to hold. We wrote about that here.
Once you determine that, it's time to pick your hardware. We recommend this hanging kit from Amazon (affiliate link), rated up to 750 pounds. However, your needs may vary and you also have to pick a chain. We also wrote about the best hardware to hang a porch swing below.
Choosing a Location — Under Your Deck?
Before you hang your swing, you have to pick a location. You probably already have a reasonable place in mind. One question we've received often about porch swings is whether or not you can hang them underneath your deck.
We're happy to say you absolutely can. However, there are aspects to keep in mind throughout the process. And you guessed it — we wrote more about it.
Protecting Your House From Dings
The location you chose might be next to your exterior walls. If this is the location you chose, it's important to understand how you can protect your siding from dings and dents. Putting a swing too close will ensure that impacts happen.
We completely cover how to avoid this nuisance and protect your house from dings.
Diagnosing Issues
Of course, problems can often arise after DIY installations. Folks are rarely so handy as to do a perfect job the first time. That's no problem — this is how you learn to do more things. Mistakes are part of the job.
However, there are some common issues surrounding porch swings to take into consideration.
Fixing a Crooked Porch Swing
Everyone has at one point sat on a crooked porch swing. One that just doesn't quite swing straight.
It can be maddening, but there are ways to diagnose and fix the issue. Of course, if it's bad enough you may need to completely rehang it. To figure out your situation, consider reading our guide on the subject.
Fix a Squeaking Porch Swing
Arguably the worst kind of annoyance from a porch swing is the incessant squeak that emerges after a long period of use. That noise has ruined more than its fair share of evenings. Thankfully, your eardrums don't have to be subjected to it.
There are small things you can do to help fix your squeaking porch swing.
Keeping it From Flipping Over
This goes in the "things that can go catastrophically wrong" bucket. It's not common, but some folks managed to hang a DIY swing that has the habit of flipping completely over. Naturally, you don't want this to happen to your swing.
If it's already a problem, there are thankfully things you can do to help mitigate it.