Don't you hate it when you buy something only to have it go on sale just days later? It always feels like such a punch in the gut. There are no guarantees, but you can take steps to minimize the risks of it happening to you again. Making these purchases isn't a science, but I'm going to try to empirically tell you the best time to buy patio furniture. Or at least, when the worst time tends to be.
When Does Patio Furniture Go On Sale?
Many folks will try to tell you that there's a magic time of year you can buy patio furniture and automatically get the best price. I'm here to tell you that's complete hogwash. There is no grand patio furniture pricing conspiracy. Yes, generally you'll spend less money on patio furniture if you choose to buy outside the summer months. But any other time of year is fair game! As long as you don't purchase patio furniture in May/June/July, you're probably paying a fair price.
Don't believe me? Let's look at some price histories for various pieces of patio furniture.
Price History: Exhibit A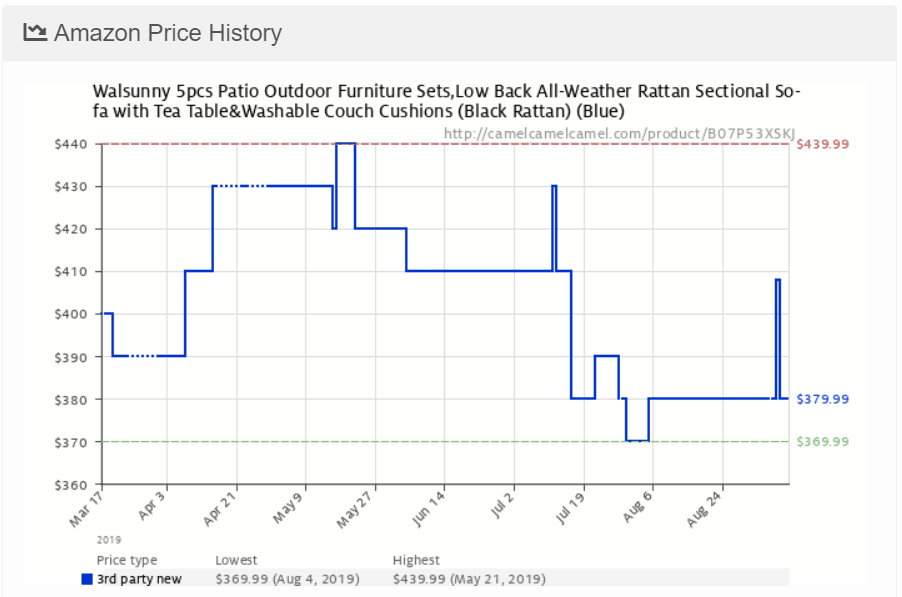 This 5-piece outdoor furniture set (link) dropped to it's lowest price in late July/early August. However, it stayed withing $10 of the sale price from mid-July all the way to September of this year. Interestingly, there was a slight $20 price bump around 4th of July and Labor Day.
Let's look at the price history for another 5-piece furniture set to see if we can spot a pattern.
Price History: Exhibit B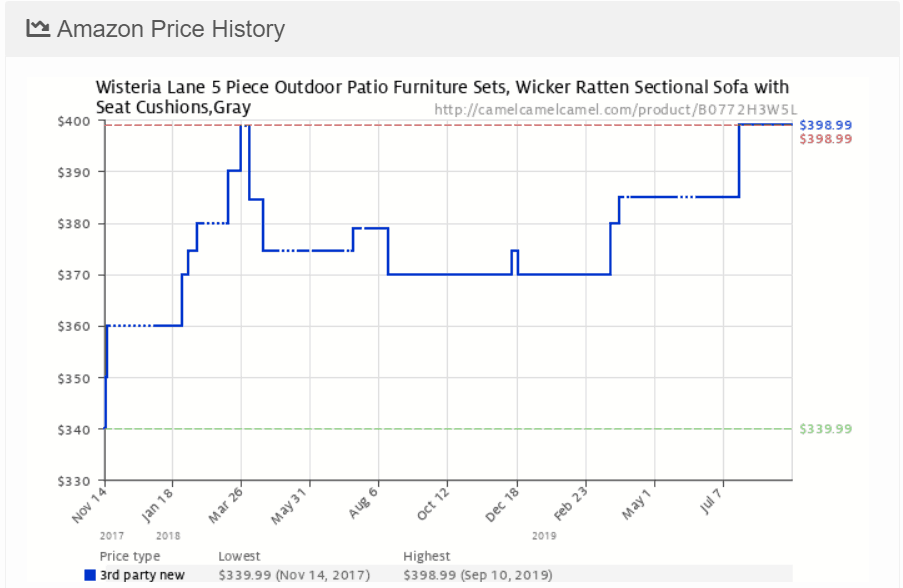 This 5-piece outdoor furniture set (link) had it's lowest price way back in November. Presumably, this was when the model was added to the Amazon inventory. Since then, it has risen $60. However, from late-March to mid-July, it could be found for $15-$30 less than it's current price. Unlike Exhibit A, We don't see a similar spike around holiday's with this manufacturer.
I can't find a major pattern between these two data points, but perhaps the path with clear with one more.
Price History: Exhibit C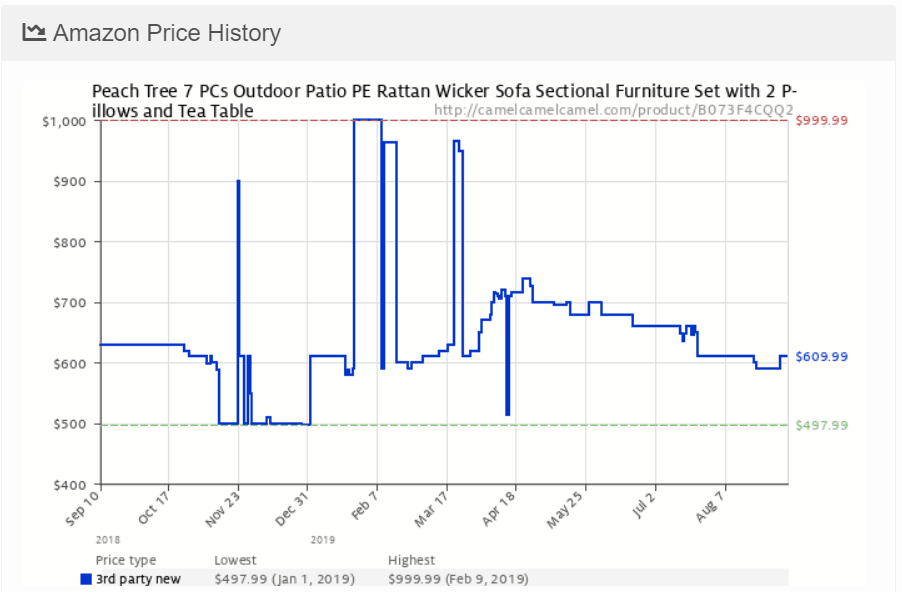 Exhibit C: This 7-piece patio furniture set (link) has a particularly interesting price history. As you can see, the price varies wildly between the cheapest and the most expensive (the price more than doubles!). Similarly to Exhibit A, it looks like the price peaked three times:
Briefly in late-November (presumably for Black Friday)
For about a month between mid-January and mid-February
Again in late-March/early-April (perhaps in preparation for Easter?)
Surprisingly, the price plummeted briefly in mid-April. I'm not sure what to make of this. It's possible this manufacturer simply ordered too many units and needed to liquidate their inventory.
Tips To Spend Less On Patio Furniture
Although there's no noticeable pattern between the three price histories we examined, their chaotic nature is actually a data point itself. Despite the "advice" of many other websites, there doesn't seem to be a "best time" to buy patio furniture. But here are some tips to make sure you're making a good purchase when the time comes:
Always check a price history site like CamelCamelCamel before making the final purchase.
The prices do tend to lower in the winter months, although this isn't always the case.
Beware of buying on Black Friday / Memorial Day / Labor Day, as the prices can actually be higher.
This advice applies to more than just patio furniture. If you asked me when to purchase any big ticket item, the information I gave would be largely the same. Although various groups of products will be effected differently by seasonality, the core message remains unchanged.
When Is The Worst Time To Buy Patio Furniture?
If we look again at exhibit C, we can see that the manufacturer really inflated prices for Black Friday, the Valentine's Day season, and potentially Easter. Although many manufacturer's brag about having major sales during special holidays, we just uncovered that the opposite is possible. It's important to do your due diligence and ensure the price isn't actually higher. The conventional wisdom is that retailers will lower their prices for these holiday sales, but price comparison tools can tell you if you're actually being swindled.
If you're in a pinch and want to make sure you pay a fair price, I created a thorough write-up of quality patio furniture sets under $200.