Redesigning your patio or garden can be an exciting project but can also be costly. So, when selecting the style and furniture, you might be looking at creating a stylish area that will stand the test of time.
That's where the material's durability and resilience come into play.
The most durable patio furniture materials include aluminum, teak, synthetic resin, iron, and steel. However, tempered glass, high-pressure laminate, and concrete can be viable alternatives for a minimalistic look. Polyester fabrics are the most durable for pillows, slings, and bean bags.
Picking the style and furniture for your patio can be an intimidating process, especially when you are under the pressure of making a durable and efficient choice. That's why we have ranked the best patio furniture materials by durability. Check out the top ten below!
Aluminum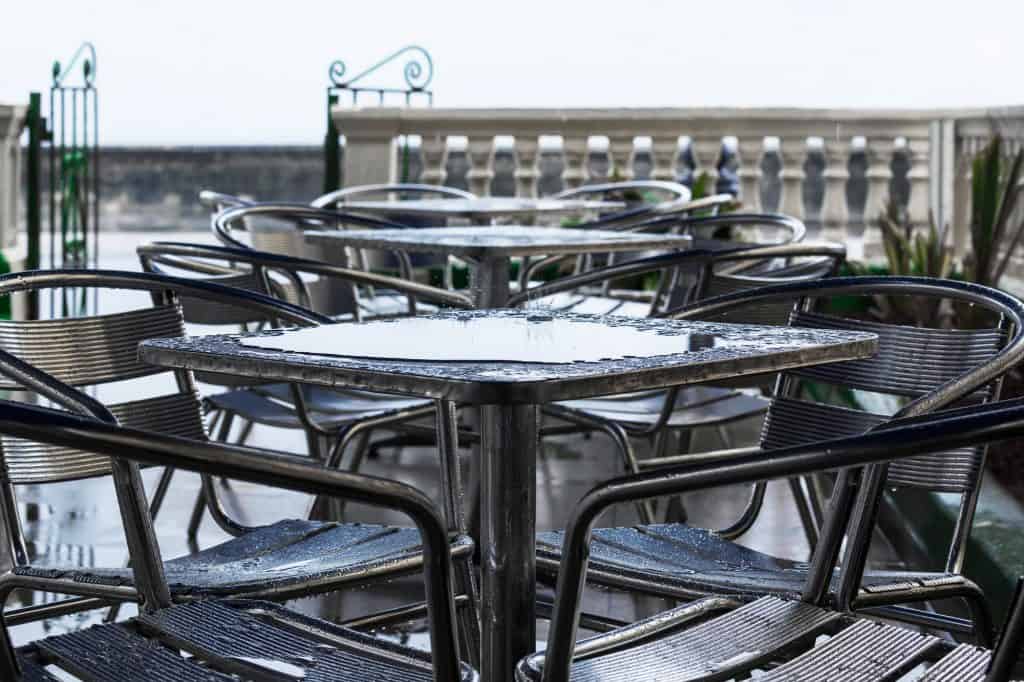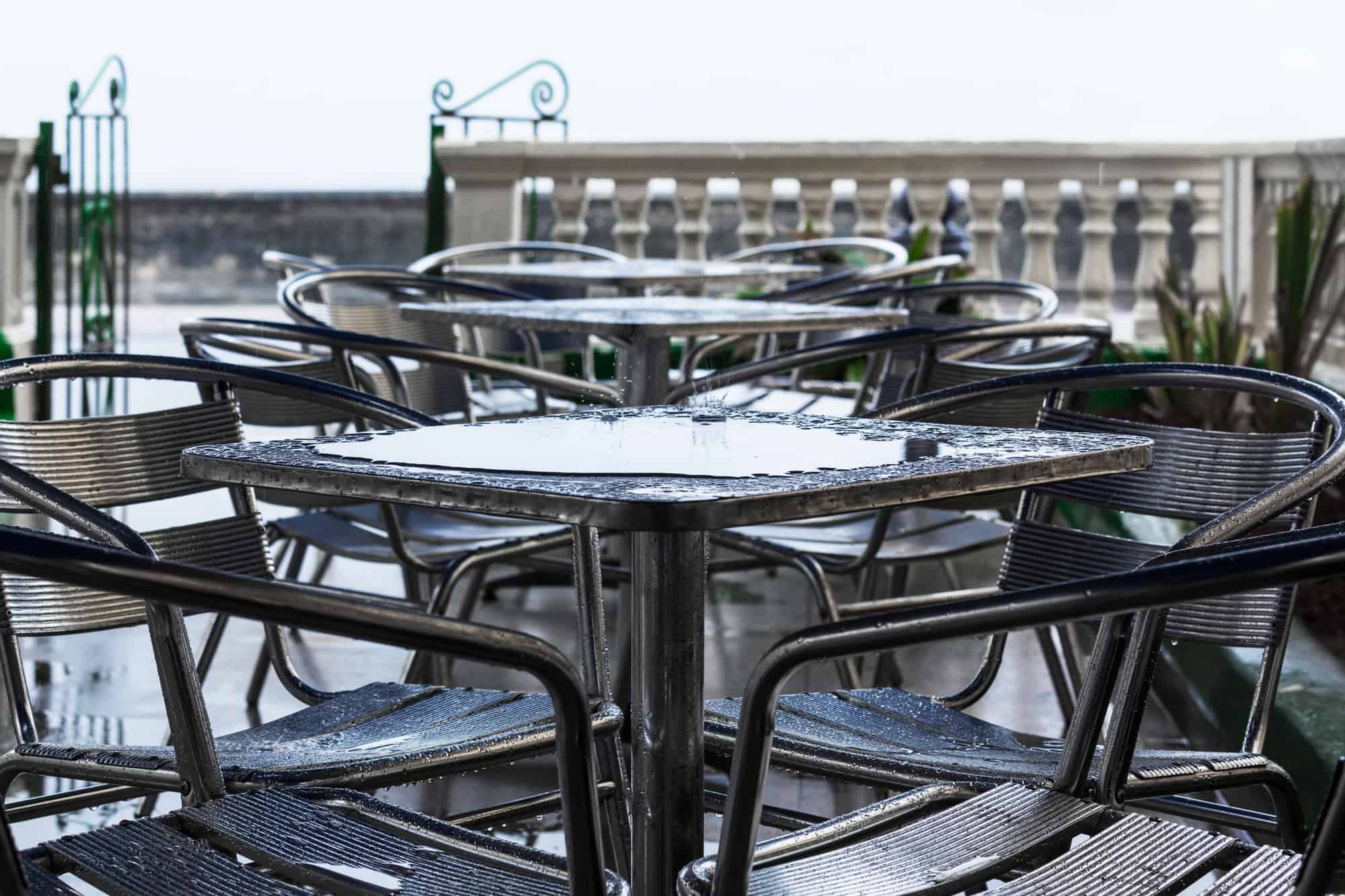 If you have decided to give your patio a modern but durable and convenient look, aluminum is the best material for your furniture.
This metal is one of the most popular choices for outdoor elements such as tables and chairs.
Besides being extremely durable, aluminum is also strong and extremely lightweight, allowing you to move your furniture, reposition it, and store it as required.
Additionally, all these benefits don't have to come at the expense of style. Indeed, because aluminum is so versatile and can be molded in various shapes, you will find a great variety of furniture styles on the market.
If you opt for colorful pieces of furniture, it is crucial to consider investing in powder coating for the aluminum elements rather than paint. This option allows you to add an extra layer of protection to the aluminum surfaces, protected from moisture, salt air, and scratches.
Indeed, while aluminum is resistant to the elements and rust-proof, powder coatings adhere better to the surface, allowing the furniture to withstand the elements for longer.
The only downside of aluminum furniture is that, like other metals, it can retain heat and cold. So, you might need to add extra cushions to enjoy it in not-so-mild climates.
Pros
Extremely lightweight
Rust-proof and resistant to the elements
A highly versatile material
One of the most popular materials for outdoor furniture
Powder coating adds extra protection against salt air
Perfect for windy locations
Wood (Teak, Shorea, and Other Hardwoods)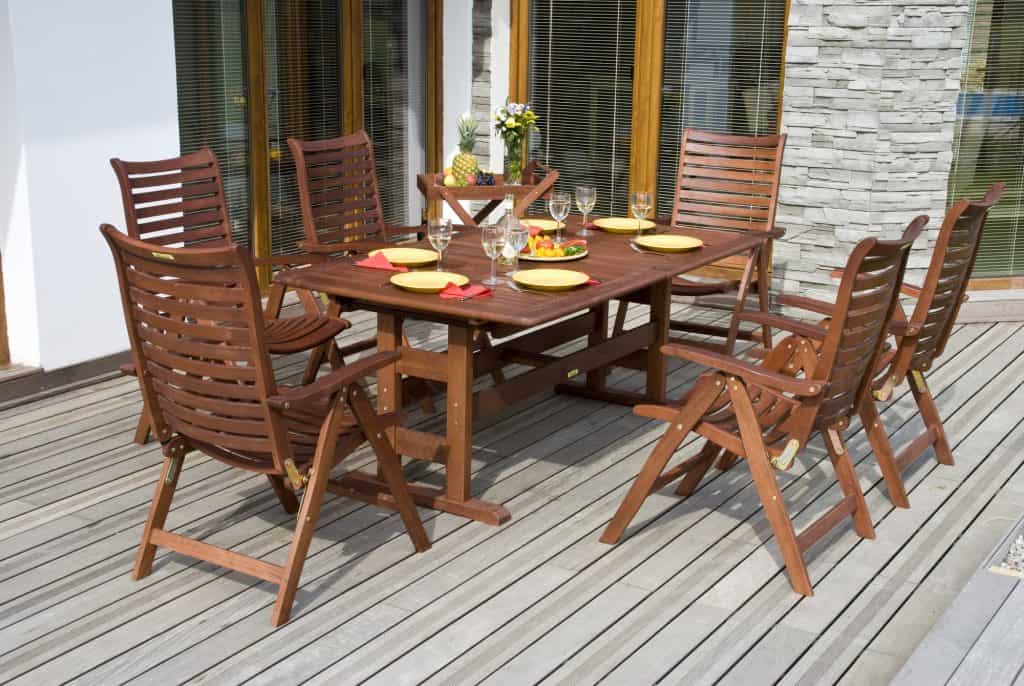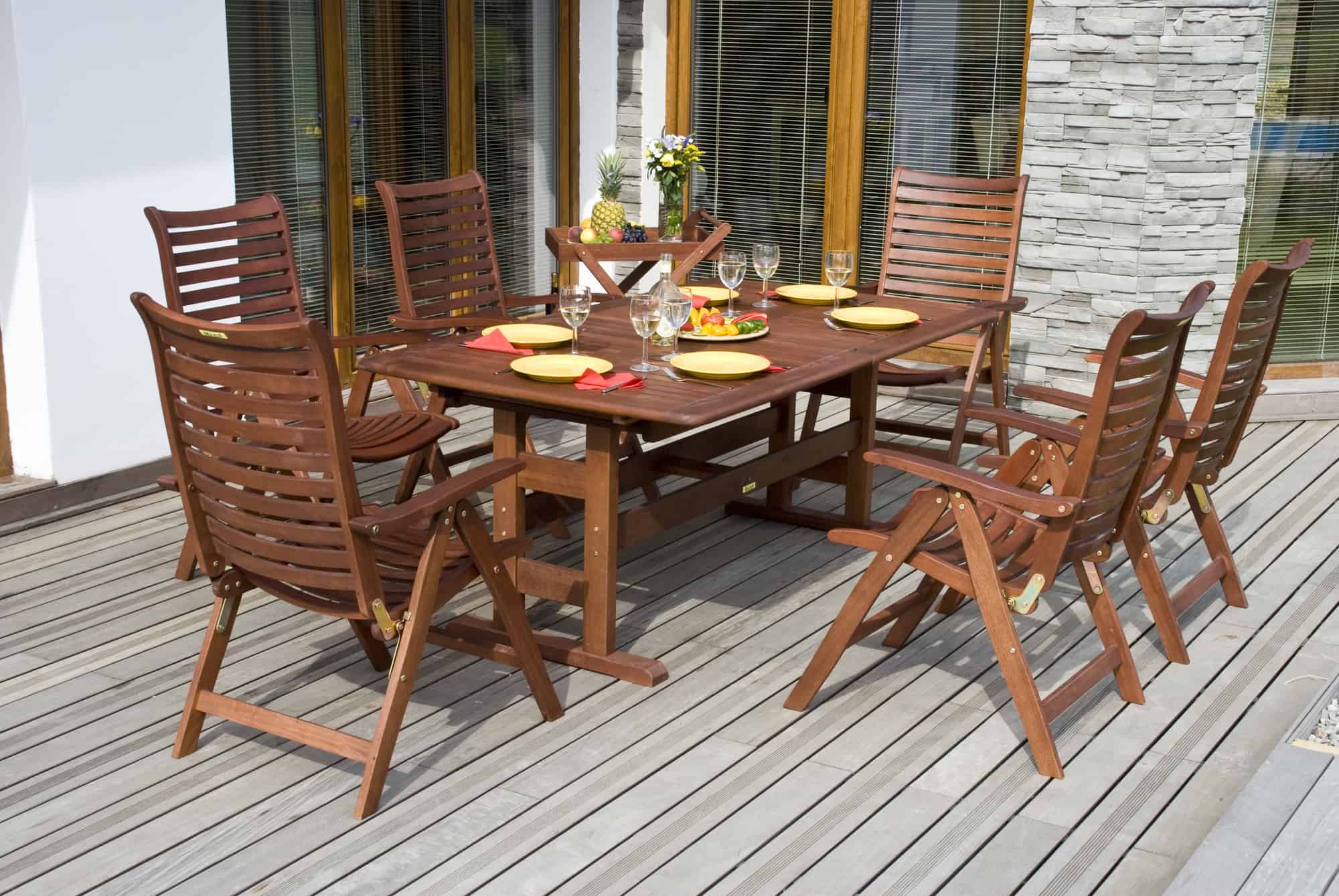 Aluminum is considered to be the ideal material if you are uniquely looking for the most durable material.
However, the truth is that style, comfort, and aesthetics are also important — especially when you are trying to style your home's garden or patio.
In this case, you might prefer the heartwarming, softer, and more welcoming tones of wooden furniture. Luckily, by making all the right choices, you can count on long-lasting wooden elements as well.
Wood is one of the first materials used for outdoor furniture, and it has been one of the first raw materials that humans leveraged. So, aside from being naturally beautiful, highly versatile, and durable, it also allows you to choose the perfect style for your patio.
However, when picking the right wood for your outdoor furniture, the type of material you select can make all the difference.
Choosing Hardwoods
Softwoods such as pine and cedar might be beautiful, but they are designed for indoor furniture so that they won't withstand the elements. Instead, hardwoods such as white oak, beech, and Shorea can last outdoors for decades if properly maintained.
In particular, teak's characteristics have made it one of the most popular choices of wood for outdoor furnishings. This tropical hardwood is strong, resistant to natural elements. Much like acacia wood, it does not crack, become brittle, or warp easily.
What sets this wood apart from other types is that it repels water and does not suffer changes of shapes (expansions and contractions) because of the water absorbed and released.
Its content of natural oil also acts as a barrier against rot, pests, and decay. While it does not require high maintenance levels, with some oiling and care, teak can last over 50 years.
The main downsides of this wood are that it can be costly and not so easy to work with, so the array of affordable teak furniture you'll find on the market might be limited.
At the same time, what might seem a significant expense at first might be the only one you will have to make for decades.
Pros
Unique aesthetics
Extremely durable (up to 50 years)
Naturally repels decay, rotting, and diseases
Resistant to water and moisture
Requires minimal maintenance
All-Weather Wicker (Synthetic Resin)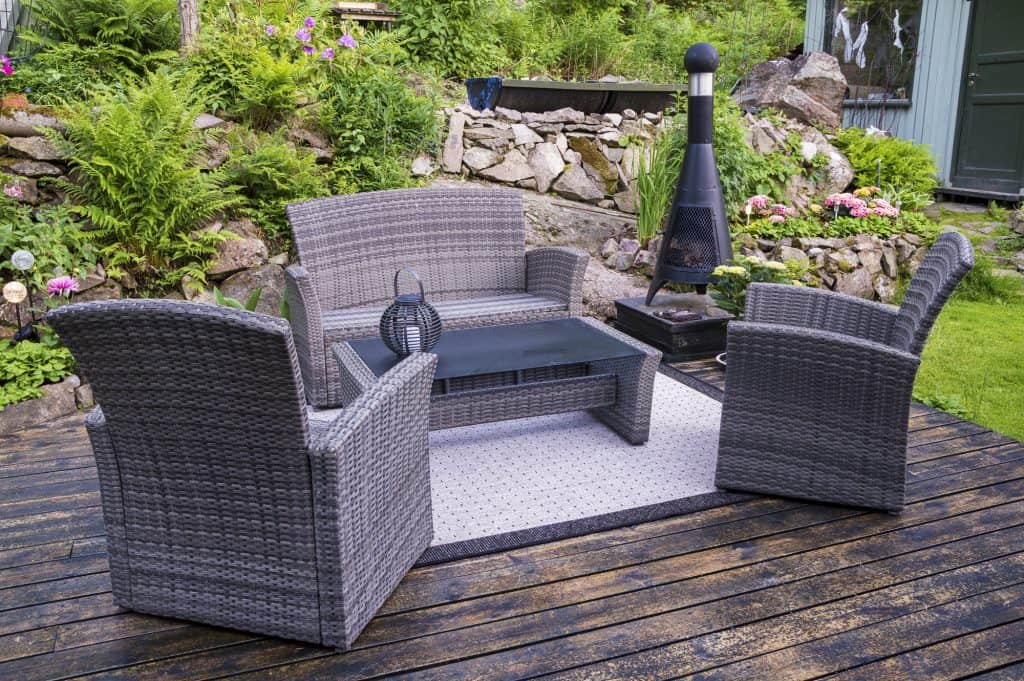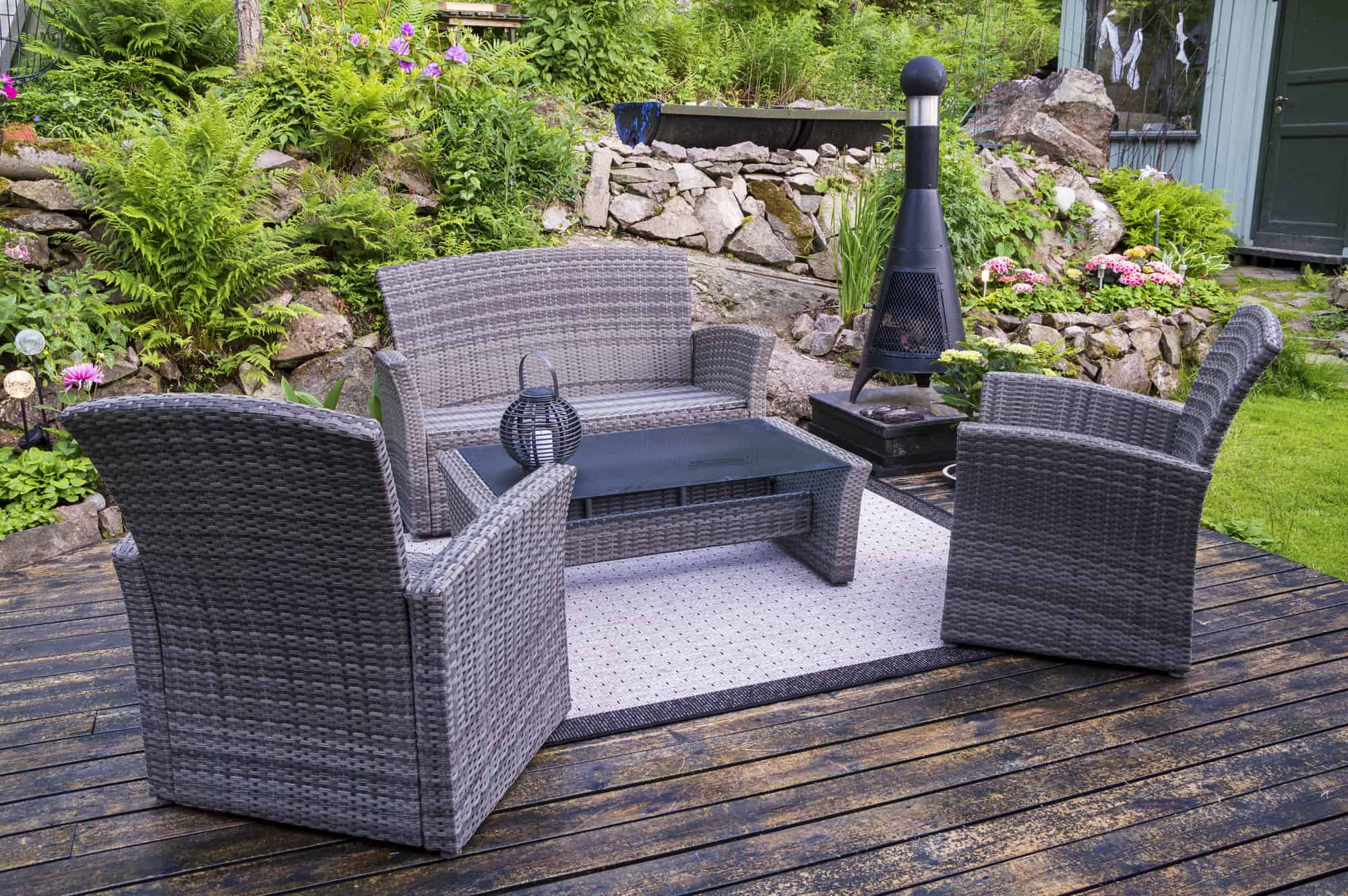 If you want the natural beauty of wooden furniture and aluminum's price and versatility, you might consider all-weather wicker or synthetic resin.
Natural wicker, which is traditionally made from plant-based sources such as bamboo, banana leaf, and seagrass, might be a superb, all-natural option.
However, this type of wicker is not as durable or resistant as other, better-designed options.
Today, outdoor wicker furniture is synthetically made from polyethylene resin. This high-quality, high-density polyethylene (HDPE) resin is exceptionally dense and does not emit chemicals.
It is also puncture-resistant and can withstand continuous exposure to UV rays, making it a great affordable option for outdoor furniture.
Like aluminum, all-weather wickers are extremely strong, versatile, lightweight, and easy to care for—even after years of exposure to the elements.
At the same time, higher-quality synthetic wicker is also resistant to fading and exposure to UV rays.
When shopping for all-weather wicker outdoor furniture, make sure you are opting for high-quality ones. Indeed, you will also find PVC pieces of furniture created in the same way. While these might make you think that you are saving, they are more prone to crack and become brittle.
Pros
Can withstand the elements and all weather conditions
Strong and lightweight, often boasting an inner aluminum structure
Easy to clean and requires minimal maintenance
You can pick a natural color for your wicker furniture, so you can enjoy the beauty of natural wicker
Can be colored to add vibrance to your wooden patio
100% recyclable and sustainably made
Wrought Iron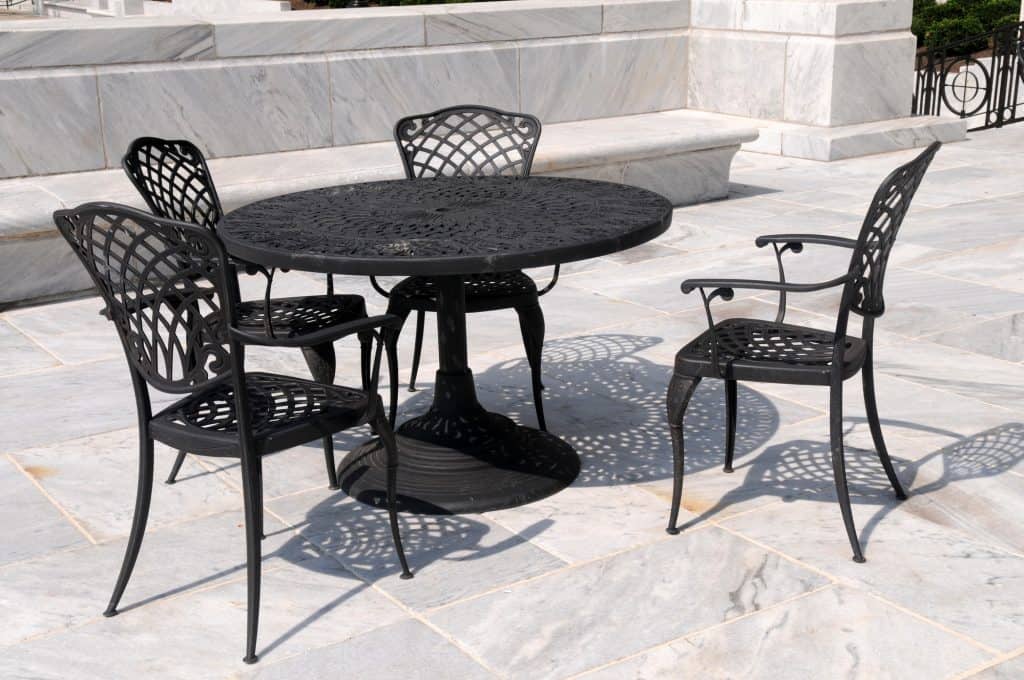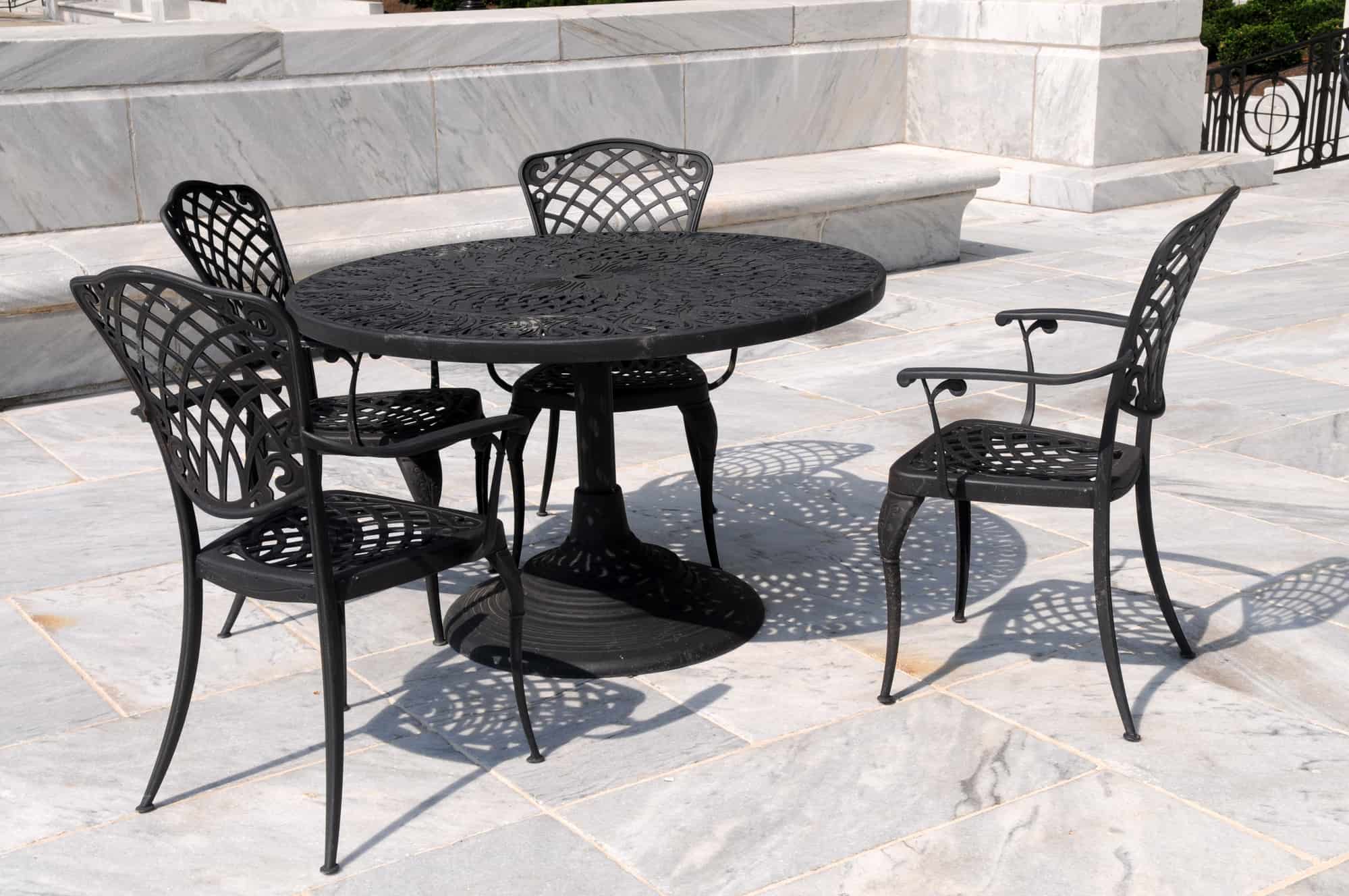 When thinking about strength, versatility, and durability, iron is the first material that comes to mind. This element has been used throughout history for the creation of necessary tools and buildings.
Iron furnishings can last for hundreds of years when cared for properly. Unlike newer synthetic materials, we know what happens to this metal after years of use—we have a natural warranty on our furniture pieces.
What You Should Know About Wrought Iron
When selecting wrought iron for your outdoor furnishings, there are some considerations to keep in mind.
Iron is one of the heaviest materials for furniture, which can make your patio's style less versatile.
Wrought-iron furniture is prone to rust, which means that it will require high maintenance and care levels.
Iron furniture can be uncomfortable without upholstery.
Iron tabletops and chairs will retain heat and cold, so you might need covers during summer and winter.
At the same time, if you live in a windy location or are looking for a resistant piece of furniture for an exposed patio, iron furnishings give you the peace of mind that your investment won't get blown over.
When picking your iron furniture for your patio or garden, make sure you understand the difference between cast iron and wrought iron.
The first one is molded into shape from its liquid form, while the second one is worked while in its solid form. If you are looking for a designer or a unique piece of furniture, wrought iron is the way to go (assuming you can find any).
Pros
Extremely heavy, which makes it perfect for a windy location and static patio designs
One of the oldest materials used
Highly resistant and can withstand the test of time
Unique pieces that can create a stylish design
Stainless Steel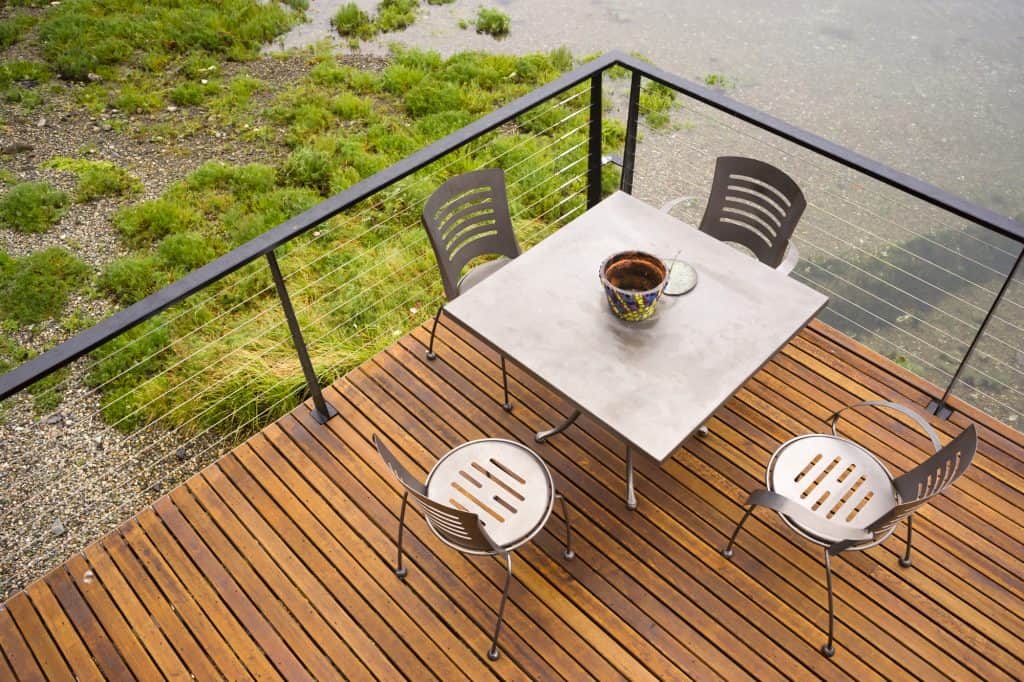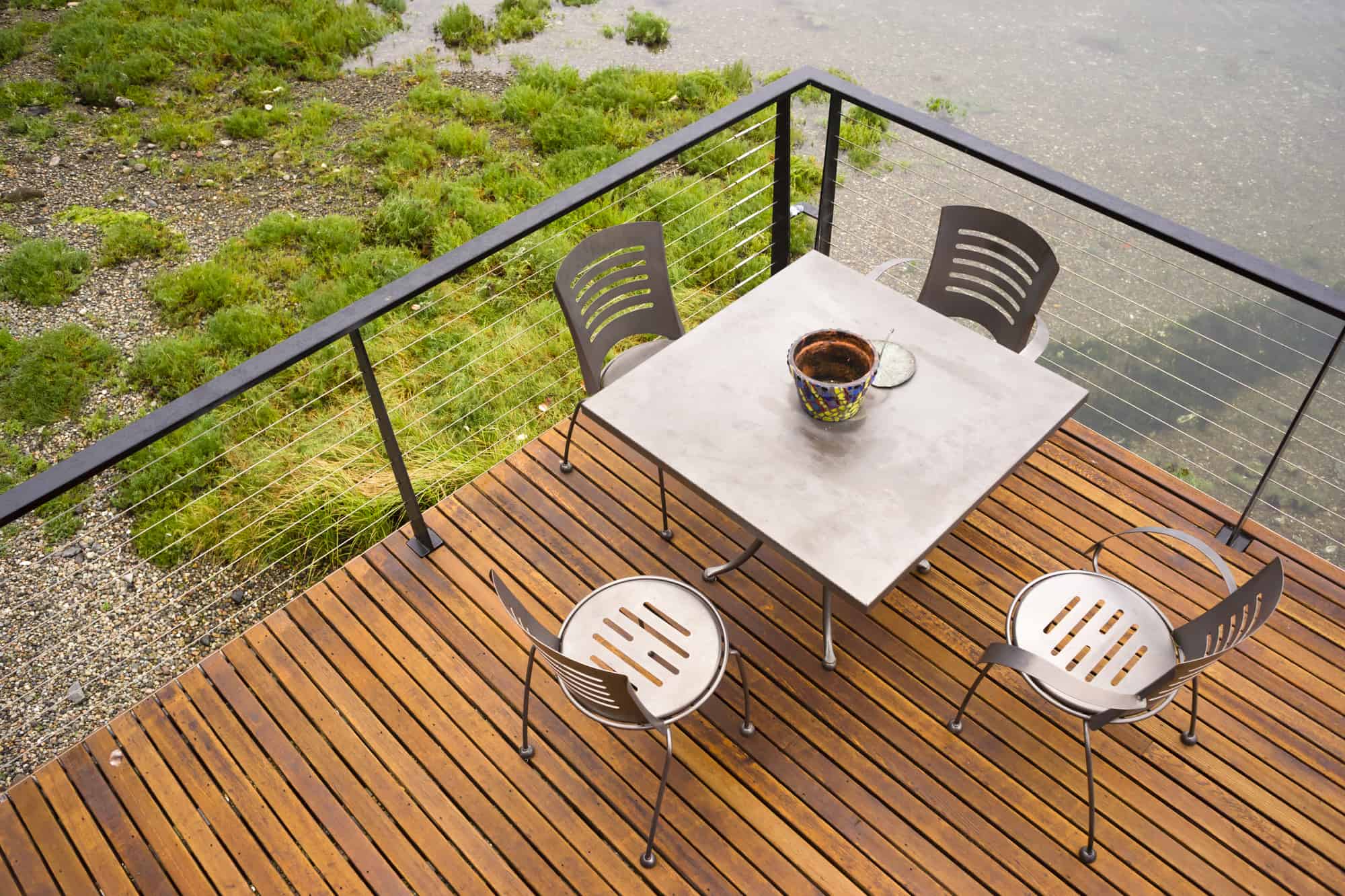 Stainless steel is a valid alternative to expensive iron furniture or lightweight aluminum elements. Indeed, this metal alloy is known and appreciated for its durability and weight-bearing capacities. Because of its sturdiness, it is possible to create furniture designed to withstand heavier weights.
When compared to other metals, stainless steel does not retain heat or cold at the same level. Therefore, while they might heat up a little if left in the sun, you can use your stainless steel tables and chairs all year round.
Just like in the case of aluminum, stainless steel is generally immune to corrosion and rust.
However, depending on where you live, you should consider adding a powder coating to your furniture. Indeed, especially in coastal areas hit by salty air, the furniture can start showing signs of wear and tear.
When comparing stainless steel to iron furnishings, you will notice that, while they are heavy and resistant to wind, they also make for more modern options and can be easily adapted to your patio's current style.
Stainless steel is also an excellent choice for outdoor furniture because it is usually made by recycling other metals, limiting wastage, and making for a more sustainable option.
When picking the right type of stainless steel, make sure to check its Chromium and Molybdenum content, which are responsible for increased rust and corrosion resistance.
Pros
Resists rust and corrosion
Created to withstand increased weights
Heavy enough that the wind won't blow your furniture over
Requires little maintenance and easy to clean
Concrete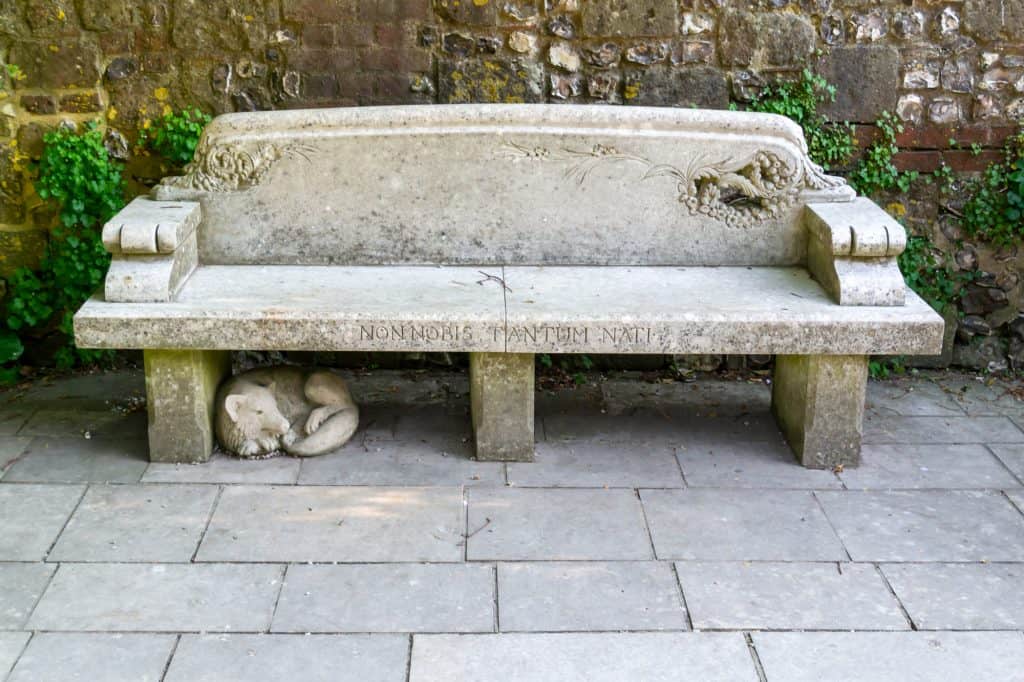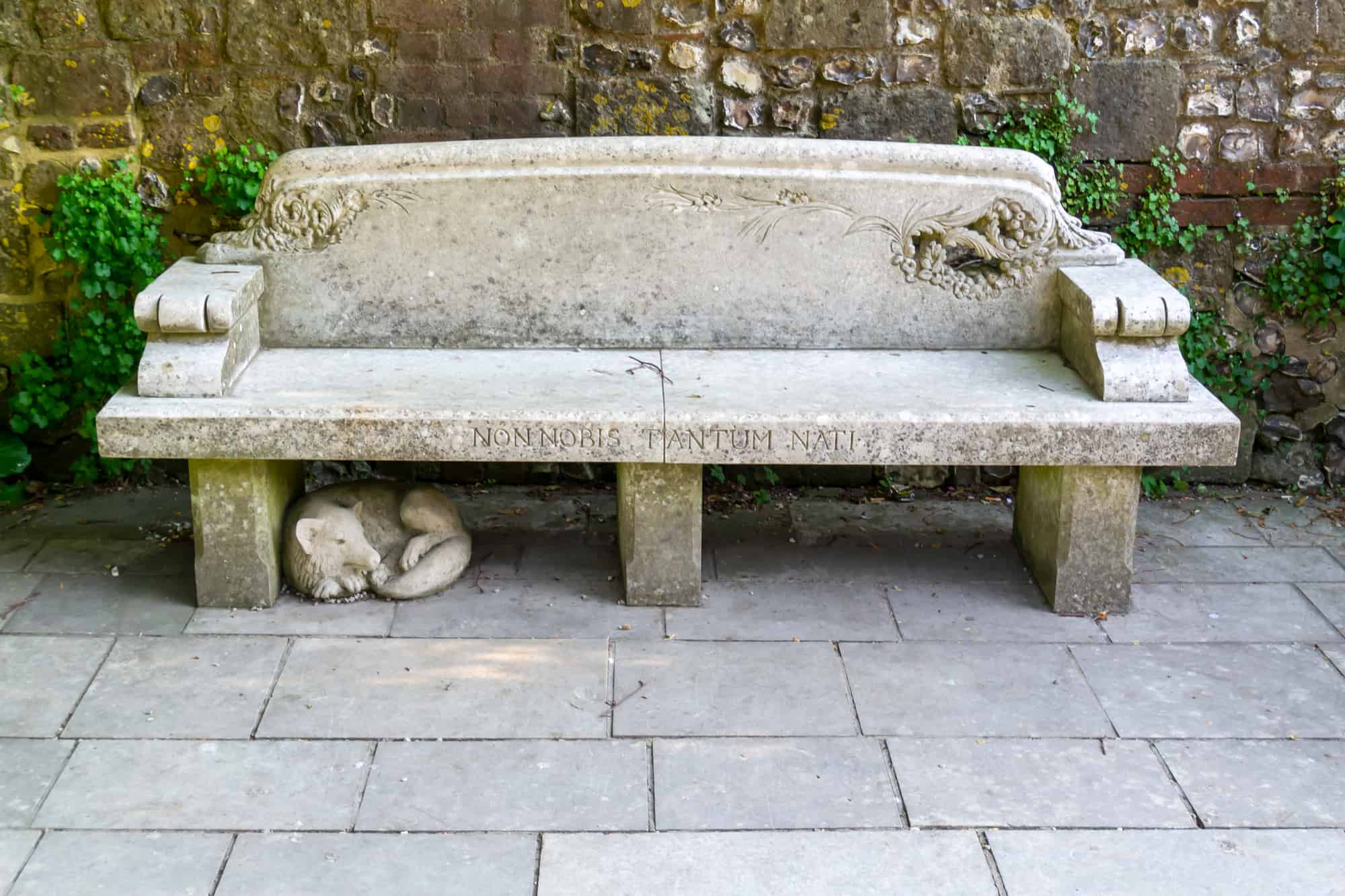 Concrete is an alternative material for patio furnishings, but it can be considered a valid one if you think about creating a minimalist style.
Solid concrete furniture for your outdoor area might be perfect if you wish to use several materials to complete a particular decor.
For example, concrete bases can represent sturdy foundations for a tempered glass tabletop. Of course, the major downside of concrete elements is that you will find it difficult to move them around the patio or rearrange them.
However, suppose you are looking for a timeless addition designed to remain in place for years. In that case, concrete details can be a great way to enjoy long-lasting furniture pieces that will withstand any weather and climate condition.
Pros
Can withstand years of daily use
Won't absorb heat or cold
Designed to resist most weather conditions and natural elements
Can be used in any environment
Requires minimal maintenance and care
High-Pressure Laminate (HPL)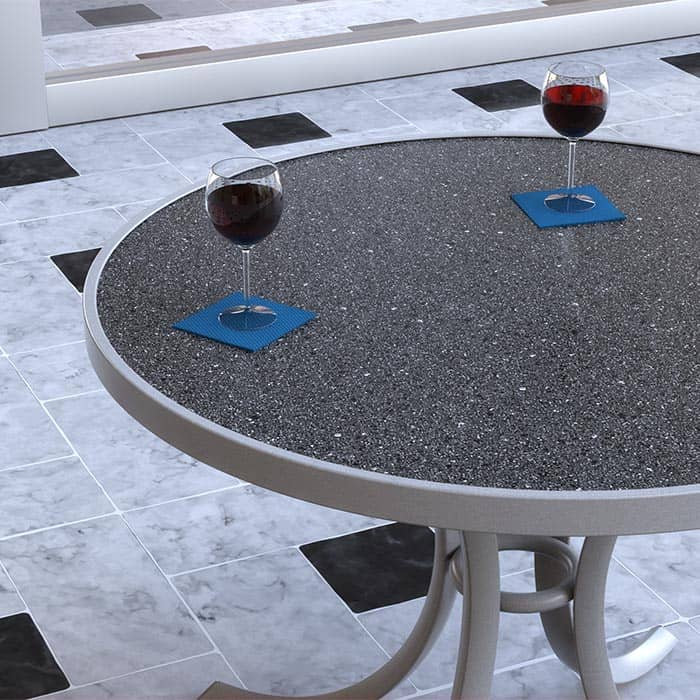 High-pressure laminate (HPL) is an alternative material for outdoor furniture. While it might not be as resistant as certain elements seen above, it is perfect if you wish to give your patio a unique style.
HPL is a composite made of kraft paper, resin, and aluminum, a mix that is then heated and pressurized to bond. Besides offering your garden or patio a sleek and modern look, this material is tough, allowing it to be resistant to scratches and stains.
While this material is still relatively new in the landscape of outdoor furnishings, it is becoming more appreciated because of its unique characteristics.
Indeed, this material has a low affinity with water, meaning that it won't show swelling or absorb moisture.
At the same time, HPL materials also boast some flame-retardant and antibacterial properties, which make them perfect for commercial and residential applications alike.
Lastly, in terms of weight and versatility, HPL panels can quickly relocate and move around, but an aluminum or iron structure can weigh them down.
Pros
A relatively new material that can offer an alternative style
Resistant to water, moisture, scratches, and corrosion
Lightweight but can use an aluminum structure to be weighted down
Boasts some flame-retardant and antibacterial properties
Can boast a layered look that is suitable to modernize wooden patios
Recycled Plastic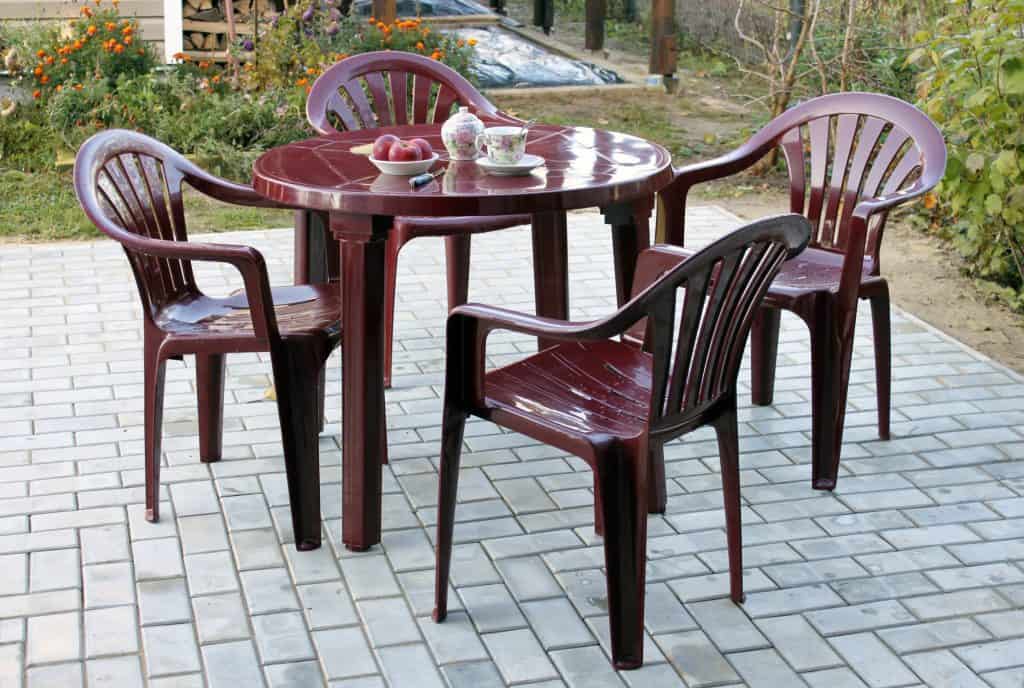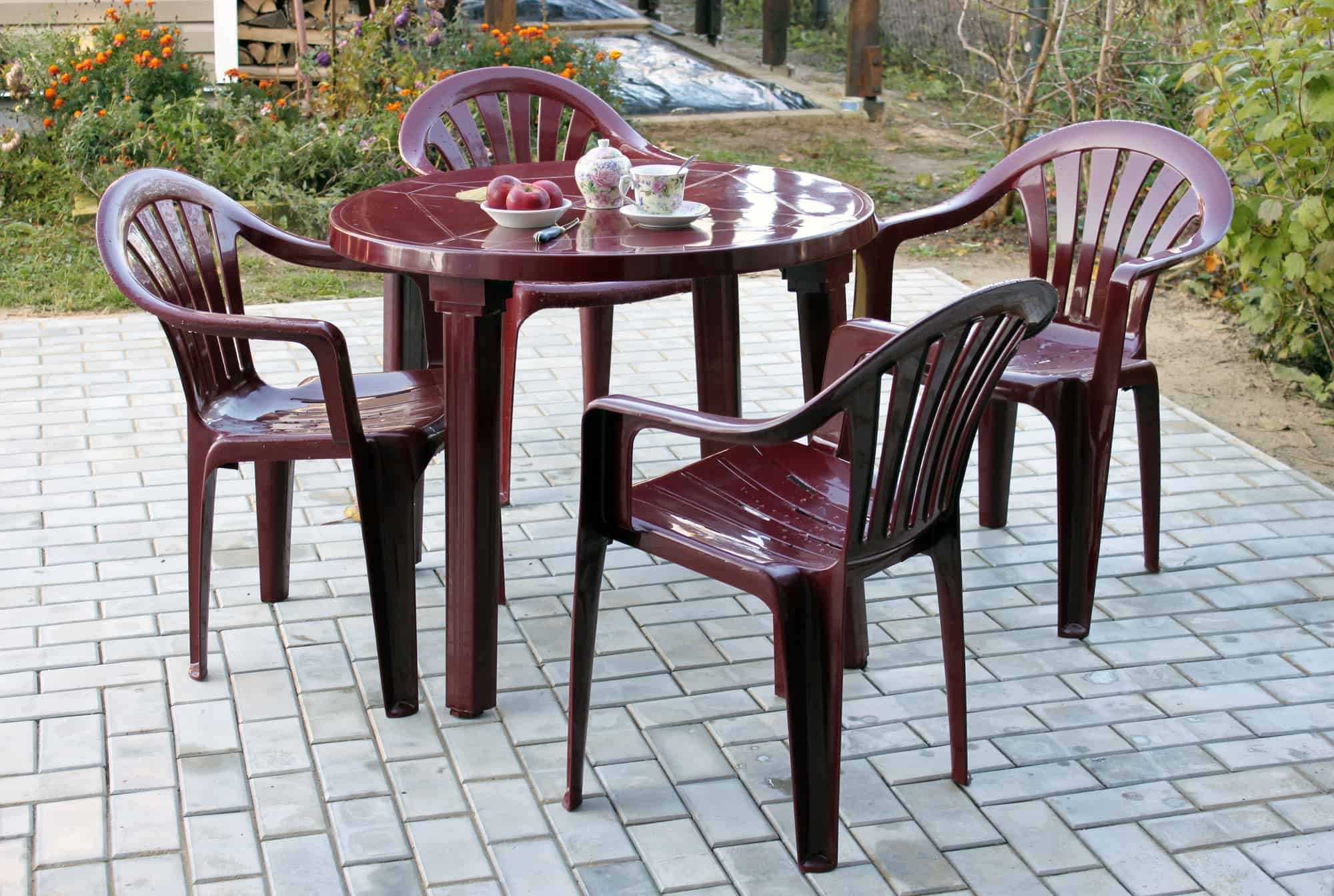 If you are thinking about the classic, cheap-looking plastic chairs that have been used at family dinners for years, think again! Recycled plastic furniture is sturdy, stylish, and created sustainably from old plastic items, including milk cartons or shampoo bottles.
You can find some extra tips on how to make your patio or garden more eco-friendly in the video below:
Because these pieces of furniture are made in plastic, they are strong and resistant to common issues such as moisture, insects, mildew, salt air or water, and rust.
Because plastic is designed to be lightweight, recycled plastic furnishings are not suitable for locations subjected to strong winds. However, newer designs incorporate aluminum elements to increase their weight.
Additionally, I wrote a guide on how to block wind from your patio area if you decide to go this route.
Unlike some of the expensive materials seen above, recycled plastic furnishings are not likely to crack, peel, or become easily stained—and they require minimal maintenance.
Pros
A sustainable way to decorate your patio
Comes in a variety of shapes
Extremely durable and resistant to scratches, peeling, and saltwater
Lightweight and can be moved and rearranged easily
Requires minimal maintenance
Tempered Glass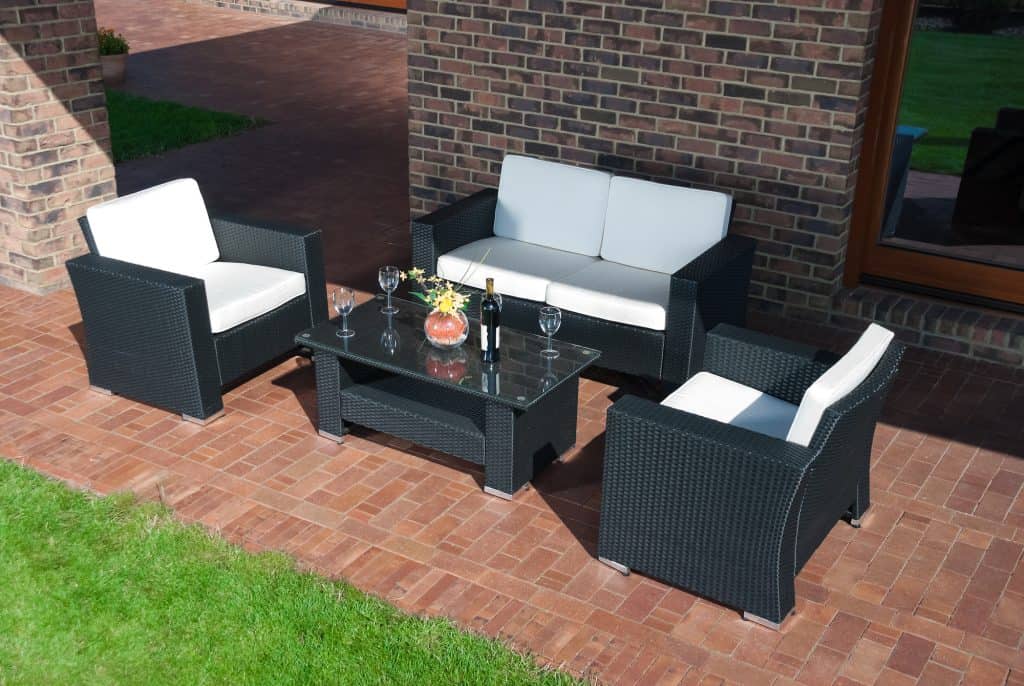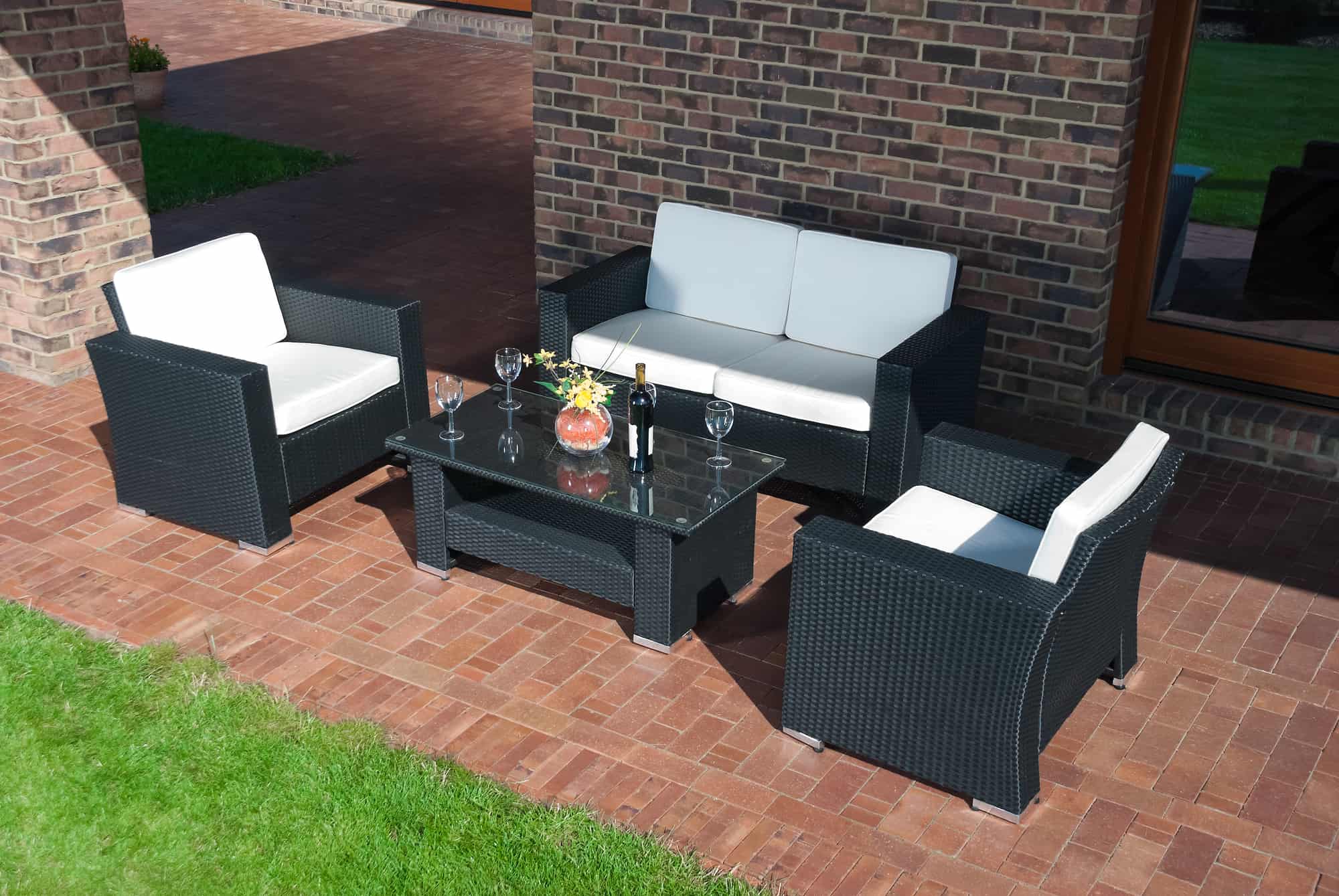 If you wish to style your patio with a modern and exclusive look, tempered glass furniture can help you achieve this effect.
Tempered glass is ideal for parts of your furniture, such as tabletops and coffee tables. While these furniture items will have an inner structure of iron or steel, the glass top can make them more resistant to certain elements.
For example, glass table tops are resistant to heat, which makes them enjoyable all year round. Additionally, the acid wash used to treat them allows you to have a fingerprint and smear-free look for your outdoor furnishings.
Tempered glass furnishings are particularly suitable for enclosed patios with limited space for furniture because they create an airy and open feel. They can be quite heavy to move (depending on the glass's thickness), and they might not be suitable for locations subjected to strong winds.
Pros
Creates an open and light feel in smaller patios
Resistant to heat, smears, stains, and fingerprints
Easy to rearrange
Usually supported by metal or steel structures for added sturdiness
Requires minimal maintenance and can be wiped down with a cloth
Polyester Fabric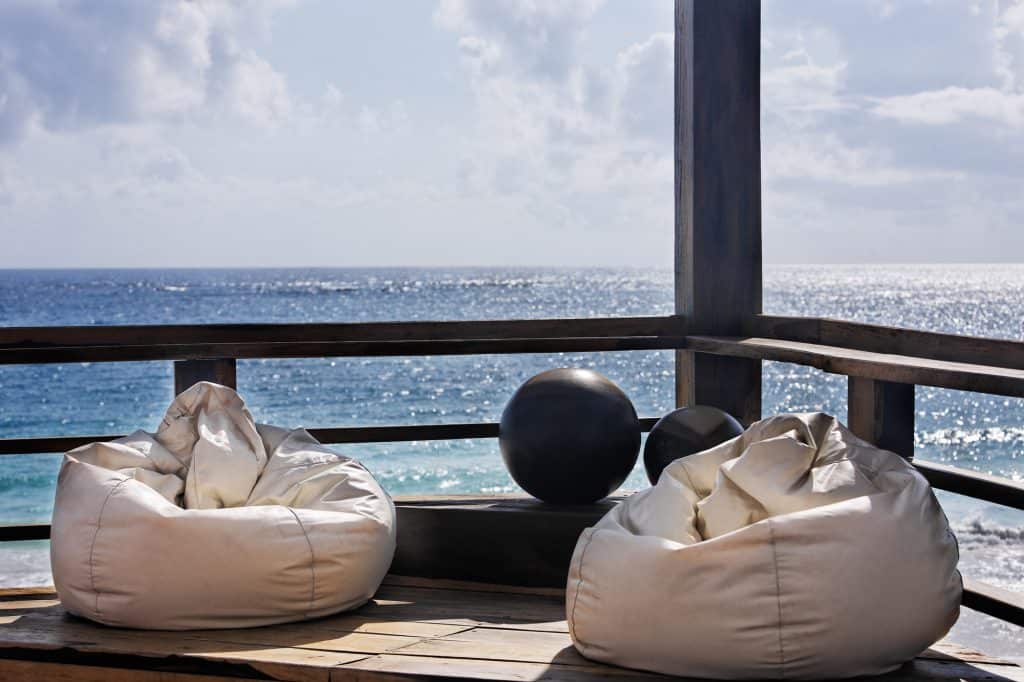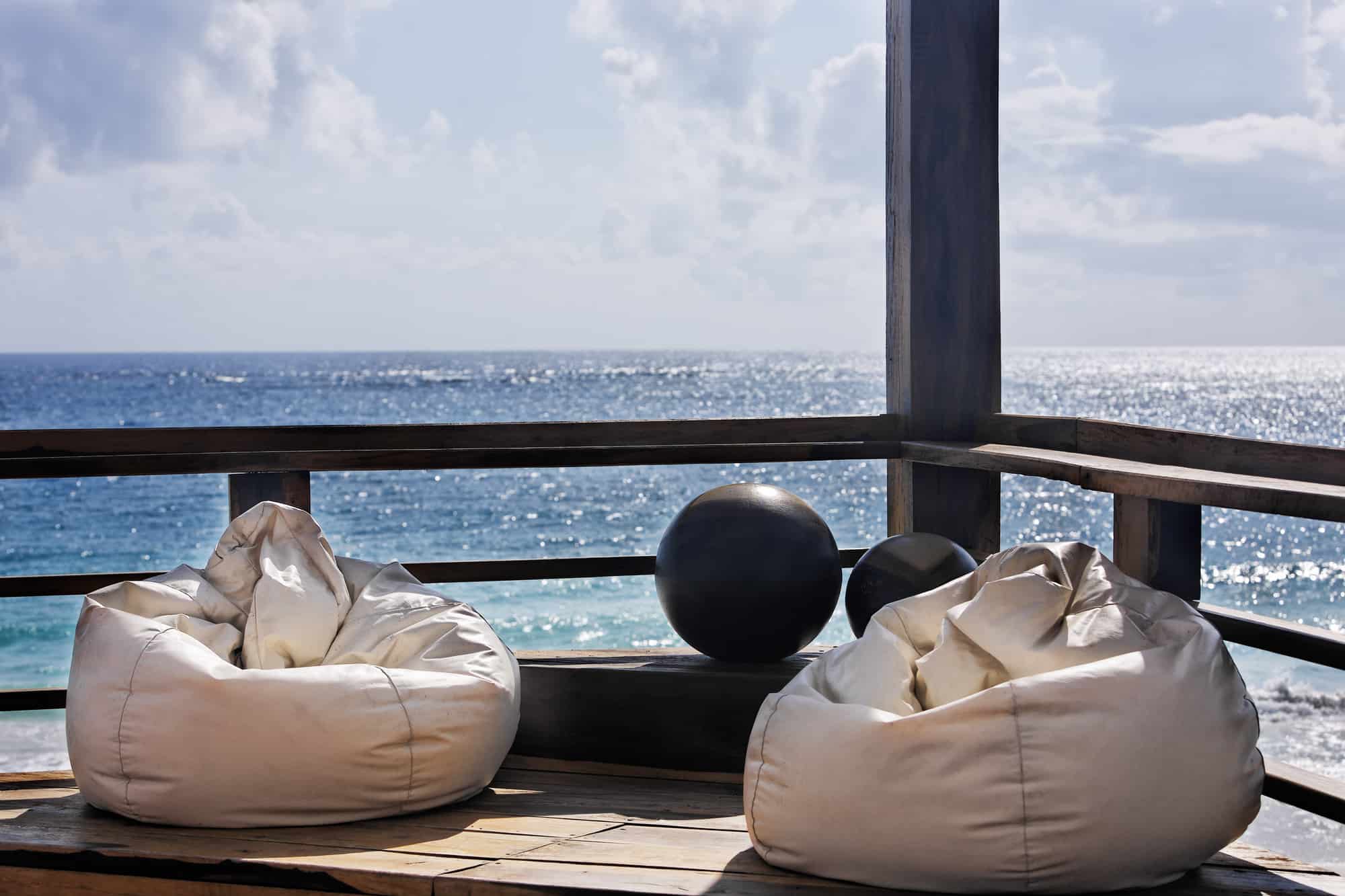 If you have ever relaxed on a bean bag with a cocktail in your hand, you know what polyester fabric furniture feels like. Polyester fabrics are synthetic materials designed to withstand the elements, including saltwater, salty air, and UV rays.
If you are looking to give your patio a modern and young look, bean bags and slings are the ideal pieces of furniture.
In terms of maintenance, you should make sure that you can provide some shade and shelter from UV rays when the sun is at its strongest. It is also recommendable to wash the fabric and dry it every season.
Pros
Suitable for bean bags, cushions, and slings
Perfect for a comfortable patio with a modern look
Does not require much care
Easy to rearrange or remove
Can last for years (with proper care)
Extremely affordable
Conclusion
Picking the right furniture for your patio is not always easy, and you must make the right choice. Above, we have seen some of the most durable elements for your deck, including iron, steel, aluminum, and teak.
However, where you will place the furniture can make a difference. Indeed, heat, UV rays, storage option, frequency of use, and location (i.e., near the coast) might cause you to pick a less durable material on paper but more suitable for your specific conditions.
Sources