I remember a few years back when I invited some friends over for a labor day barbecue. My wife and I had just purchased a new house and really wanted to break it in with a major celebration. We invited our friends and started getting excited about the big day.
Well, the big day arrived and one of my wife's friends brought her new boyfriend. Of course, we were happy to offer our hospitality to him and help him feel welcome.
However, as I'm preparing the burgers to put on the grill, he chimes in: "You know, you shouldn't grill under a covered porch like that."
I responded "Oh, it'll be fine. It's just an awning and this is a gas grill." But he was adamant and would. not. stop. talking about it. Finally, I moved the grill 3 feet just so he would shut up.
Later on that night, I started thinking about it. Was Larry right? Is it safe to grill under a covered porch? Unfortunately (and also fortunately), he actually had a strong point.
In most situations, grease fires and inadequate ventilation make covered porches and patios a dangerous place to grill using propane and charcoal. Even with proper ventilation and extra care, ceiling staining and the potential for accidents make it unwise.
Let's dive in and explore the issue further.
Is It Safe To Grill Under A Screened-In Porch?
Let's get one thing out of the way first: You definitely don't want to grill with charcoal in a screened-in porch or patio.
Plants under your covered patio may appreciate the carbon dioxide, but your lungs sure won't. The smoke might not kill you, but it will leave everything smelling like char. Not only that, charcoal grills can burn way hotter than their propane cousins, increasing the risk of fire.
You probably can grill on a screened-in porch with a propane grill, but you probably don't want to.
For one thing, the burning gas could permanently stain your ceiling. Additionally, there may be local rules, regulations, and ordinances that prevent a grill from being used inside a screened-in porch.
Even with proper ventilation, you still run the risk of an uncontrolled grease fire. So I would avoid using either type of grill on a screened-in patio if it were me.
But of course, I didn't have a screened in porch. I had an awning.
Is It Safe To Grill Under An Awning?
An awning above dirt or concrete is a bit of a different story.
Air flows much better without the restriction of the screen. This means you may be able to get by grilling (even with charcoal) underneath an awning as long as you have proper clearance (9+ feet). However, even though you can, extreme care should still be taken.
Similar to a screened in patio, the burning gas and charcoal could stain your ceiling over a long enough time period. Flame-ups, sparks, and grease fires could also be a lot more damaging under an awning than open air. Uncontrolled grill fires are dangerous under any circumstances, but are exponentially more problematic with a structure overhead (and certainly in an enclosed area).
For that reason, you should keep an inspected fire extinguisher handy, as well as a spray water bottle to handle flame-ups and sparks. However, even with precautions, grilling under an awning is still more dangerous than grilling under nothing at all.
The Captain did take all precautions, and like usual, I was prepared for the worst. I had my spray bottle and I had an inspected fire extinguisher handy (this is the one I use — affiliate link). However, accidents can and do happen, even with the best of intentions.
In retrospect, Larry just wanted to protect the house and party guests. He might have had a bad experience with a grill under a covered patio, who can say?
Considering grill pads
Now, you'll want to make sure you do all you can to reduce the likelihood of accidents. This includes heat damage or grease stains on the surface of your porch/deck. A grill pad can do wonders to keep your outdoor area clean and safe.
I'm including the one that I use just below.
---
I can't say enough about this fantastic mat. I've been using it for a few years with no problems at all. My deck is very thankful, as the pad helped prevent many unfortunate grease accidents.
---
Admittedly, this grill mat is more for grease spills than extreme heat, so it won't be of use if you plan to also use it for a wood burning fire pit.
Common Questions
Is It Safe To Grill Under a Carport?
A metal carport is very similar to a patio/awning setup, so the same rules apply here. You might not care as much about staining the ceiling of a carport though, so it's an even better option than an awning. If the weather starts looking stormy, it can be a great place to post up and grill some burgers.
Is It Safe To Grill Under a Canopy?
You should never grill under a cloth canopy tent, as your shelter could easily catch fire. After all, the autoignition temperature of oily cotton is around 120 degrees celsius (248 degrees Fahrenheit). This is not a covered area you should ever try to use flames under.
How Far Should a Grill Be From Your House?
Regardless of which area you choose, you should still make sure that your grill is far enough away from your house as to not cause a problem.
Most grill manufacturers will tell you to keep your house walls a minimum of two feet from your gas grill. You should keep an even wider berth for both charcoal grills and portable propane grills.
The United States Consumer Product Safety Commission recommends you place the grill at least 10 feet from any standing structure (source) — this includes both charcoal and gas grills.
Can You Grill Under A Tree?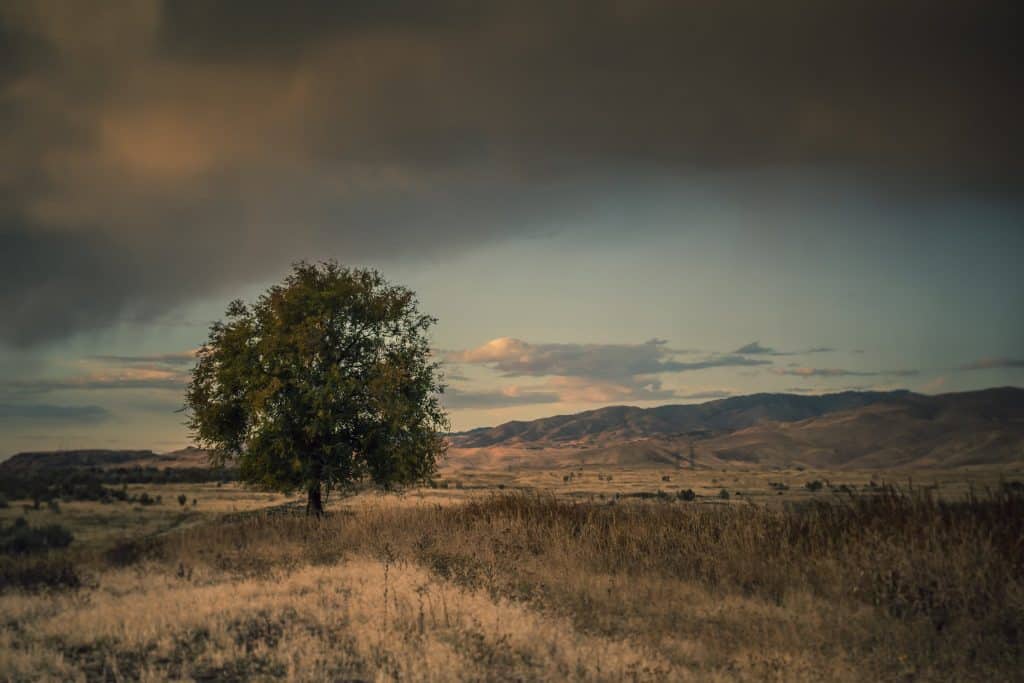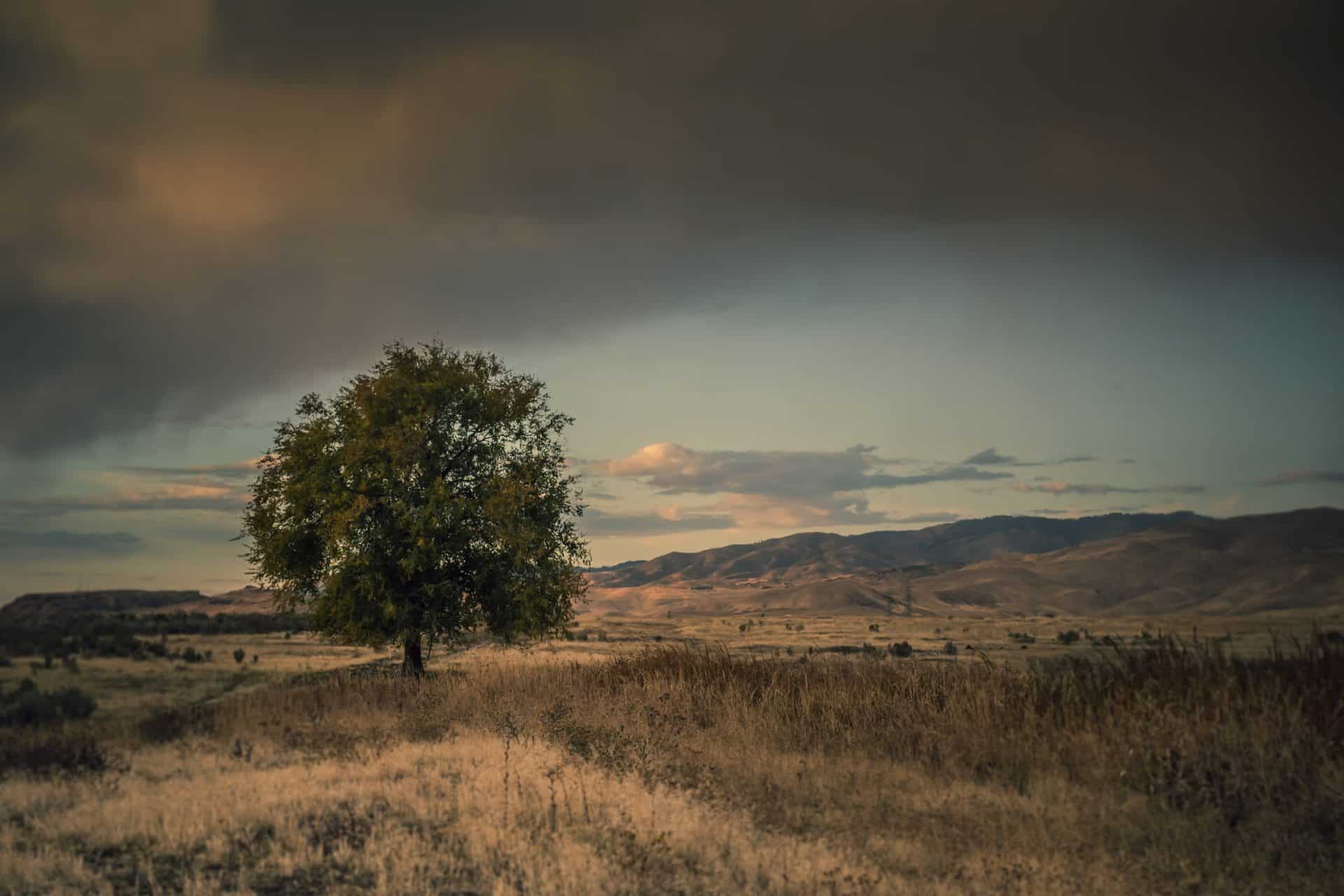 Mary Allen of Fort Worth, TX emailed me and asked the following question:
Hey Captain, I'd like to grill underneath an old oak tree in my backyard. Is this safe?

Mary Allen, Ft. Worth, TX
This is starting to get a bit repetitive. Yes, you can grill under a tree as long as you follow the proper precautions. Make sure there are no dry leaves nearby or any low hanging branches that could catch fire. And still keep a fire extinguisher / spray bottle of water handy. You should be prepared to say goodbye to the grass underneath the grill, though.
And next time, invite the Captain for some of that Texas BBQ!
Anything Else?
Do you all have any questions about where you can grill? I'm happy to do the leg work and figure it out for you! And Larry, if you're reading, thanks for making sure the Captain was being as safe as he could be. I truly appreciate it!