Many vinyl fence companies advertise that adding vinyl fencing to your home can potentially increase your property value by 50% return on investment.
Accordingly, many homebuyers will add expensive vinyl fencing to their home to bolster their resale value. But, while it seems like a straightforward investment, how much will a vinyl fence add resale value to your house?
Adding a vinyl fence to a house can increase the resale value of your home. Several factors result in this increase, including increased curb appeal, the specific needs of buyers, and comparable sales.
In this article, I will discuss how a vinyl fence may add value to your house and some of the factors that may undermine this value addition. I will also provide some tips on optimizing this value and determining whether or not you should add a vinyl fence to your house.
How Can a Vinyl Fence Add Value to Your Home?
A vinyl fence can add value to your home the same way as other improvements — by appealing to more buyers and increasing marketability. While expensive, Vinyl fences add utility and aesthetic appeal to your house. They are also durable and require minimal maintenance.
Much like beauty lies in the eyes of the beholder, the perceived value addition will largely depend on the preferences of prospective buyers. So, to assess whether adding a fence will add value to your home, put yourself in the buyer's shoes.
If the prospective buyer has a great need for a fully-fenced home, then your new vinyl fence will most certainly add value. However, buyers rarely feel remorse after installing a vinyl fence.
Accordingly, it is unlikely that the buyer will place little to no value in the security, privacy, and maintenance-free durability that a vinyl fence offers.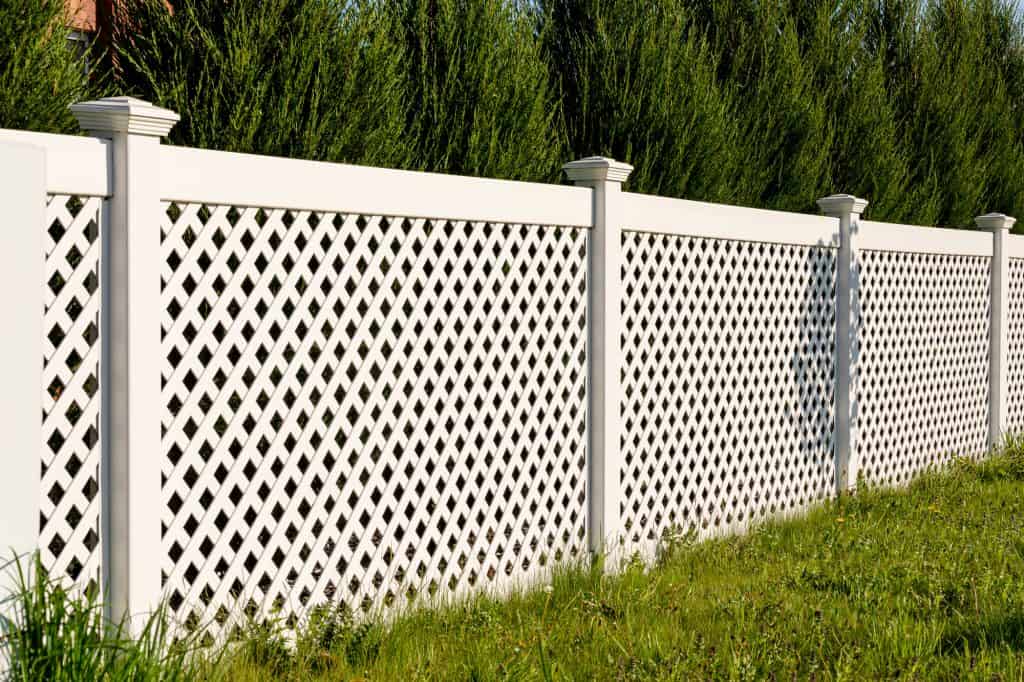 Factors to Consider Before Installing a Vinyl Fence
At about $20-$25 per linear foot, vinyl is one of the most expensive materials available for fence installation. Because installing a fence is cost-intensive, I recommend considering several important factors before installing a new vinyl fence.
Marketability
As stated above, one of the main ways a vinyl fence will add value to your house is marketability. The more marketable your home is, the more likely it will fetch a higher value in the real estate market.
If value addition is your priority, you want to recoup the installation costs of the fence and get a return on this investment. Since real estate values are highly localized, pay attention to listings already on the market.
Do they have fences? What kind of fences seem to be most popular? These are questions to ask yourself as you decide what buyers in your area want.
However, you don't have to go it alone. To determine how viable your potential for value increase is, I suggest consulting a local real estate agent knowledgeable about the market and home feature desires of your area.
Consult a Real Estate Agent
By getting in touch with a real estate agent, you can find out if buyers in your area are willing to pay more for a house that has a vinyl fence. In addition, real estate agents can provide excellent guidance based on comparable sales.
If the comparative sales show that home buyers are not willing to foot a higher bill for a house with this kind of fence, it is unlikely that you will enjoy any value addition.
Some important questions that you may want to ask your agent include:
Is vinyl fencing a priority among prospective buyers?
What is the fencing trend in your neighborhood?
Are potential buyers willing to pay extra for houses with vinyl fencing?
What are the most popular features prospective buyers are looking for?
Bolster Your Home's Curb Appeal
To increase the marketability of your home, it has to have something that catches the eye of prospective buyers. Therefore, one of the most important things you can do to increase the value of your home is to bolster its aesthetic appeal.
Installing a vinyl fence can increase your curb appeal and draw buyers in with its durability, easy maintenance, and desirable appearance. It can also define clear property lines and provide privacy for the homeowners.
In addition to installing a vinyl fence, you can enhance your home's curb appeal by tending to other areas of your yard. These can be done quicker and typically at a lower cost than installing vinyl fencing.
Trimming the lawn, adding flowers and greenery, enhancing lighting, and improving decor are just a few of the steps you can take to improve the appearance of your home and improve the appeal of your newly installed vinyl fence.
Privacy and Security
A fully-fenced house provides security and privacy for homeowners, their pets, and their families. This is a highly desirable feature when it comes to prospective buyers.
A survey by Gallup found that six of every ten people in the United States own a pet.
Understandably, pet owners prefer fenced properties because their pets can roam freely and safely within the compound. A study conducted by SunTrust Bank found that 33% of millennials referenced yard space for their pet as one of the reasons they bought their first home.
Additionally, recent statistics reveal that roughly 40% of American family households have children under the age of 18, suggesting that privacy and security will be important. Families with young children desire a safe place for their children to play, and a vinyl fence provides just that.
According to a 2020 survey conducted by Millionacres, a fenced yard made the list of the top nine features that homebuyers desire when purchasing a home.
It is important to consider that while homeowners may value privacy and security, some of them prefer to install their own fence that is custom to their needs. This is another reason it is critical to read the market and relevant trends before deciding whether or not to install a vinyl fence around your home.
Other Amenities With Higher Return on Investment
Installing a vinyl fence based on your own needs for security, privacy, and minimal improvements is a wise decision. When it comes to value addition, however, there are many other upgrades and investments you can make.
You may be surprised to learn that many prospective buyers can do without a fence, but there are many aspects that are relatively and often significantly more appealing than fencing.
Instead of installing a vinyl fence, consider doing some of the following:
Kitchen upgrades
High-quality flooring
Remodeled bathrooms
Landscaping
Replace windows
While many of these upgrades have the potential to be rather costly, the price of these upgrades is usually fairly easy to recoup after the sale.
I recommend conducting your own independent research or asking a realtor what prospective homebuyers in your area value most in a new home.
Verdict
Adding a vinyl fence is one potential way to increase your house's value, which is an attractive notion if you are planning to sell your house.
However, because it can be cost-intensive, I recommend taking some time to consider its aptness based on vital criteria such as the impact on marketability, the prospective buyers' perception of the value of a vinyl fence, and the needs of prospective buyers.
If the market values a vinyl fence, then it will potentially add value to your house.
Sources