It's not difficult to make string lights look amazing on your patio. Just hang them correctly, plug them in, and stand back — you suddenly have a truly illuminating outdoor space.
However, we all know that the sun doesn't always shine. When rain and snow are on the horizon, it's natural to want to protect your outdoor lights. After all, moisture and electricity don't safely mix.
So, how do you protect your string lights from precipitation?
Generally, you want to protect your outdoor lights from rain or snow by preventing plugs and open sockets from being exposed to moisture. Using a socket box on your extension cords is one option, while another is to simply use outdoor-rated extension cords and lights.
Below, we dive into the dangers of leaving your lights without weatherproofing. We also explore how to waterproof outdoor lights and help keep your fixtures safe. Without further delay, let's get started.
Dangers of Moisture Around Outdoor Lighting
Luckily, almost all lights marketed as "outdoor lights" will be water-resistant. This especially goes for outdoor lighting fixtures, but can also include the humble string light.
Most outdoor string lights handle getting wet just fine. However, the ingress protection (IP) rating will ultimately inform how much moisture you can expose them to. This can range from no moisture at all, to being able to handle high-pressure steam-cleaning!
If your outdoor string lights do not have an adequate IP rating, you should not get them wet.
Should you unplug outdoor lights when it's raining?
Whether or not to unplug your outdoor lights during wet weather also depends on the IP (ingress protection) rating. With the IP rating of most detached outdoor lights, they can withstand a bit of rain. However, you should consider unplugging them during tumultuous weather.
Additionally, you should not put your decorative lights in places that have full exposure to rain.
Instead, place them in areas with some cover to prevent rain from entering them. You will also want to protect your outdoor lights from harsh sunlight.
The right location for outdoor lights are areas that provide some shade and protection from the elements like gazebos, porches, or pergolas.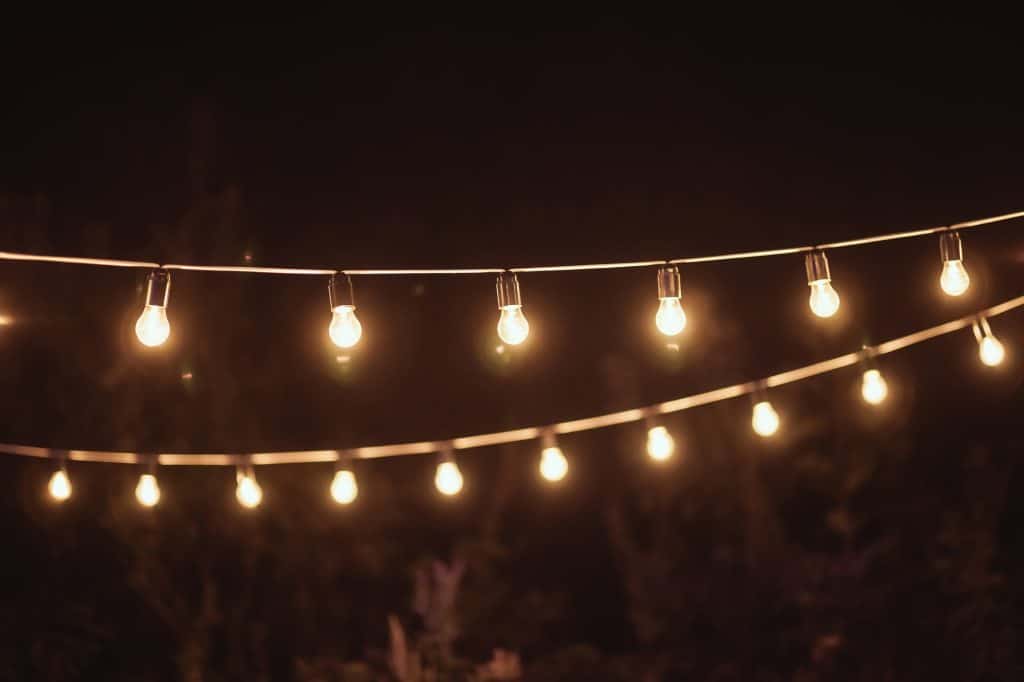 Other Considerations
As we hinted at above, the light fixture itself is not the only consideration. If you hook your detached lighting up to an extension cord or outdoor outlet, those elements must also be protected. Specifically, make sure your extension cord is rated for outdoor use.
Also, ensure that you are plugging your lights into a GFCI outlet.
Outdoor fixtures like porch lights should be rated for outdoor use and protected from a sudden heavy downpour that could damage them. Keeping lights near your front door will allow your roof to offer some level of protection.
A regular lightbulb should not be used in an outdoor lighting fixture even if they are properly protected from the elements. Instead, choose LED lights and light bulbs that are rated for outdoor use.
Protect outdoor lights from electrical circuit failure by keeping them located close to your house where roofs and awnings can offer an extra layer of moisture and wet protection.
Use GFCI Outlets for Outdoor Lights
Ground fault circuit interrupter outlets, or GFCI, are important for the safety of your house, existing fixtures, and lights.
In short, GFCI outlets prevent electrical current from moving where they should not. If a GFCI outlet gets a big power surge or water enters the unit, it will shut off immediately and not cause any additional damage.
Keep your outdoor lights on their own dedicated circuit to prevent electrical circuit failure.
These outlets may sound familiar — you've probably encountered them in your house near sinks or wet locations like kitchens and bathrooms.
How to Waterproof Outdoor Lights
If you're not sure about the IP rating or simply want to go a little further to make sure you can leave outdoor light fixtures out in the rain, you're going to want to waterproof your outdoor lights. Luckily, this is not at all difficult to do.
All you need to do is install light shields and electric cord covers. For a detailed video on how to do this, see below:
Proper Equipment
Weather-resistant extension cords
If you are running temporary lighting to your outdoor spaces, you are most likely looking for extension cords.
You will want to be sure that your extension cords are weather resistant or rated for wet locations. You can find the waterproof rating on the package: this one from Amazon is a safe bet.
Be sure that each extension cord and outdoor light runs to its own circuit box. This way if there is an electrical issue, only one circuit will blow and that can prevent fires or burns from happening.
This will also shut the entire electrical current down, preventing accidental electrocution.
If you need to connect more than one cord, an effective solution is to use a socket box. These are small, plastic, usually clear boxes that are waterproof and prevent the cords from getting wet.
Choosing a location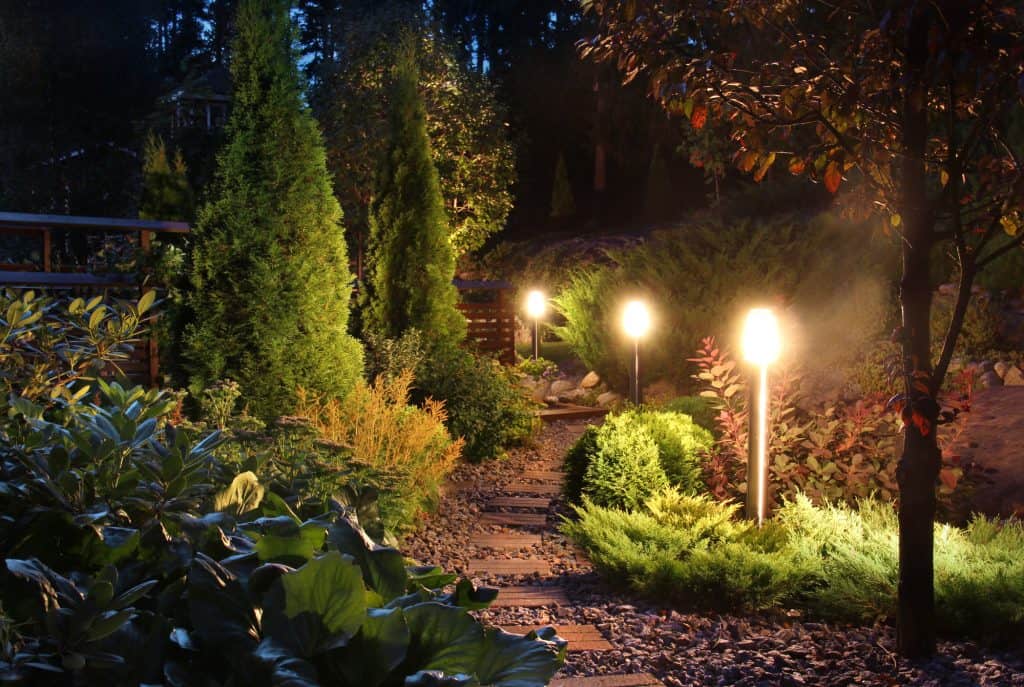 Choosing a good location for your extension cord is important. Try to find an area that is shielded from the elements, but also that is not a tripping hazard.
For safety, wet areas or areas that are exposed to the elements.
A good location to run extension cords is near your porch, front door, or home as these will provide some additional protection.
Considering solar lights
If you aren't sold on hooking your outdoor lights up to your electrical grid, you might consider installing solar lights. While this is more of an expensive option, nearly all solar lights are rated as outdoor-friendly.
This makes sense: the sun is outdoors! We've got our eye on this set from Amazon. They come with everything you'll need, and are rated for 2.5 years of recharging!