In-ground trampolines are a great alternative to their above-ground trampoline cousins. Sure — they make an outdoor area look nice and also provide a great jumping surface at sea level for children. But they are also considerably safer than above-ground trampolines.
However, you can put yourself in danger on any trampoline. And one of the easiest ways to do that in a trampoline pit is to exceed the recommended weight limits. When too many kids jump, it increases the likelihood of injury, damage to the trampoline springs, and even collapse of the retaining wall.
This risk is even higher when adults are jumping. So, what are the weight limits for in-ground trampolines, anyway?
The weight limit for in-ground trampolines mainly depends on the size of the trampoline, the quality of its frame, and the strength of its retaining wall. However, of the common steel in-ground trampolines on the market, the weight limit varied between 311 and 475 pounds.
As we said, this varies considerably depending on a number of factors. I understand completely that if you're in the market for a new trampoline, these details are important. So, let's dive in and take a look at the specifics.
In-ground Trampoline Weight Limit Table
The best way to get an idea of the weight limits of in-ground trampolines is to look at some real-world examples. We examined all the trampolines below when doing our own research.
Considerations
When looking at the details of these products, a few things stick out. Let's dive deeper into the elements that go into determining the weight limit.
Frame Type
All trampoline frames are constructed from steel or aluminum. Steel frames are much stronger than their aluminum counterparts. This added strength plays a major part in the construction of in-ground trampolines.
As you can see, every trampoline brand we looked at in the previous section has a steel frame. And most have a galvanized steel frame.
However, not all steel frames are created equally. For one thing, the size of the trampoline frame can be different. Thicker frames will naturally be able to support a higher weight limit. Additionally, the manufacturing process of steel varies between suppliers and can be stronger or weaker depending on these details.
I'd recommend buying a model with high-quality materials, even if it increases the in-ground trampoline costs somewhat. The quality will make the frame rust-resistant and help ensure you can join your trampoline for decades to come.
I definitely understand the increased purchasing cost may not be doable for everyone though.
Strength of Retaining Wall
The retaining wall of an in-ground trampoline installation has a very important purpose. Its job is to make sure all of the dirt stays where it needs to be — preventing a collapse.
Most of the time, the retaining wall itself is not the weakest link in how much weight an in-ground trampoline can stand. However, enough weight will cause the retaining wall to fail. A more likely scenario is that added weight over time will slowly cause the retaining wall to fail.
In any case, make sure that your retaining wall is strong and secure during the in-ground trampoline installation process. Additionally, consider adding a reinforced upper edge to your retaining walls — there won't be an easier time than when the trampoline frame is being installed.
Jumping Surface
Ground trampolines come in many different shapes and sizes. One would think that the size of the jumping surface would have a direct correlation with the trampoline's weight capacity.
From the models above, we can see that the weight limit of an inground trampoline pit isn't heavily influenced by the jumping surface. One 14′ model was registered for 475 pounds, whereas a 17′ model was rated at only 311 pounds. Confusing us even more, the 12′ model was rated at 352 pounds!
However, just because the weight capacity isn't heavily influenced, doesn't mean that the size of the jumping surface is irrelevant. Different jumping surfaces can result in different weight limits for one very important reason — a larger jumping surface will inherently weigh more.
Ventilation
One wouldn't think that the ventilation of a trampoline would make a difference in the overall weight limit. But a lack of ventilation results in decreased bounce on the surface of the trampoline. The resistance of the air underneath acts as a gigantic obstacle.
Perhaps surprisingly, this actually increases the overall weight capacity. This increase is due to the pillow of air taking some of the burdens off of the in-ground trampoline. The increase comes at a cost though — the "spring" of the trampoline will be severely dampened.
Likewise, adding proper ventilation to your in-ground trampoline will result in a better bounce, up until a point.
Additional Safety Tips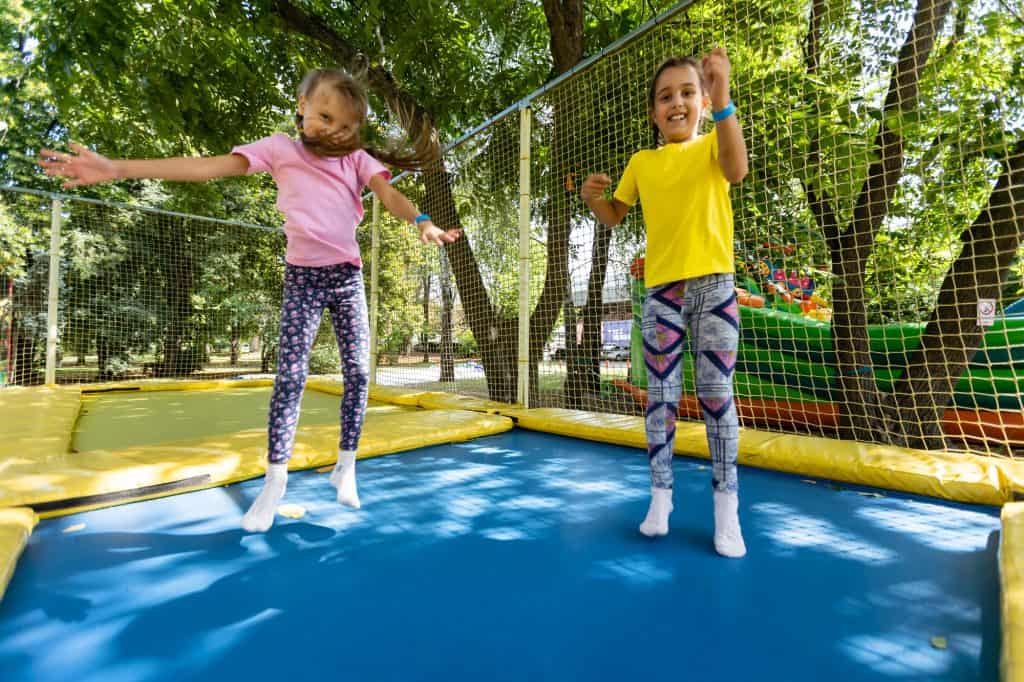 Most people will not ever see a complete collapse of an in-ground trampoline or the retaining wall underneath. However, trampoline accidents are unfortunately common — especially among children.
We've collected a few safety tips you can follow to reduce the chance you or your loved ones will have an unfortunate trampoline accident. These small changes will transfigure a good trampoline into a great trampoline.
Add a Safety Enclosure Net
Many folks think that safety enclosure nets are only worthwhile on traditional trampolines — after all, with an in-ground trampoline, you really don't have that far to fall toward the hard ground. But a safety net does do wonders at preventing accidents.
These safety nets will "catch" a child about to jump off of the trampoline and land them safely on the trampoline's surface. While the fall itself is unlikely to hurt a child, it's possible that they could have horizontal velocity and run into yard fixtures (or land on toys they've left in the yard).
Additionally, a trampoline safety net isn't very expensive when compared to the rest of the in-ground trampoline cost. They often come as part of your in-ground trampoline kit, but sometimes are left out to save costs. Luckily, this safety enclosure can be found for less than $100 on retailers like Amazon.
Here's one with stellar reviews if you're interested in browsing.
Install Safety Pads
Safety pads should definitely be on your list of safety features to add to the outer edge of your in-ground trampoline. These pads will go over the springs, preventing little legs from stepping through into the abyss underneath. Additionally, they can protect a child's head from hitting the springs.
While adding safety pads when installing in-ground trampolines is a good idea, be cautious. As we covered above, proper ventilation is incredibly important for maintaining a good bounce. If your in-ground trampoline lacks proper airflow, it will make a popping sound and severely limit the fun you can have.
Don't Allow Unsupervised Jumping
Finally, you shouldn't allow children to jump on ground trampolines completely unsupervised. I recall when I was a young kid and really into professional wrestling. My friends and I would practice our wrestling moves on the trampoline, sometimes jumping off his back porch onto the jumping mat.
Needless to say, we were unsupervised.
Luckily, nothing bad happened to any of us (although we all had many close calls). Don't be like our parents — please watch your kids.