An outdoor patio area can be the crown jewel of your home. Not only is it a great place to entertain guests, but it's a great opportunity to show off your decorating chops with fabulous furnishings. Is there anything better than sharing a fine summer breeze and your beverage of choice while relaxing with friends on your patio furniture?
Unfortunately, if the cushions lining your patio armchairs and sofas smell of mildew, mothballs, or any number of odoriferous items, you can bet that guests will be left wrinkling their noses.
To save yourself from embarrassment, you'll want to follow these tips for getting the smell out of your patio cushions.
Proper Covering and Storage
Do you really want to know the best way of getting smells out of patio cushions? The answer is simply to make sure they never start smelling in the first place. That means taking precautionary measures to prevent the things which cause foul odors in cushions.
99% of these measures involve protecting them from the thing that makes them smell the worst: water.
That's one of the biggest causes of odoriferous patio cushions, in no small part because it can lead to a buildup of mold and mildew. We'll get to how to treat those conditions and deal with odors caused by them in particular a bit later. For now, suffice it to say that they thrive on moisture, so you will want to make sure that your cushions are as well covered and stored as possible so as to prevent that.
Whether you are storing them or simply covering them, your cushions need to be completely covered. They may be weather resistant, but leaving them exposed to the elements allows dirt and dust, mold, mildew, and insects the chance to muck them up. That's why, if you choose to store your cushions, you will want to make sure that they are kept in a dry, temperate area.
However, you do not want to put them in an airtight container, as this can trap whatever smell is in the chamber in with the cushions, causing it to seep into them. So the area should be dry, but also have proper ventilation.
Sweeping and Spraying The Smell Away
Maybe you've already tried this and it was less than effective. What now?
You'll now need to try to get the stain and smell out of your cushions by sweeping them off and washing them down.
Sweeping away debris and pollutants is actually quite easy. Simply take a handheld broom and start sweeping away whatever debris you find. The only trick is to do this on a regular basis.
After sweeping, consider spraying your patio cushions with a light spritz of a scented cleaning agent. You do not want to go overboard with this, as this can lead to odor problems of a different kind. Personally, I cannot stand the smell of harsh chemicals. To each their own!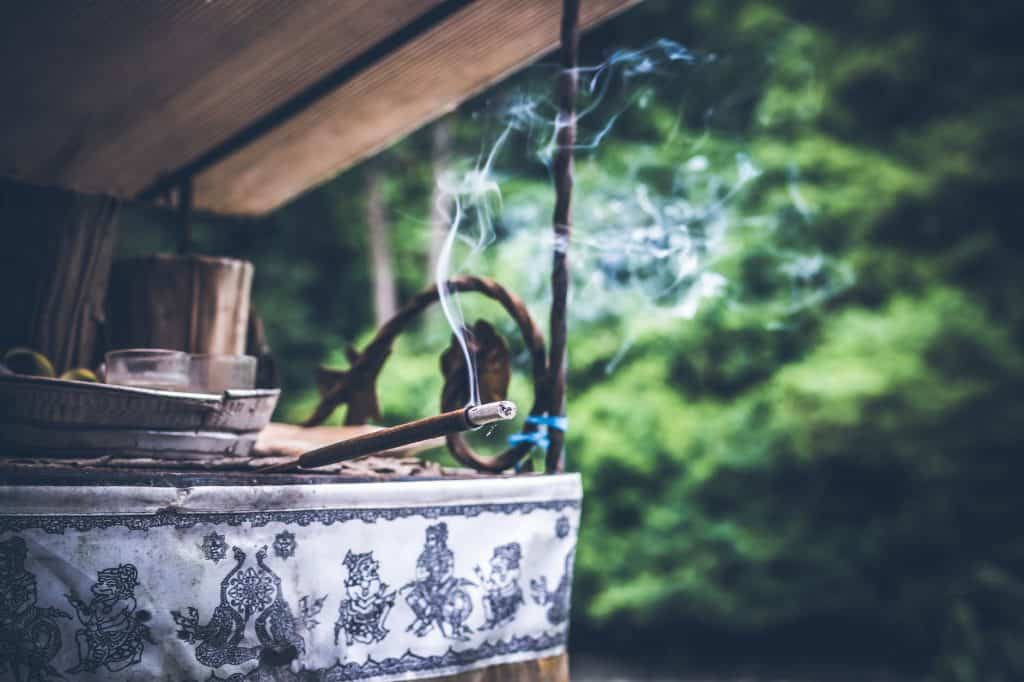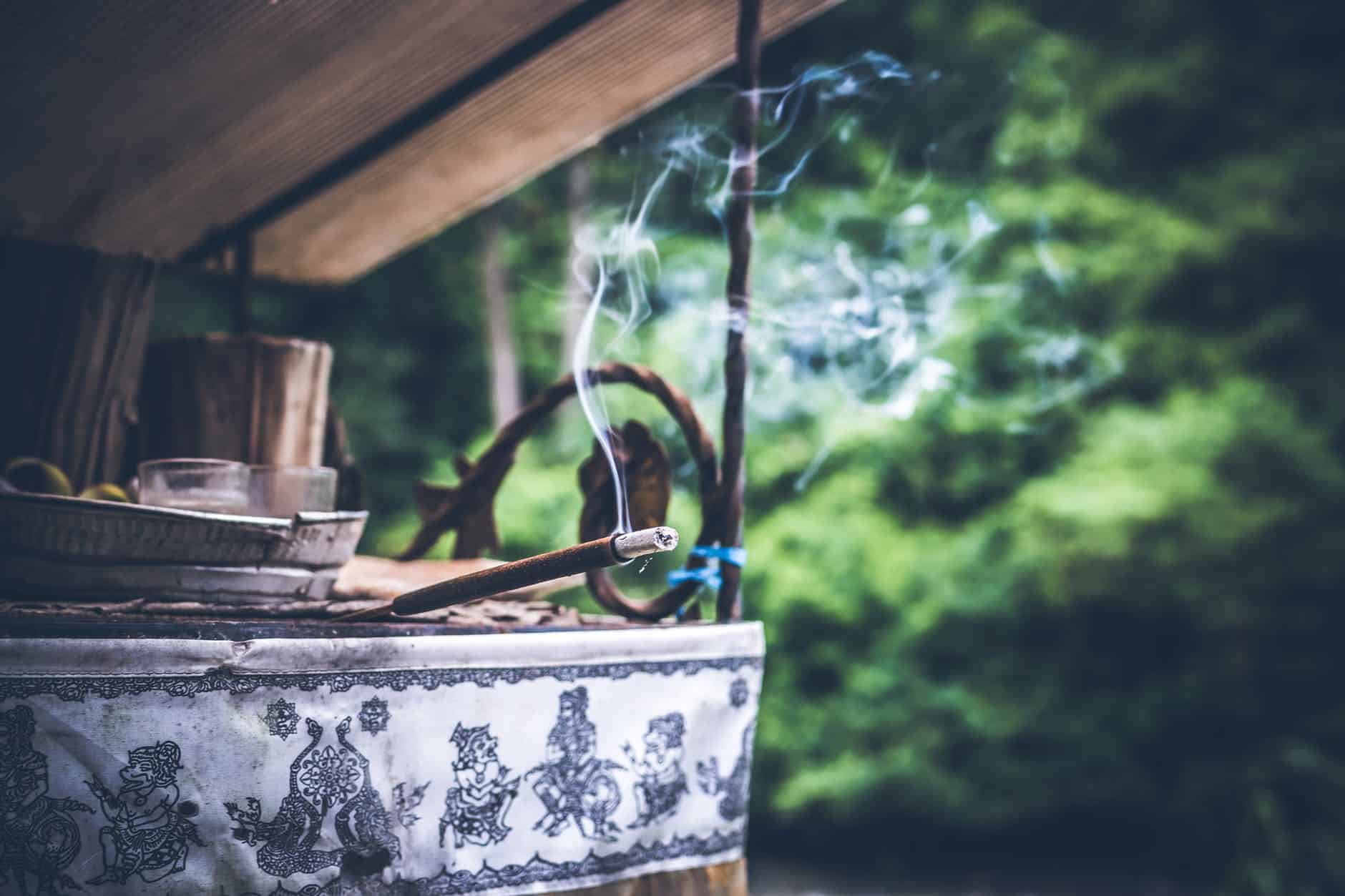 Still, this simple two-part process of sweeping and spraying your cushions can go a long way towards combating bad odors caused by exposure to dirt, insects, and the outdoors in general.
Washing Your Cushions
If the odor persists, you need to wash the cushions.
Your first decision here is whether to opt for a special antibacterial soap or to try a homemade remedy such as vinegar. The latter is obviously more economical while the former is better for heavy bacterial buildup. My advice is to start with the vinegar and move to the soap (assuming the vinegar is insufficient).
Either way, you'll want to apply the cleaning agent directly to the cushion with at least ¼ cup of warm water. In some cases, up to a gallon may be necessary, though you obviously won't be applying it all at once unless you are committed to a full-on soak-and-squeeze cleaning regimen. This technique can be useful for getting out especially deep and stubborn stains, and the smells that all too often accompany them, but this naturally takes a long time to dry. There are multiple approaches to drying them too, so you might skim our guide on how to dry patio cushions.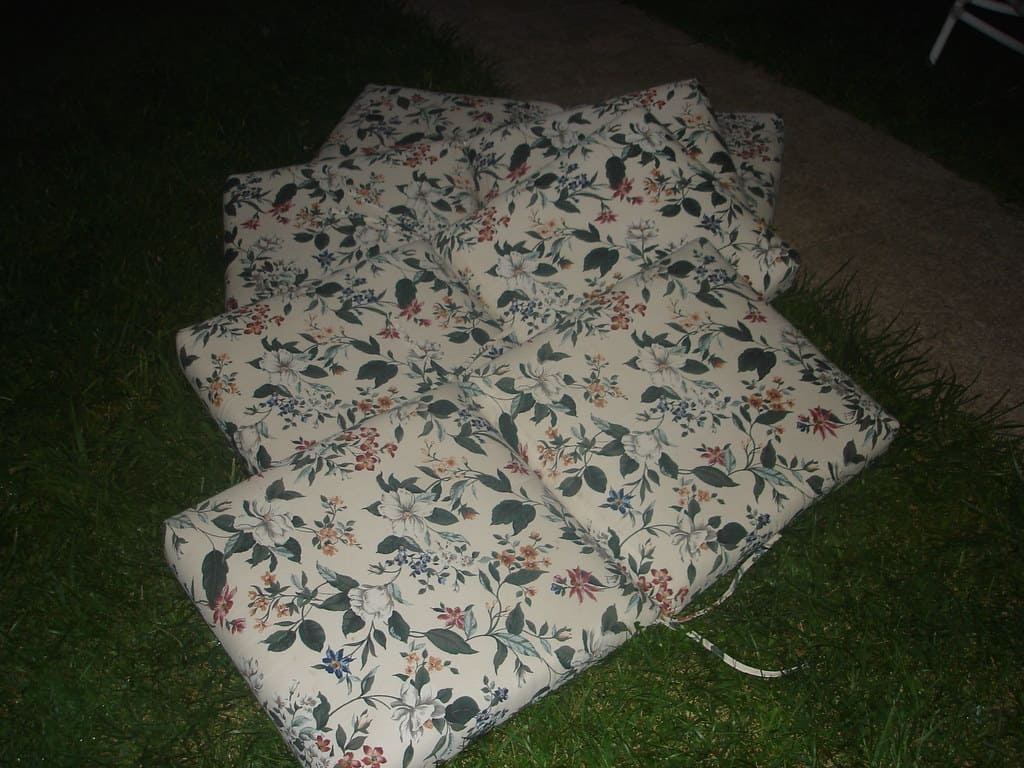 Treating the Frame
Maybe it isn't just the cushions which are starting to smell. We don't think about our patio furniture frames smelling, but it's certainly a possibility. Wood furniture is very prone to this, especially if you have not followed a regular cleaning regimen. While you may require special cleaning agents to treat your cushions, this won't be necessary with the patio furniture frame. Good, old-fashioned soap and hot water is typically sufficient.
If for some reason it isn't, consider pressure washing.
If you have a wicker frame, use a light vacuum to suck up any debris which might otherwise have gotten wedged between the strands.
Eliminating Mold and Mildew
As disgusting as they are, foul odors serve a vital evolutionary purpose in alerting us to unsavory and hazardous materials. Unsurprisingly, this is the case with patio furniture as well.
One of the most common causes of foul odors in patio cushions is a buildup of mold and mildew which, aside from their odiousness, can be hazardous to your health (as well as that of your family and guests).
There's no fancy trick to removing mold and mildew from your patio cushions — you just have to clean it. However, you have quite a few options for how you clean the mess.
Combine water, dish detergent, and baking soda, and apply it to the cushions with light circular scrubbing motions.
Apply ammonia, which can be purchased or made with baking soda, vinegar, and water, to fight mold.
Use hydrogen peroxide, although this is recommended only for especially strong cases, and you'll need to use a mask while working with it.
Use lighter cleaning agents such as lemon salt or a mild bleach.
It is vital to note that you should never mix ammonia and bleach, as the result is highly toxic and very dangerous.
Getting Out Pet Stains
We all love our cats and dogs, but we don't always love what they do to our furniture. If your patio furniture odor problems stem from your cat or dog leaving fur (or something else) on the cushions, you'll want to look for specially-formulated pet cleaning agents. Be sure that any cleaning agent is safe to use on your cushions, and that they are specially formulated to not just remove stains but fight pet odors as well.
Don't let foul smells ruin your cushions or your summer afternoons entertaining guests. Find the right cleaning agent and method for keeping your cushions fresh and odor-free.