A well-built patio adds beauty, value, and a place for fellowship to your home. If your backyard backs right up to a hill, you may be concerned that you won't be able to make your patio dream a reality.
I'm happy to tell you that whether you're using pavers, stone, or paved concrete, building a patio on a slope is not really that different than building on a level surface. Stay tuned, because I'm about to share what I know about how to build a patio on a slope.
Determine Finished Size
First, you'll need to measure the intended size of the completed patio. Mark the outside edges with stakes or contractor paint. Since you'll be constructing this patio on a sloped surface, I recommend that you not extend the patio beyond fifteen feet.
This is because the berm required to create a level finished surface can't support the weight of a larger patio. It may not happen instantly, but the weight of the larger patio would eventually cause the retaining wall to lean and eventually topple over.
What is a Berm?
A berm is a level space, shelf, or raised barrier separating two areas. It can serve as a fortification line, a border/separation barrier, in industrial settings, or in many other applications.
(source)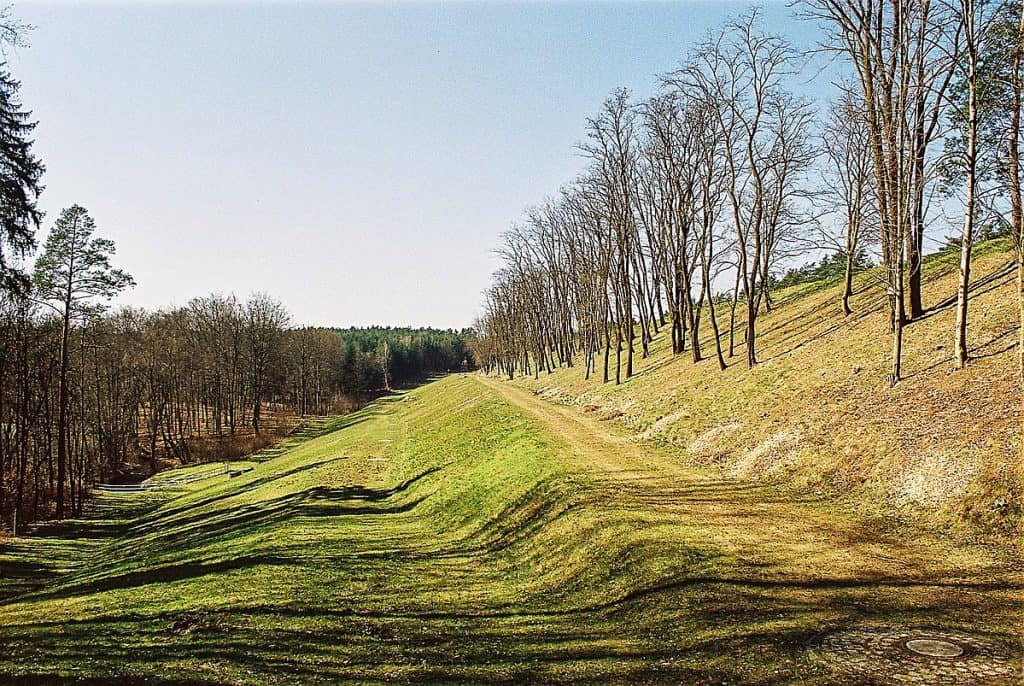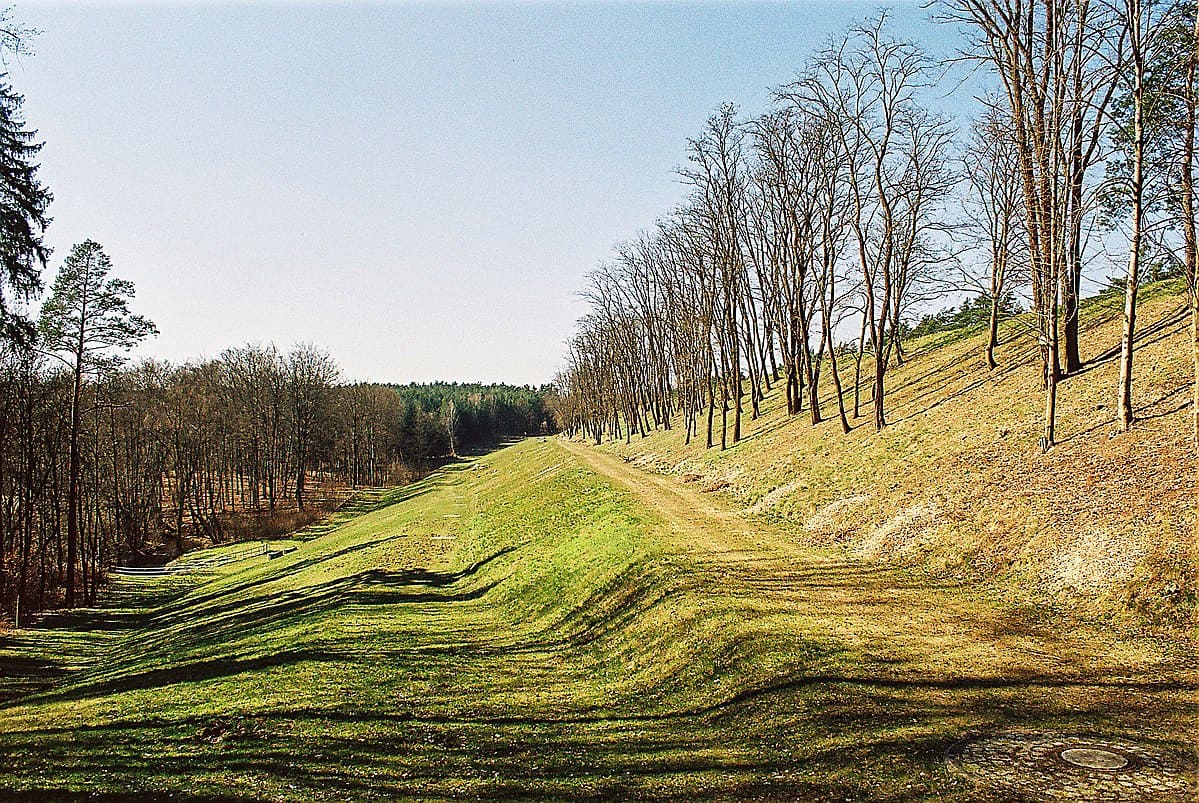 Level Your Stakes
The next step in how to build a patio on a slope is to level your stakes.
Most of us aren't lucky enough to have access to surveyor's equipment. But that's okay! You can simply use string and a line level to check your work. Take your time to get this part right, as there won't be an easier time to fix it.
To mark your area, simply pound the stakes at the desired outside edge of your proposed patio, extending a string to the upper edge of the stake.
Place the stakes roughly a foot apart, using the string to mark the outer edge. This will be the final surface of the patio. The stakes themselves will ultimately mark the finished height of the berm and required retaining wall.
Build A Solid Trench
You'll want a good-quality trench surrounding your eventual retaining wall.
The trench will form the foundation of the entire construction project, so great care must be taken to make sure it's sturdy. To build this trench, simply excavate a perimeter 12″ deep, filling it with unwashed gravel.
You'll want to level it and compact it using a hand tamper, filling it with more gravel as it settles.
Construct A Retaining Wall
The most important (and difficult) part of building a patio on a sloped yard is designing and installing the retaining wall. In addition to being a visually pleasing part of the finished patio, the retaining wall is required to raise and stabilize the finished grade. While some builds can be pricey, there are ways to get more mileage out of your money (as we wrote about here).
Careful, deliberate construction of the retaining wall is essential for raising the grade and anchoring the final project. Why, you may ask?
The entire patio relies on this wall to support its weight and it will be a focal point of the outdoor area. For these reasons, select your materials wisely. We've done a deep dive on the cheapest way to build a retaining wall, but here's a handy table if you'd like to a shorter version.
Retaining Wall Materials
| | | |
| --- | --- | --- |
| Material | Suitability | Cost |
| Poured Concrete | B- | $ |
| Interlocking Bricks | B+ | $$ |
| Stone | A+ | $$$ |
| Timber | C- | $$ |
| Railroad ties | B- | $$ |
So, what materials should you use to construct a retaining wall? The best bet is to go with construction materials that are durable and sturdy.
These include poured concrete, interlocking block, or best of all — stone. Although a block material is much easier to install, the drawback with interlocking materials is that the styles keep changing.
In addition to having your outdoor space dated in only a year or two, if you ever need replacement blocks they may be difficult to find.
Stone, however, has been tested throughout the ages and seems to never go out of style. If you're looking to create a timeless patio, stonework will keep looking good and provide a reliable retaining wall for decades to come.
You may be wondering which materials you should avoid when building a retaining wall.
Timbers, railroad ties, or anything organic will eventually rot. This causes the retaining wall to be unstable, also reducing the lifespan. You don't want to do this tough of a job just to have to look up how to build a patio on a slope again in 10 years!
Backfilling
Now that the surface is level, the base is built, and your retaining wall stands tall, it's time to backfill your creation. You may be tempted to reach for fill dirt, as it's a very cheap option.
However, I would advise against that. Soil in general isn't stable and will continue to settle and shift. This will ultimately result in an uneven patio. So then, what should you use to backfill your patio? More unwashed gravel makes a fantastic choice.
Backfill the retaining wall with your unwashed gravel until you have it roughly three inches below the top of the wall. Using a rake, level the gravel as best you can.
It's time now to rent a machine compactor, which can be rented at Home Depot or other hardware stores (alternatively, you can purchase one on Amazon).
Follow the manufacturer's instructions and stamp the gravel down until it's sturdy. Have some additional gravel on hand to fill in any dips or uneven areas as you compact.
Time For Sand
After the gravel is stamped, fill in and level the remaining three inches with sand.
This is what your eventual patio material will be embedded into. Place the stone, brick, block, or whatever you've chosen on top of the stand and tap it down as you go with a large rubber mallet. Slowly compact the entire finished patio and sweep the area.
Notice
If you've chosen a concrete pad for your patio surface, you can forgo the sand. Simply frame up your area, pour, and float the concrete.
One final word — be sure you have an adequate slope for your patio. You want to avoid pooling water and facilitate good drainage.
You're Done!
After following all of these steps, you should know how to build a patio on a slope. It's hard work, but very rewarding. Now, simply pull out the grill, set up the patio furniture, and relax.