Although the predominant purpose of a retaining wall is to support soil on two different levels, they are also a great way to improve outdoor space. In fact, there are hundreds of design ideas available, all in varying materials, heights, and styles.
The cheapest types of retaining walls are wood and concrete blocks, followed by concrete and stones or bricks. Each material has benefits and drawbacks, including strength, longevity, and attractiveness. For those who are planning on building their own retaining wall, it is vital to plan and research.
This article will explain the basics of a retaining wall, the different materials and approaches that can be used, and things to watch out for when building.
Building a retaining wall
Building a retaining wall has many advantages, such as increasing the amount of usable space in your outdoor areas.
Additionally, depending on the height and design, retaining walls can act as a great built-in seating area. By integrating additional features, such as plants or lights, a functional wall can also become an eye-catching focal point of a yard.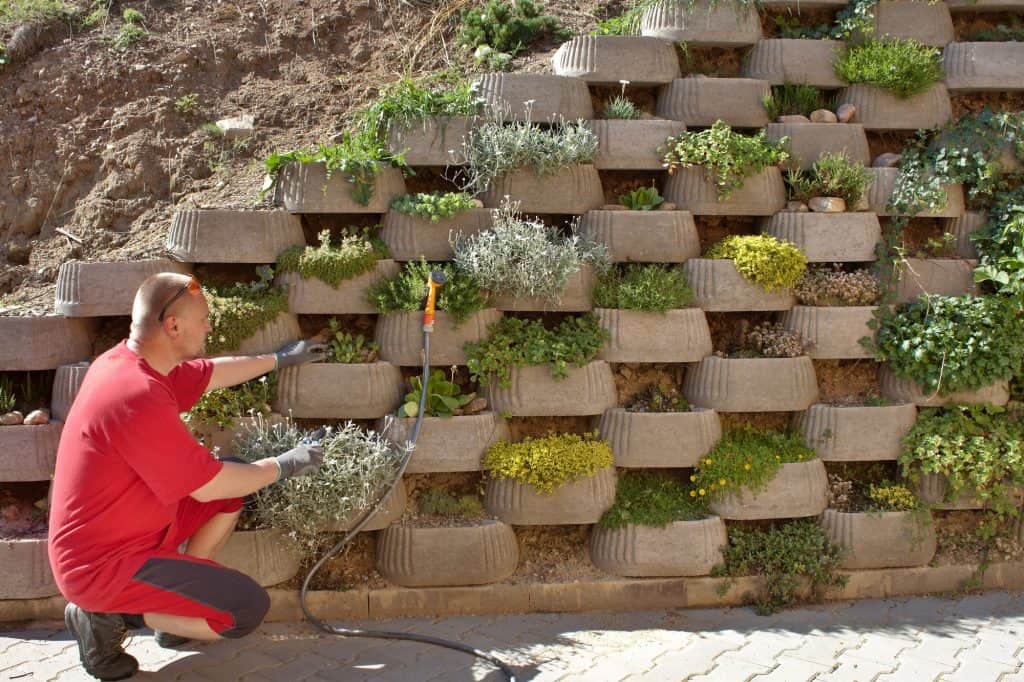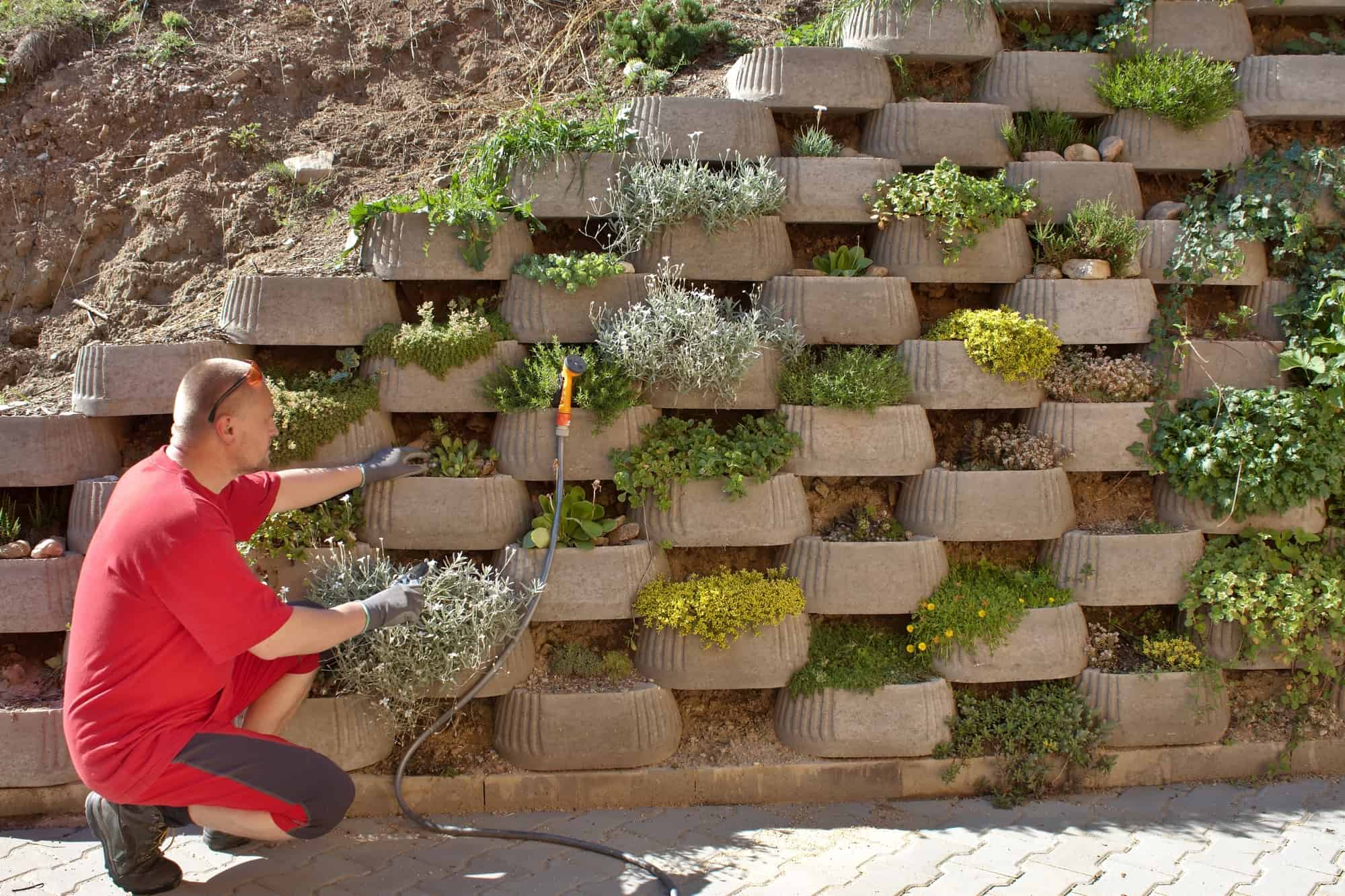 Size your project first
Whether undertaking a DIY retaining wall or hiring a contractor, several things must be taken into account before starting:
Due to the amount of lifting and moving of soil and materials, this project would require more than one person.
Depending on the size of the retaining wall, a building permit may be needed before starting construction.
Proper drainage must be included in your design as the soil can become very heavy when wet. We've written about the importance of drainage in the past.
With all of the different designs and materials available, it is important to research properly. Plan what you would like your retaining wall to look like and what steps need to be taken in order to be successful.
Types of Retaining Walls
The cost of building a retaining wall is not only reliant on the material used but additional expenses like the need for excavation or backfilling.
It is important to use a material that you feel comfortable with. For those that do not have a lot of experience doing this type of work themselves, there are blocks manufactured specifically for retaining walls that can make the process significantly easier.
Although retaining walls can be constructed using many things, there are four main types.
There is wood, concrete blocks, poured concrete, and stone or bricks, in order of least to most expensive. Each has significant advantages and disadvantages, and it is important to do lots of research before choosing which material is best for your project.
Wood
Cost: $1,000 – $2,800 total (source)
If cost is your biggest concern, pressure-treated wood is the best material for building your retaining wall.
Although inexpensive, there are several downsides to using wood instead of other materials. Wood does not last nearly as long as stones or concrete blocks would, and the pieces are often large and awkward to transport.
This is definitely a type of wall that would require an extra set of hands or two and could potentially need the help of an engineer if walls higher than 4 feet (1.2 meters) are desired.
For more information on how to effectively build a retaining wall using timber, check out this video from This Old House:
Concrete Cinder Blocks
Cost: $3,184 – $8,652 (source)
Interlocking concrete blocks, also called landscaping blocks, makes it a lot easier to plan and build your retaining wall. These manufactured blocks can come in various designs, colors, and patterns to suit any taste. They are very popular due to how easy they are to use and transport, without sacrificing any durability or strength.
If you would like to learn more about interlocking blocks, watch this video from Handyman Startup:
Additionally, we wrote an article about wood vs. concrete for retaining walls you can check out.
Poured Concrete
Cost: $20-$25 per square foot (source)
Although strong, poured concrete is not the best choice for building their retaining wall by themselves. Pouring concrete vertically, as required for a wall, requires a lot of experience and preparation. Additionally, if there are any problems in the future and the wall needs to be repaired, it is costly and time-consuming to do so.
Stone or Brick
Cost: $11-$15 per square foot (source)
The most expensive materials, stone or brick, are a great option for those interested in a sturdy but attractive retaining wall. For a more cost-effective option, stones can be gathered on-site to use, but ensuring they are stacked properly and securely is tricky. Bricks are easier to stack, and one could potentially use cinder blocks to reduce overall costs.
How To Build a Strong Retaining Wall
If a retaining wall is properly designed and built, potential problems could be avoided to reduce the chance of damage over time. We actually wrote about how to build a small retaining wall in this article if you'd like to learn more.
Each material has strengths and weaknesses; however, one can use additional materials to reinforce the retaining wall and reduce the chances of breaking or collapsing.
Products like My Supply Shed Retaining Wall Geogrid from Amazon.com are designed to be installed while the wall is being built and can provide additional support.
How To Avoid Potential Issues
Three commons problems could potentially lead to the collapse of your retaining wall:
If the soil behind the retaining wall becomes too wet, hydrostatic pressure can build and cause damage. In addition to proper drainage, most of the material behind the retaining wall should be some gravel (e.g., 3/4 -minus or bank-run gravel is ideal).
When the soil becomes overly saturated and freezes behind the wall, a break could eventually occur. Drainage is important even in cold temperatures when frost can form. In addition to gravel, a concrete block can be used as a base if heavy frost is expected.
A heavy load is placed near the wall, which can cause tipping or leaning. This can be avoided if items like cars or sheds remain at least 3 feet away from the retaining wall's top. If you know that this may be a problem, tiebacks can be installed to add extra support.
All of these issues are avoidable if the proper planning and care go into building the retaining wall. It is much easier to build a strong, stable wall initially than going back to fix it later.
Familiarize Yourself With Available Resources
For projects that many decide to do themselves, there are a large number of resources available, including our own retaining wall resource. Online videos, forums, and step-by-step instructions from experienced engineers, landscapers, and handymen are available to help.
Additionally, there are many books about building retaining walls, like Ultimate Guide: Walks, Patios (Creative Homeowner) from Amazon.com. This highly reviewed book provides design ideas and directions for retaining walls, as well as walks and patios.
In Summary
Retaining walls are a great way to open up your yard and create a beautiful landscaping feature. To do this as economically as possible, wood is the best material to use when creating the wall.
It is important to do a lot of research and planning before building and ensure that all of the proper steps and precautions are taken.
To avoid potential issues due to wet soil or frost, the retaining wall must be built with the proper drainage, reinforcements, and foundation.
Sources