If you are planning a new patio or restoring an existing one, the many patio flooring choices might seem overwhelming. What are the cheapest patio flooring options, and how do you choose the one that fits your budget and meets your needs?
Here are 10 cheapest patio flooring ideas:
Artificial Turf
Indoor/Outdoor Carpet
Brick
Vinyl Outdoor Flooring
Composite Wood
Wood Decking
Poured Concrete
Natural Stone
Tile
Patio Pavers
Some characteristics of patio flooring are important to your search. Durability of the finished surface, location of the patio, and your budget are some factors that determine which one works for your outdoor space. Let's take a closer look at the cost and advantages of each patio flooring type and how it could fit into your patio plan.
1. Artificial Turf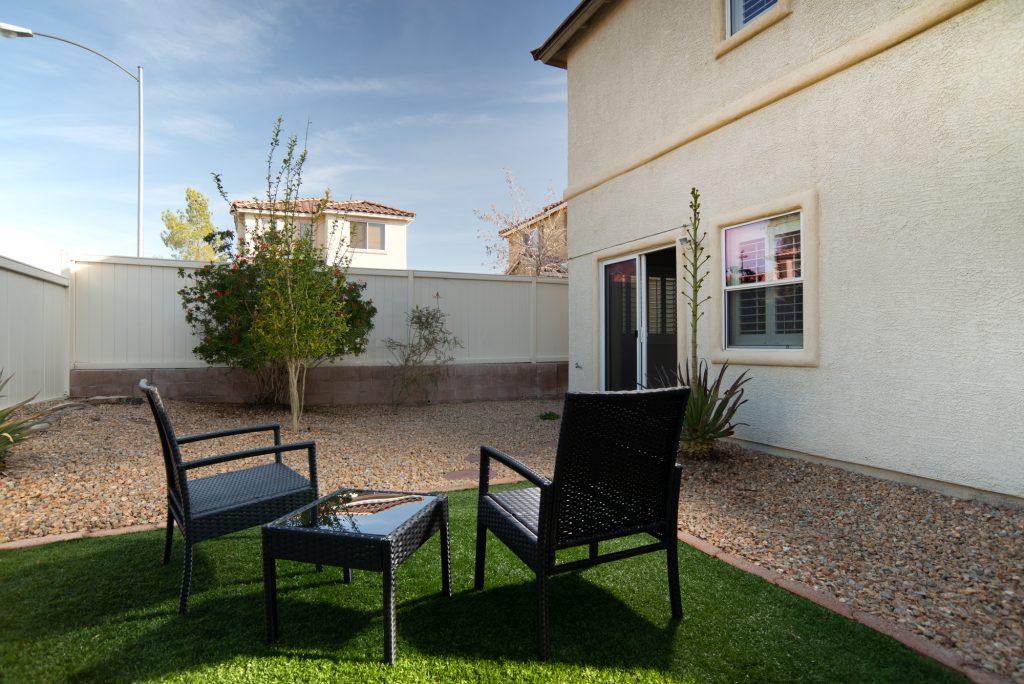 Artificial turf is short synthetic grass. A manufacturing facility makes the artificial turf from synthetic fibers that mimic the appearance of natural grass. The grass base offers some cushioning to stabilize the turf.
Most artificial turf comes from:
Used tires
Sand
Rubber-coated sand
Pliant plastic pellets
A high-quality synthetic turf generally lasts between 15 to 20 years. Today, artificial turf is geared toward multiple applications such as for pets and children, heavy traffic, and other specific applications.
Artificial turf is environmentally-friendly and cost-effective. The average cost for synthetic turf is around $12.33 per square foot (0.09 square meter). We also wrote about the cheapest way to install artificial turf.
2. Indoor/Outdoor Carpet
Indoor/outdoor carpet has come a long way from the outdoor shag at your grandparent's house you might associate with this product. Outdoor carpet is:
Dirt-resistant
Weatherproof
Fade-resistant
Outdoor carpet is made of synthetic fibers called olefin, which resists mildew and mold and stays color-fast throughout the seasons. You can clean this outdoor carpet with diluted bleach water and rinse the excess with a hose for a new surface.
The average cost of outdoor carpets is $1.45 per square foot (0.09 square meter). You can find outdoor carpets at most home improvement stores and online, too.
3. Brick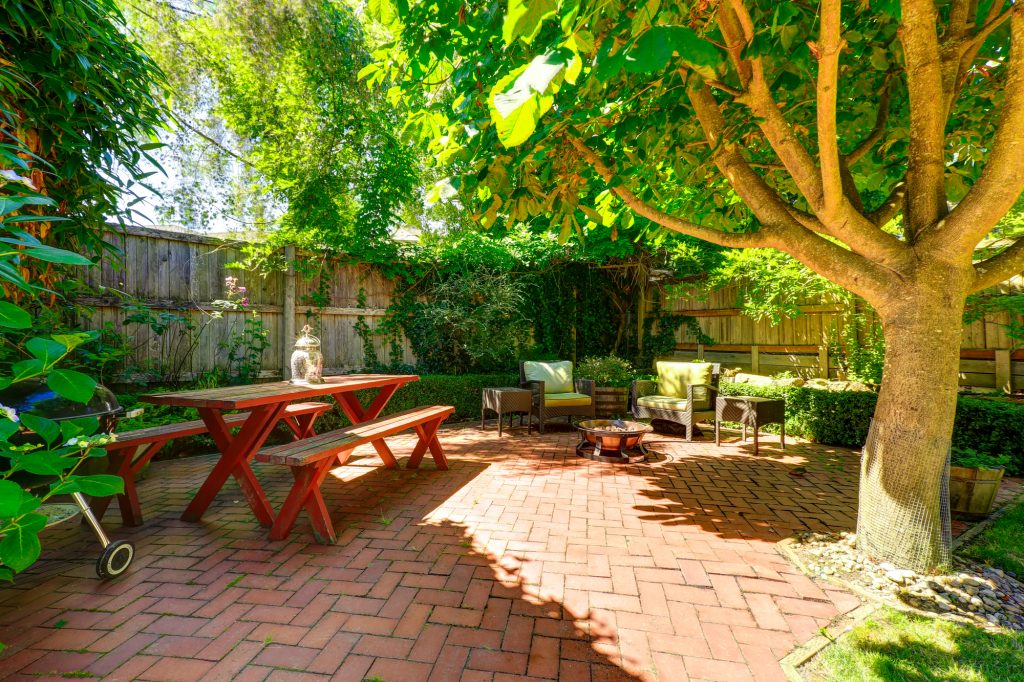 Most brick patio surfaces are brick pavers. They are authentic brick but slimmer and without the holes for better patio applications.
Brick patio surfaces offer charm and a historic feel to your patio space. Brick, on its own, is a classic patio flooring that fits any home style and aesthetic.
A brick surface has a slightly rough texture that can help to prevent slips in wet weather, and often, the edges are sharp and angular or tumbled and irregular. The same brick can give different looks when the mortar color changes.
Brick is a durable and weatherproof surface for any patio. The cost of bricks averages between $5.00-13.00 per square foot (0.09 square meter) for the materials. You must also pay for installation.
4. Vinyl Outdoor Flooring
Vinyl laminate outdoor flooring can be used on a patio but is not an ideal choice. This is because vinyl laminate is entirely waterproof, but it will swell and crack in extreme temperature changes.
You can use vinyl laminate outdoor flooring when you live in a climate with mild seasons. Vinyl laminate is a hard plastic that has a lifespan of approximately 10-15 years. The consensus is the more high-end your vinyl laminate outdoor flooring, the longer it will withstand the elements and last.
The average cost of vinyl outdoor flooring ranges from $2.00-10.00 per square foot (0.09 square meter) for materials. You must also pay for the installation.
5. Composite Wood
Composite wood patio flooring comes in tiles and planks. It is maintenance-free, durable, and manufactured to mimic natural wood. This patio flooring material has some characteristics to recommend it.
Composite wood is:
Easy to install: Since composite tiles and planks snap together, it is easy to install and replace if something should happen to one piece.
Waterproof: A patio can get wet from the rain, so a waterproof material is essential. Composite wood will drain the water without cracking or warping.
Environmentally-friendly: Composite wood is manufactured from a recycled plastic and wood combination. Instead of these materials going to a landfill, patio flooring transforms them into a useful form.
Weather-resistant: This patio material withstands the harsh elements, from sleet to ice to blistering heat. The weather won't destroy the integrity or appearance.
Composite wood tiles are great for covering a cracked patio surface. These tiles are available in multiple sizes and easy to install. Most composite wood tiles look like wood, but some tiles resemble stone or grass.
While composite wood tiles and planks are more expensive than wood, they last for years without cracking, fading, or staining. Composite wood costs between $30.00-60.00 per square foot (0.09 square meter) installed.
6. Wood Decking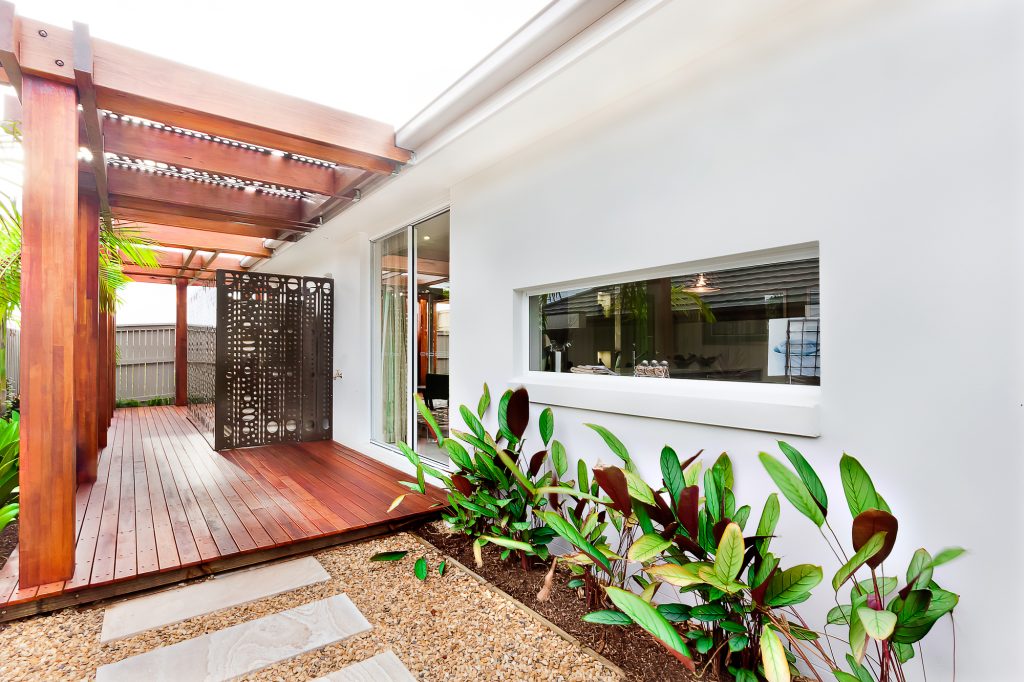 Topping a patio with a wood deck can be a great way to cover cracks and other issues on the surface. Using treated lumber will produce a wood deck that lasts for up to twenty years or more.
Covering your patio with wood decking can be a great way to get more functional space out of an existing structure. The best way to install a wood deck over your patio is to use a standard deck substructure that elevates the deck off of the original surface.
Your door threshold should be at least twelve inches (30.5 centimeters) above the existing patio for the best outcome. Anything less will require tearing out the old patio to build a wood deck. You will want a smooth transition from the indoors to the outdoors once the wood deck is in place.
The cost to install a wood deck over the existing patio is $6.00-8.00 per square foot (0.09 square meter) for materials. You must also pay for installation, and the wood should be stained and treated every year.
The best wood to use is treated lumber, cedar, or bamboo.
Here is a Youtube video on building a wood deck over a concrete patio.
7. Poured Concrete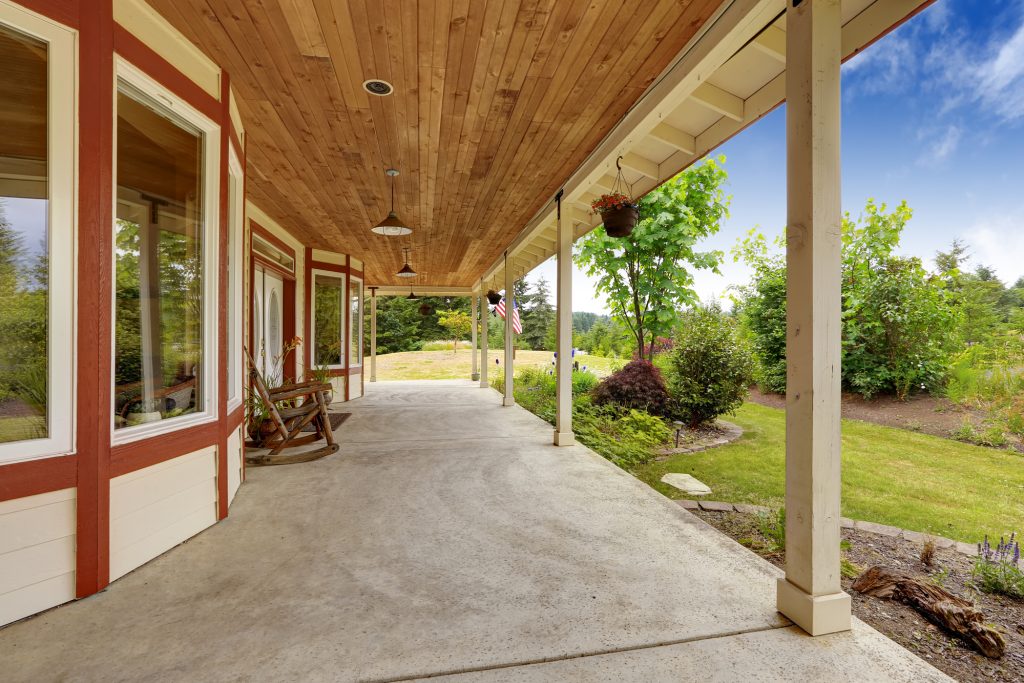 When an existing patio is in bad shape with cracks and fissures on the surface, you can pour new concrete over the patio to form a new surface. Follow these steps to prepare the patio surface for a new concrete floor:
Clean the patio surface with a stain remover and pressure wash any paint or tree sap to give the patio the best surface for concrete adherence.
Paint over oily stains that won't come clean with a sealer.
Dig a trench of at least six inches (15.24 cm) around the patio base.
Place wood forms in the trenches and spray with vegetable spray for easier removal.
Paint a bonding agent on the existing patio to ensure the concrete adheres to the surface.
Apply a thin layer of concrete over the surface to fill cracks and holes.
Fill the entire area inside the forms with concrete.
Use a float to ensure the surface is level.
Brush the surface with a broom for texture and a non-slip surface.
Allow the concrete to dry for forty-eight hours.
The cost of poured concrete per square foot (0.09 square meter) is approximately $6.60.
8. Natural Stone
Natural stone is a logical choice for a patio floor. It is weatherproof, durable, and attractive with minimal maintenance in addition to other benefits. The most common selections for natural stone are the following:
Slate: Slate is a great choice when you want a patio surface of a dark blue/gray tone. It is long-wearing and easy to keep clean. The surface can scratch, but this does not detract from the appearance as natural slate is irregular from the start.
Bluestone: Bluestone is another natural stone patio choice that offers rust, green, and brown hues. It is pretty strong and can withstand freeze/thaw cycles well in colder climates. The textured surface is helpful to prevent slipping when the bluestone is wet, making it perfect for a patio.
Travertine: Travertine is a porous natural stone with a textured surface to give traction. This is a great natural stone for patios as it withstands the freeze/thaw cycles well. It comes in pavers cut into rectangles and squares for easily fitting together.
The cost for natural stone installed as a patio flooring is between $15-50.00, depending on the choice of stone. Most of the cost for natural stone lies in installation fees.
9. Tile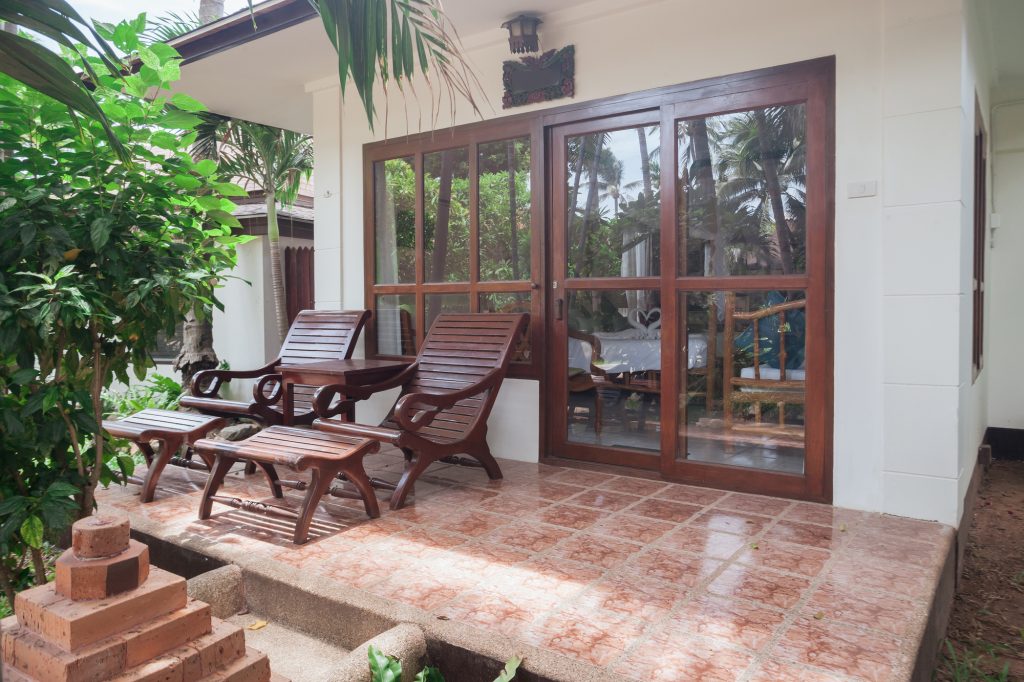 As with natural stone, most of the cost of using tile for a patio floor is the labor expense. Tile is a popular choice for a patio as several options allow you to incorporate colored tiles for a distinctive look.
Common tile choices are:
Porcelain: Porcelain tile is durable and can be cleaned simply with a household cleaner. When you choose a porcelain tile with good slip-resistance, you don't have to worry about accidents when the tile is wet. The average cost for porcelain tiles is $3-35.00 per square foot (0.09 square meter) installed.
Ceramic: Ceramic tile better for light-use patios as it is not weather-rated. This tile does not perform well in freeze/thaw conditions but under the right circumstances, ceramic tile is strong and durable. The average cost for ceramic tile per square foot (0.09 square meter) is $1-35.00 installed.
Granite: Granite tile is an exceptional choice for a patio as it weathers remarkably well and retains its beauty for years. It is resilient and tough and comes in many colors and patterns. The average cost for granite tile is $18-50.00 per square foot (0.09 square meter) installed.
10. Patio Pavers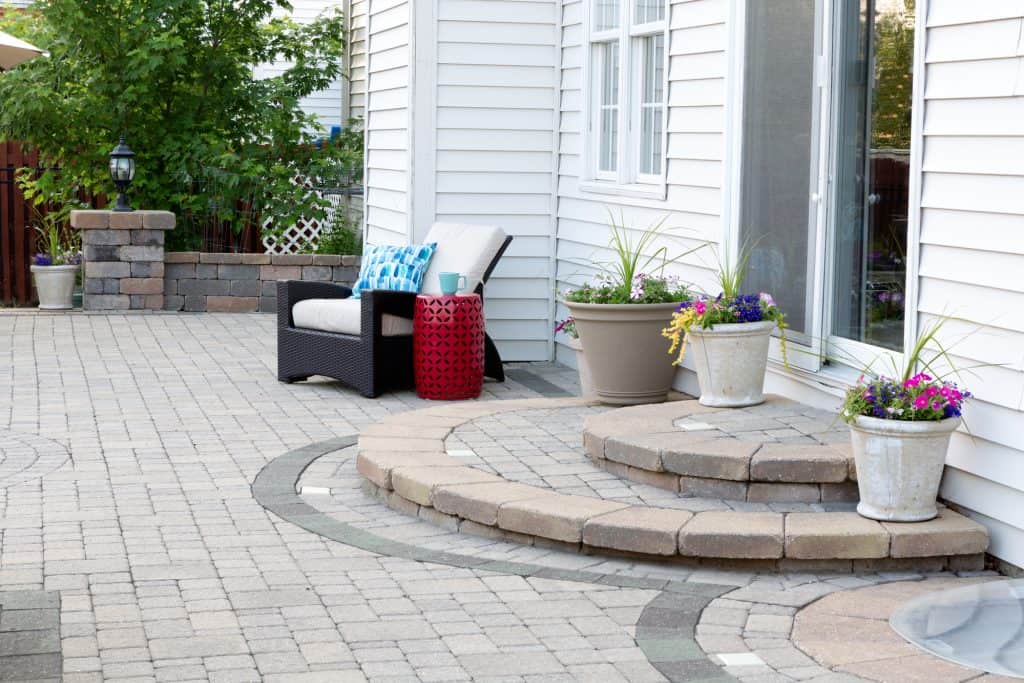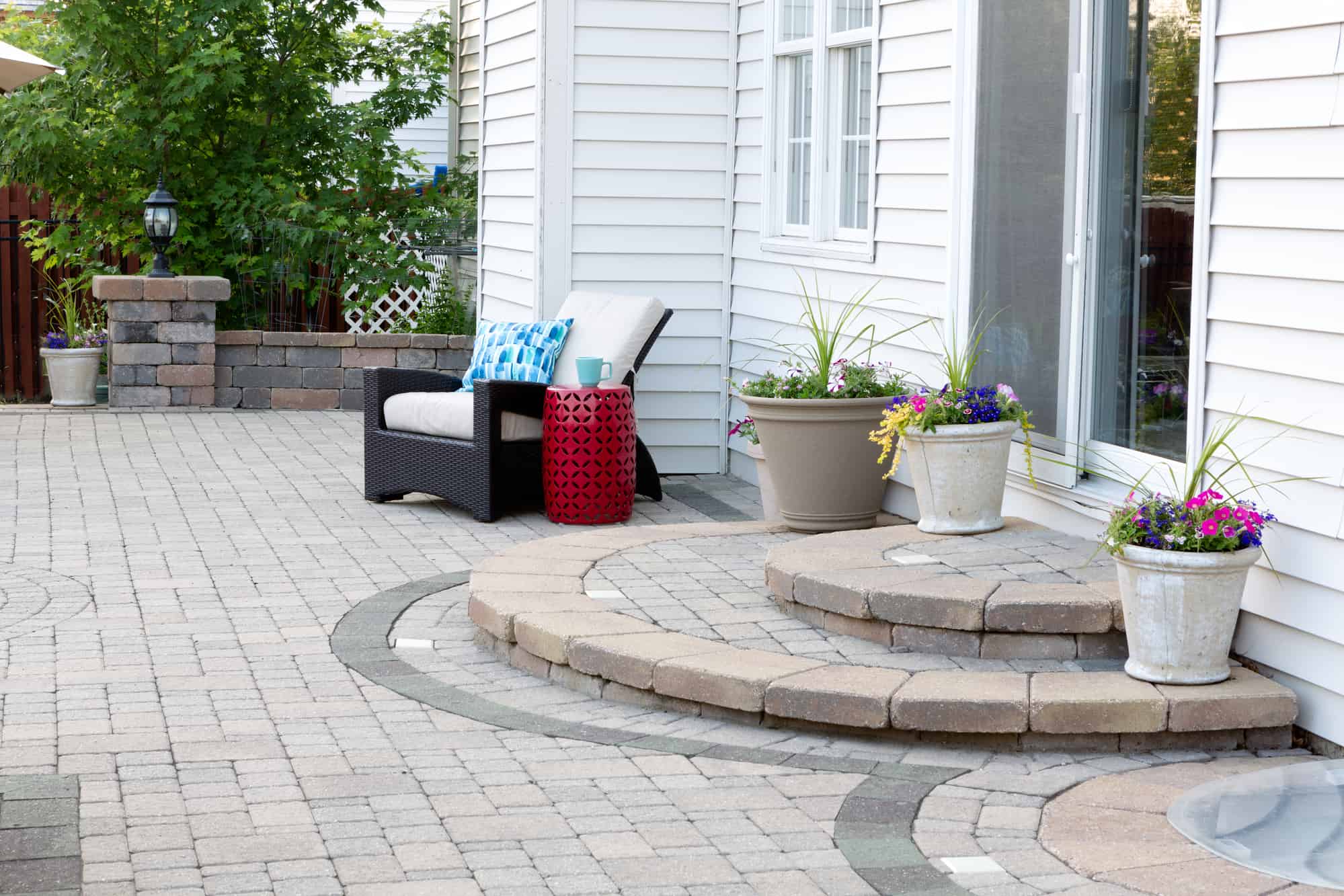 Patio pavers are one of the most durable, versatile patio flooring options due to their manufacturing process. They come in a wide array of sizes, colors, textures, and styles. These patio pavers mimic natural stone but with a host of benefits not offered by natural stone.
The benefits are:
Consistent color: Patio pavers offer a consistent color throughout the entire paver. This comes from aggregates within the whole paver from top to bottom.
Non-fade: The aggregates prevent the patio pavers from fading over time, meaning that the pavers look as good in five years as they did on day one.
Unlimited choices: Manufactured patio pavers give you endless choices and combinations. From worn cobblestones to sleek granite to classic brick, there is a patio paver for every style and preference.
Durable: Patio pavers are three times stronger than concrete alone. They can withstand heavy foot traffic and retain their original beauty.
Easily maintained: Most patio pavers can be cleaned with soap and water to remove grime.
Withstand freeze/thaw cycles: Patio pavers are flexible, making them ideal for colder climates with frequent freeze/thaw cycles in winter.
The average cost of patio pavers per square foot (0.09 square meter) is $20-40.00 installed.
A Price Comparison of Patio Flooring Choices
Consider maintenance, resistance to foot traffic, and installation costs when looking at patio flooring. Other factors to examine are whether this is a temporary or permanent situation.
The cheapest patio flooring selections will vary according to the price of the materials and the cost of installation. The least expensive is not always the best but choosing wisely is essential when it is all you can afford.
From the cheapest patio flooring to the most expensive, this chart will compare the patio flooring options discussed. These calculations are based on a 100-square foot (9.3-square meter) space.
| | |
| --- | --- |
| Patio Flooring | Price per 100 square feet (9.3 square meters) |
| Outdoor carpet | Approximately $145 plus installation |
| Wood decking | Approximately $800 plus installation |
| Concrete | Approximately $660 plus installation |
| Vinyl tiles or planks | Approximately $1000 plus installation |
| Artificial turf or grass | Approximately $1233 including installation |
| Brick | Approximately $1300 plus installation |
| Patio pavers | Approximately $4,000 including installation |
| Natural stone | Approximately $5000 including installation |
| Tile | Approximately $5000 including installation |
Choosing the patio flooring option for your project depends on two factors:
Durability: When you invest the money to cover a patio floor, you don't want to have issues with the materials that cause you to redo the surface soon after you finish.
Your budget: The amount of money you have to spend dramatically influences a patio flooring choice. The correct option is the one that fits your budget and gives you the most longevity for what you can spend.
Sources