For some, the idea of building a septic system can be overwhelming. Especially if you're on a budget, it can be stressful to try and figure out the cheapest way to construct a septic system.
The cheapest way to build a septic system is by using a heavy-duty IBC tank or recycled barrels. These materials are more inexpensive than concrete and don't require hiring professionals to help with installation. Besides, using either method is faster than building using concrete or steel.
The rest of this article describes how to build a septic system using two of the cheapest methods. Read on for a step-by-step guide and tips on maintaining these systems.
How To Build a Cheap Septic Tank Using a Heavy-Duty IBC Tank
There are several things needed to build a septic system using this method.
Materials needed:
Heavy Duty IBC Tank
Cordless drill
A set of pliers
Cutting tool with a drill bit
4 inch (10.16 cm), 120 mm (12 cm) hole saw
Two 4 inch (10.16 cm), 110 mm (11 cm) flanges
Two 110 mm (11 cm) donut washers
Two 110 mm (11 cm) baffles or 90-degree angle pipes
Two 5.5 by 25 screws
Can of WD40
Lid and frame
Riser
Goggles for eye safety
If you don't own a cordless drill, I recommend the DeWalt Cordless Drill (which can be pretty affordable on Amazon here — affiliate link). It's lightweight and features an LED light ring to provide better visibility in dark spaces.
Once you have the mentioned tools, follow these steps:
Identify Where You Will Install the Septic Tank
Look for an area in your compound where you want to build a septic tank and mark it off with stakes. Make sure that it is level and has no obstructions below it.
This will prevent any problems that may arise while digging the hole for your septic tank, such as water or gas lines being cut when drilling through them by mistake!
Drill a Hole in the Lid of the IBC Container
This is for putting the riser on, which will be detailed later. You can do this using a 4-inch (10.16 cm) hole saw with a drill to make an opening in the lid of the IBC container. There are screws provided especially for this purpose, which are 5.5 inches (13.97 cm) long and made from steel.
Attach the 120 mm Holes Into Two Flanges
Screw two holes into two flanges so they can provide support under the tank during the installation of your septic system. Make sure that both the holes line up perfectly together before tightening them.
Once you have tightened them, it will not be easy to adjust their positions. After doing this, add in two more screws lining up each hole in between for support. You can then screw the flanges into the two 120 mm (12 cm) holes made on the IBC container's lid.
Put On the 110 mm Donut Washers and Baffles
Add two washers to one end of your baffle and then attach it to the riser. After doing this, put in a second baffle where you can add another set of donut washers. Then just put the third one onto the lid of the IBC container's hole.
Make sure that each baffle is balanced out with the other so they won't be too much weight for one end than it can bear during installation. You might need extra screws for added support.
Add the Riser
After you have done all the other steps, then it's time to put on your riser. Ensure that this is level with your IBC container so that when you pour water into it, there will be no leakage from your septic tank during its installation.
To achieve this, line up the holes on each side of the riser and screws on each end with those of the baffles and holes provided underneath.
Once these are aligned correctly, add a screw for stability and tighten everything accordingly.
Put On the Lid
After all the above steps, it is now finally time to add on your lid. Put on your septic tank cover and make sure that everything else stays in place.
Alternatively, you could follow the steps described in the following video:
Caveat: There are many things to consider when building a septic tank. You have to consider the local building codes and ordinances to avoid violating any rules and regulations. Additionally, it would help if you were mindful of the environment to avoid causing damage to nature and other people's property.
How To Build Cheap DIY 3-Barrel Septic System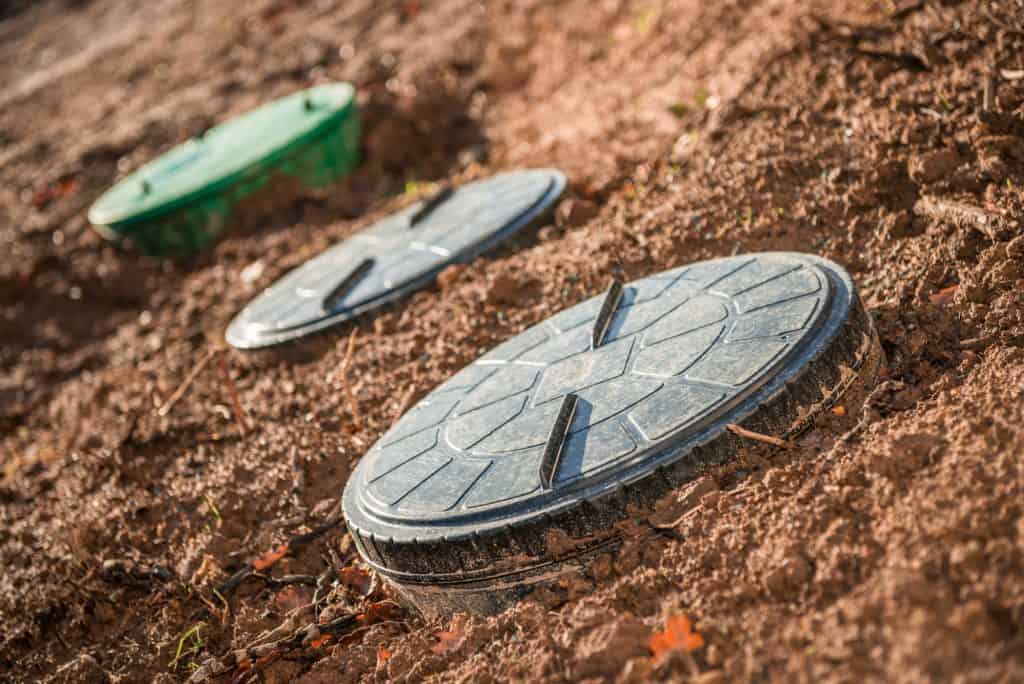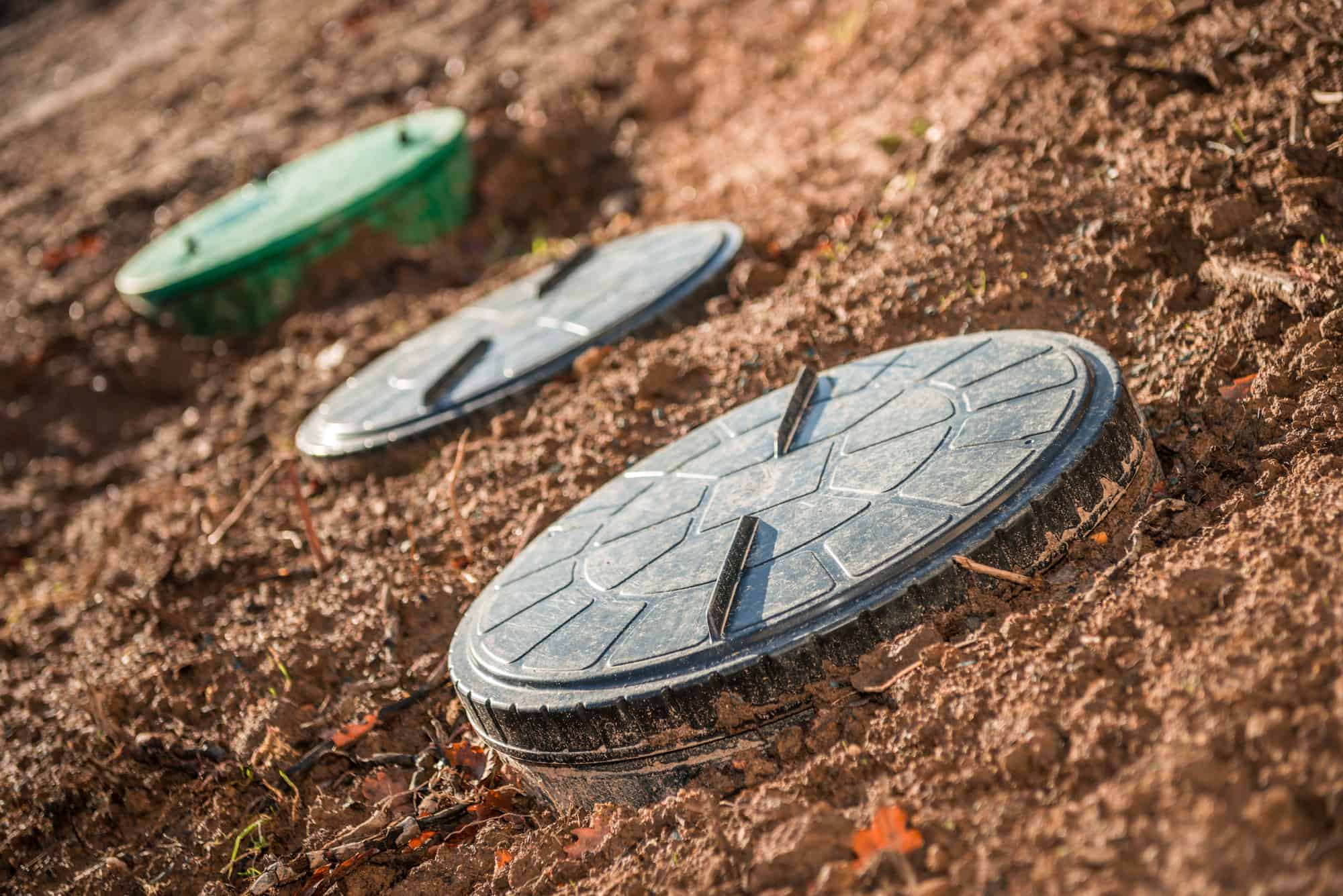 Alternatively, you could build a cheap septic system using recycled barrels.
Materials needed:
3 plastic barrels of 40-gallon (151.41 L) capacity
Drill
A plastic pipe connecting all the 3 barrels approximately 9 ft (2.74 m) and fittings
Shovel
Follow these steps:
Arrange the Barrels With Holes in a Well Drained Spot
Dig about 2 to 3 feet (0.60 to 0.91 m) holes underneath each barrel so they will not sink into the soil when filled with water or waste. You want your barrels to be aligned.
Space them about 2 feet (0.60) apart so that once you put the top lid on, it will cover most of the contents inside.
Ensure that there is enough space between them because if you place them too closely together, it will hinder the flow of liquids inside. You will end up having septic tank failure.
Prepare for Digging
Prepare shovels, buckets, wheelbarrows, and other hand tools needed to dig the trenches leading from your barrels towards a central location.
Make sure that you do this task carefully by wearing gloves and boots while laying down approximately a 10-inch(25.4-cm) wide trench to keep other items out of the way, like rocks or tree roots.
Add Good Soil on the Top of Each Hole
Add some good fertile soil over each hole to act as a barrier for waste going inside so once you pour out water from your barrels, it will not flood all over. It is also essential that you place sharp rocks and other foreign materials away from the septic system.
Move Over the Barrels in Their Respective Position
After making sure that everything is leveled and secured into place, you can now transfer the barrels one by one over their respective holes. Fill them up with water to eliminate foreign materials, sand, and other pollutants that could clog the system.
Finish Off the Lids and Fill Up the Trenches, Then Put in Soil
Finish off with the lids of your barrels and place them over each hole. The tops should be on to ensure that liquids do not spill out and get into the soil. Use a shovel to fill in the rest of the dug trenches, so you get a perfectly plain, level soil surface. You can even do some landscaping on top.
Expected Results: At this point, you have built yourself an affordable septic system for as cheap as possible that can last more than 10 years after installation. With proper maintenance, it could serve you even longer.
All you need to do is check every year or two for any cracks on the pipes, particularly when extreme temperatures rise during the summer season.
Maintenance is required because septic tank effluent would break down these pipes until they become so thin that they eventually break down completely.
Tips for Maintaining Your Septic System
Keep Your Septic Tank Pumped
It is crucial that you pump out your septic tank every 1 or 2 years. This helps remove the sludge inside of your septic system so it can flow smoothly.
It also reduces the chances of clogging so wastewater does not leak into your drain field and make a big mess.
Keep the System Clean by Adding a Septic Tank Feeder
If you have constructed your system on a budget, you may need to keep it clean with the assistance of a septic tank feeder. This would ensure that all your pipes are clear and can function properly for as long as possible.
It is an added expense, but if it saves you from major problems in the future, then this is crucial.
This will help remove any traces of waste or sludge overtime to avoid blockages and ensure that wastewater flows smoothly inside your system.
Give the Drain Field a Thorough Cleaning Every Year or Two
Cleaning the drain field is another thing you need to do to avoid clogs from forming.
I recommend you use a toilet bowl cleaner to clean out any clogs present in your drain field and ensure no traces of blockages.
You may have to remove any roots or tree stumps present in the soil media before cleaning it. If you do this slowly, you will probably notice that you need to remove waste from your septic tank less frequently than before.
Maintain Your Septic System Yearly
Lastly, but not least, you need to take care of your septic system by cleaning out the diffuser discharge ports. You can clean these areas using a pressure washer to eliminate any traces of sludge or growths present.
The Pros and Cons of a Cheap Septic System
The fact that you can build a cheap septic system for yourself is an advantage. You do not need to spend as much money as you may think if you already have all the required tools and equipment in hand.
You only need minimal materials, which means it costs less than purchasing an expensive septic tank or entire system from contractors.
It also saves time because you do not have to wait for contractors to calculate their price, schedule sessions with them, or even pay them when they are done constructing your tanks and pipes. If you opt to hire people, you could incur more expenses, and the construction may take longer.
However, it can be tricky since everything needs to be leveled before installing the barrels into place. On top of that, since this system does not contain any customized tanks, it will take longer to construct than using prefabricated ones from suppliers around town.
Frequently Asked Questions
What Is the Alternative to a Septic Tank?
An alternative to a septic tank is a biosolids digester. This system utilizes microorganisms to break down the organic solids into liquid and gaseous components. Generally, it comes with a higher installation cost and lower maintenance cost.
This 4-minute video explains how a biodigester works:
How Deep Should a Septic Tank Be Buried?
Ideally, a septic tank should be buried at least 4 inches (10.16 cm) to 4 feet (1.21 m) deep or per local guidelines. A shallow burial of a septic tank can lead to the contamination of nearby groundwater and surface water.
Generally, a septic system should be buried deep enough to prevent the tank from freezing during cold winter temperatures. Raising your tank above the frost line is best.
In climates where snowfall occurs, a snow cover can help keep tanks from freezing during periods of low temperature. It can also reduce potential pollution going into your leach field by keeping organisms and leaves out of your drain field.
What Is the Best Septic System To Install?
The best septic system to install is precast concrete because it's heavy, lasts longer than other systems, and can stay in place if any collapses occur. Installation is quick, as you can fill them within one day without much messiness. Plus, concrete is not susceptible to rust or corrosion.
Final Thoughts
It is not always easy to figure out the cheapest way to build a septic system. If you are on a budget and want one that will be effective, heavy-duty IBC tanks or recycled barrels may be your best bet.
These materials can be purchased for less than concrete and don't require hiring professionals to install them. Not only do these methods save time, but they also save money by reducing labor costs associated with installing other systems like concrete or steel.
Sources