If you have a patio or deck that you're looking to brighten up with an outdoor rug, but you have no idea how to start, you've stumbled upon the right place.
Outdoor rugs are made from either synthetic or natural fibers. Pick your rug size by measuring the floor area that you want it to cover. Your rugs color is up to you, though it should go well with your furniture. The rug should be placed at the visual center of your furniture.
In this article, you'll learn more about the different types of outdoor rugs that exist, how to choose a proper size, where to place your rug, and much more! To learn more about exactly how you should approach the process of choosing the right outdoor rug and the kind of maintenance that will be required for your purchase, keep reading.
What Are Outdoor Rugs Made From?
You can't just bring your indoor rugs outside because outdoor rugs are made from specific materials specially designed to withstand the elements.
Synthetic Materials
Most of these rugs are made from synthetic materials such as polyester or polypropylene.
Here are some of the properties that synthetic rugs have:
Durable
Resistant to stains, mold, and mildew
Able to withstand high traffic
Easy to clean
Lightweight
Little maintenance required
Variety of colors available
However, depending on your particular rug's material, there are also some cons that you need to take note of.
Polypropylene: This material is flammable, so you should avoid using it in areas of intense heat, like fire grills.
Nylon: Avoid placing nylon rugs under direct sunlight because they tend to overheat and become very uncomfortable to walk on. Despite this, nylon is still one of the best rugs to get if there's a lot of traffic in your house.
Polyester: It's easy to get rid of almost all types of stains except oil-based stains for polyester. However, it will also shed and melt in the presence of high traffic.
Acrylic: Although it resembles natural fibers the most closely, acrylic is prone to crushing and piling.
Natural Fibers
Outdoor rugs can also be made from natural fibers like bamboo or jute.
These rugs are often picked for their eco-friendliness and their fashionable look. However, as these types of rugs have to be hand-woven, they will typically be more expensive, unlike the machine-made synthetic rugs. Their natural material also makes them susceptible to fading in the presence of sunlight.
Here are some of the properties that rugs made from natural fibers have:
Biodegradable
Durable
Sound-absorbent
Hypoallergenic
Elegant
Addition of texture
You can pick either type of rug for outdoor use. However, a rug made for natural fibers deteriorates faster upon exposure to the elements, so you should lay it in a sheltered area, like a balcony or a patio with a cover.
On the other hand, a synthetic rug would work well anywhere because it is much more durable.
How Do You Pick Your Rug?
There are many different factors that go into choosing the perfect outdoor rug.
If you're picking a rug for your patio or deck, as most people do, you need to place a lot of care in selecting it because it will be the focal point of your patio. If you have furniture, it should be arranged around the rug appropriately.
Size
When purchasing a rug, you need to know the area of space you want to cover to buy the correct size. Here's what you should be doing:
Stick colored tape to the floor over the area you want to cover in the form of a square or rectangle. This lets you clearly define the space you will be using for your rug. If you don't have any colored tape, you can find some at your local craft shop, or use this KIWIHUB Colored Masking Tape.
Use a tape measure to get the length and breadth, and find the area. The outdoor rug that you get must have an area less than or equal to your floor size.
If you're looking for dining rugs, as a general rule of thumb, they should be large enough so that the feet of your chairs stay on the rug when they're pulled back. For other seating arrangements, like sectional sofas, your rug should be large enough for the front legs.
It's entirely up to you to have all the legs on the rug or not for sectionals or club chairs. With two front legs on the rug, your outdoor space is cohesively brought together but still seems roomy and expansive. If you put all four on, the room becomes tighter and more intimate, perfect for cozy conversations.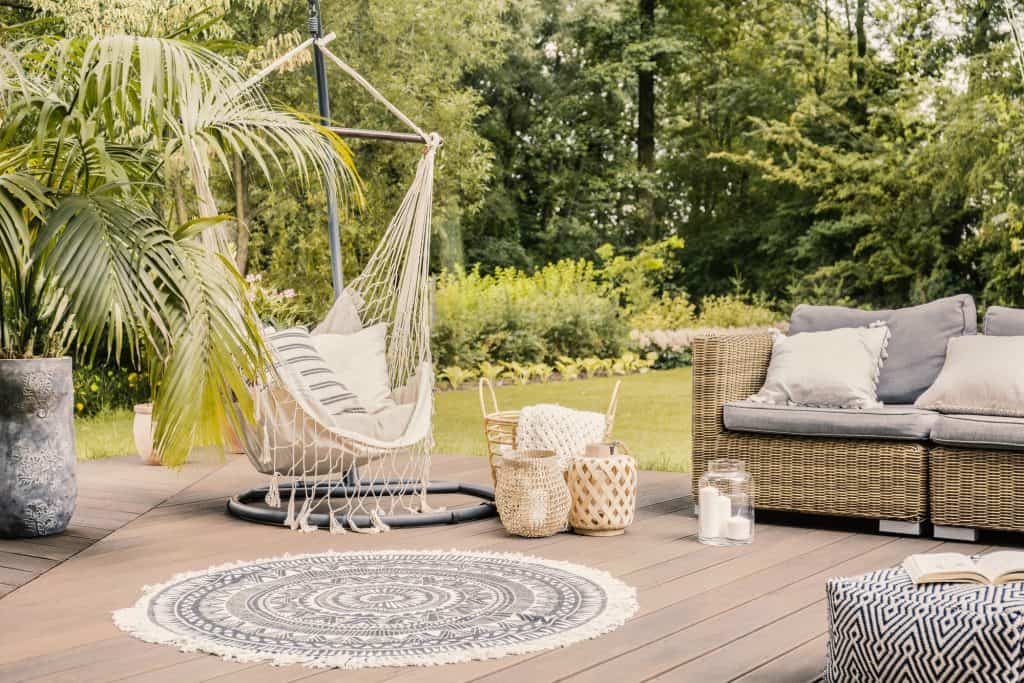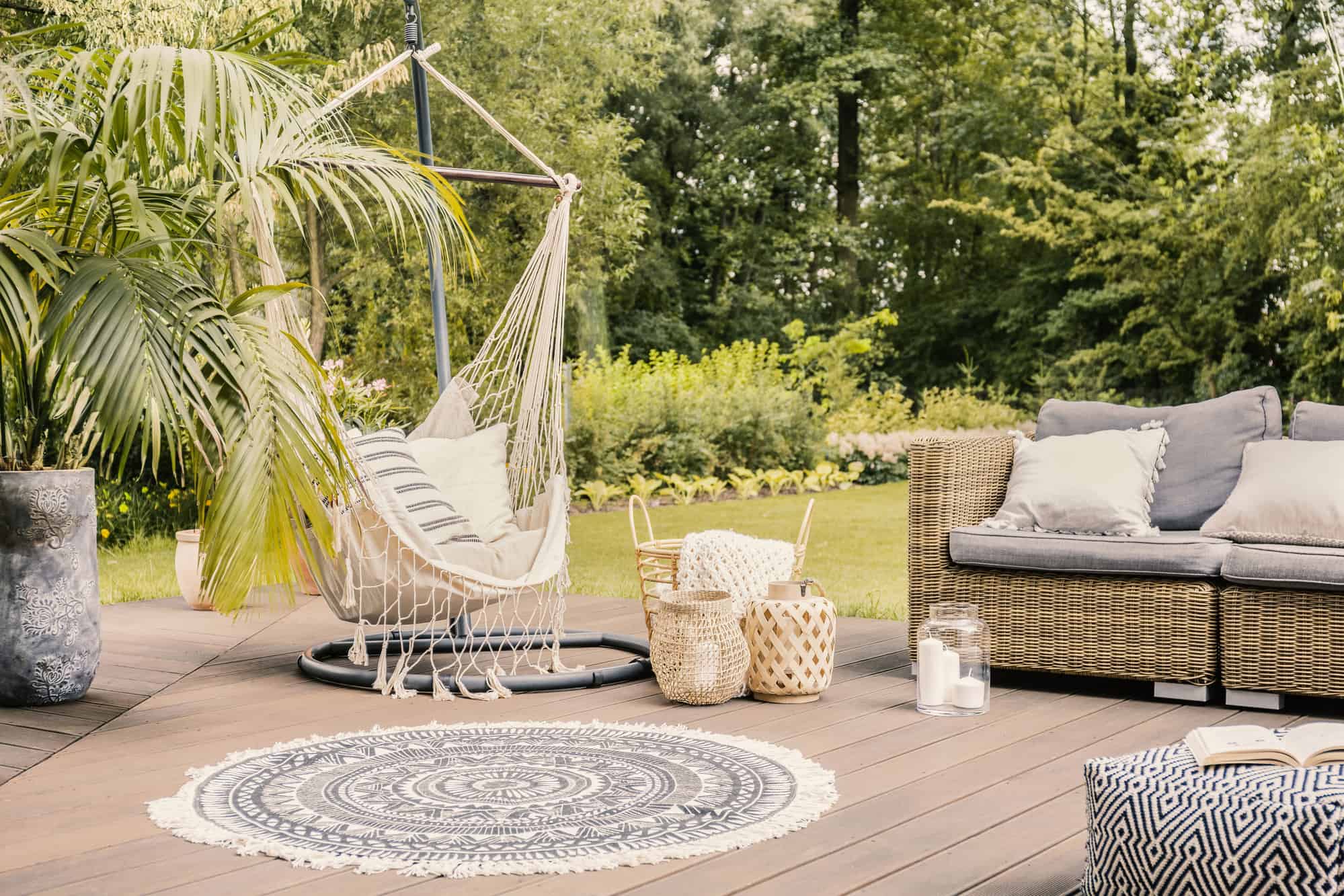 Considering style
However, this is also dependent on your sense of style. If you have an eccentric personality that is reflected in your furniture, you can try having chairs with some of the legs on the rug and some of them off to create a fun, contemporary atmosphere.
Patio rugs should not cover the entire patio – instead, there should be a space of approximately 12-24 inches (30-61 cm) to the patio space's perimeter. On the other hand, for a balcony, you can choose a smaller runner for the walkway.
Shape
The shape of the rug depends partly on your personal preference and partly on the surrounding area. If you plan to have a rug below furniture, it needs to match the furniture shape like a coffee table.
For example, if you want a rug below a round table, pick a circular rug. If you plan to have one below a square recliner, choose a square rug. The rug needs to be visually appealing and draw attention in a pleasant and non-jarring way.
Placement
You need to have symmetry surrounding the placement of your rug. This symmetry means an equal amount of open-spaced borders around all sides if you're putting a rug below furniture.
For example, if you're putting a rug below a coffee table, the coffee table should be located somewhere in the center of the rug, not at the very edge.
A good rule of thumb would be to have approximately 24 inches (61 cm) of padding around a table and an open inch border of nearly 18 inches (46 cm) if you have a large space for your rug and you're using a sofa sectional seating arrangement.
Pattern and Color
Now that you have the size picked out, you might be wondering what type of patterned rug you should be choosing. With so many styles and colors available today, how do you know which rug is the perfect one for you?
The pattern and color of your rug should go well with both the flooring and the furniture. Try picking a rug with brighter colors that make your patio come to life. You can pick a color that goes with some part of your furniture – if you have blue pillows on a white sofa, you can get a blue-patterned rug.
Considering Shape
On the other hand, if you have furniture that is a bit duller, you can pick a rug that has bold geometric patterns to spruce up the place.
It all depends on your sense of style and your vision of the patio. A space for you and your kids to hang out will have light, fun colors and patterns, while a patio for you and potential guests will seem a bit more formal.
You should also keep in mind that lighter shades make a small environment seem more spacious, while darker shades make a more intimate environment. If you're considering a rug that only has one solid base color, remember that patterned rugs show dirt to a smaller extent than non-patterned rugs.
Building Contrast
All you have to do is be inventive and pick matching or contrasting colors, and you can't go wrong. If you want a more detailed explanation of the ideal color combinations, you can try looking here.
When choosing your ideal rug, you should look for one that is solution-dyed. This means that the color was added to the fibers while they were being created, rather than added after the yarn was made. These rugs hold up better to cleaning and won't discolor as fast, if at all.
How To Maintain Your Outdoor Rug?
Buy a Rug Pad
Putting the perfect rug down on the floor without a rug pad is a bad idea. Sooner or later, you'll have annoying wrinkles forming on your perfect rug and, even worse, an accident by slipping on one of the corners.
A rug pad is made of a soft, rubbery material. It is placed directly below the rug, with the primary function of preventing any accidental falls caused by the rug's movement. However, it also has a number of other benefits:
Increases longevity of the rug: The rug pad acts as a buffer between your feet, the rug, and the floor, preventing the fibers of the rug from being crushed. This increases the lifespan of the rug.
Protects your floor: A pad prevents any scratches on the floor from the movement of furniture atop the rug. It also acts as a second layer of protection against spills, preventing dyes and stains from reaching your floor.
Cushioning: Because of its foamy material, a rug pad adds extra softness to your rug while simultaneously acting as a noise dampener.
Cleanliness: The presence of a rug pad allows for aeration below the rug, which decreases the presence of mold, mildew, and odors. This means that you won't need to wash your rug as often.
Like outdoor rugs, rug pads come in different sizes and thicknesses. You should match the thickness of the rug pad with that of your rug. For example, a really thin rug won't do well with a thick rug pad – it'll look very odd and out of place.
Rug Pad Materials
When buying your rug pads, you should look for a material that is a blend of felt and natural rubber, also known as a rubber composite. Be sure to steer clear of 'non-stick' pads that are made from thin, gridded rubber because these pads can fuse into the underside of your rug after using them for a few years. This will ultimately cause a lot of damage to your rug and your floor.
You should always look for a rug pad that has a rubber backing to avoid staining the floor. For an outdoor rug pad, depending on the amount of traffic that you expect that area to receive and the comfort level you want, you can choose a pad with more grip or more cushioning.
Rug Pad Sizing
For sizing, you should always buy a rug pad that's slightly larger than the area of your rug so that you can customize it as needed. Your rug pad should be completely hidden by your rug – approximately an inch less than your rug's overall size on every side of the rug.
If your rug is a square or rectangular shape, you can trim your rug pad by two inches on each side. For example, with dimensions of 7.6" by 10.1" (19.3 by 25.4 cm) for your rug, your rug pad should be 7.4" and 9.9" (18.8 and 25.1 cm).
On the other hand, if you have a circular or asymmetrical shape for your rug, just trace your rug's shape onto your rug pad and cut a slightly smaller version.
Rug pads are temporary and need to be replaced every two to three years, so don't go buying overly expensive pads because it's not worth it.
Preventing Stains on Your Outdoor Rug
When you have any spills on your outdoor rug, you should clean the liquid up as soon as it hits your rug. Here's what you should be doing:
Blot at the spill with tissue paper. Do not rub at it. If the liquid contains a dye, it could result in a permanent stain.
Use a clean sponge to blot at the stain with detergent water.
Clean the sponge every few minutes.
Repeat steps 2 and 3 until the stain is completely gone.
Rinse the rug with clean water.
Let the rug dry to prevent mold and mildew growth. The drying process can be sped up by vacuuming over the spot.
Removing Debris and Dust from Your Outdoor Rug
Before you start vacuuming your rug, you should be shaking it out to get rid of the larger particles of dust and dirt. Here's how you should be doing it:
Hold the corners of the rug while you shake your rug out.
Keep shaking until you stop seeing debris falling out of your rug. If your rug is too big for you to hold, you can hang it up on a clothesline and beat it with a strong stick to remove dust.
You should also be vacuuming your rug every few weeks to keep dust and stains away. Remember to vacuum both sides of the rug. You can also use a leaf blower or broom to get rid of the larger dust particles.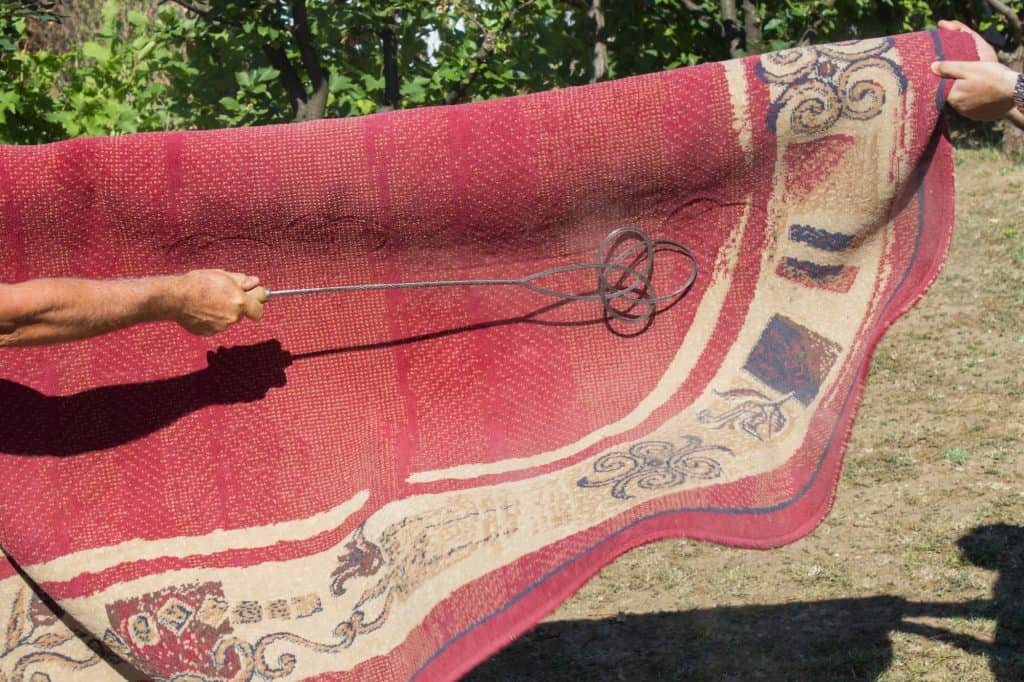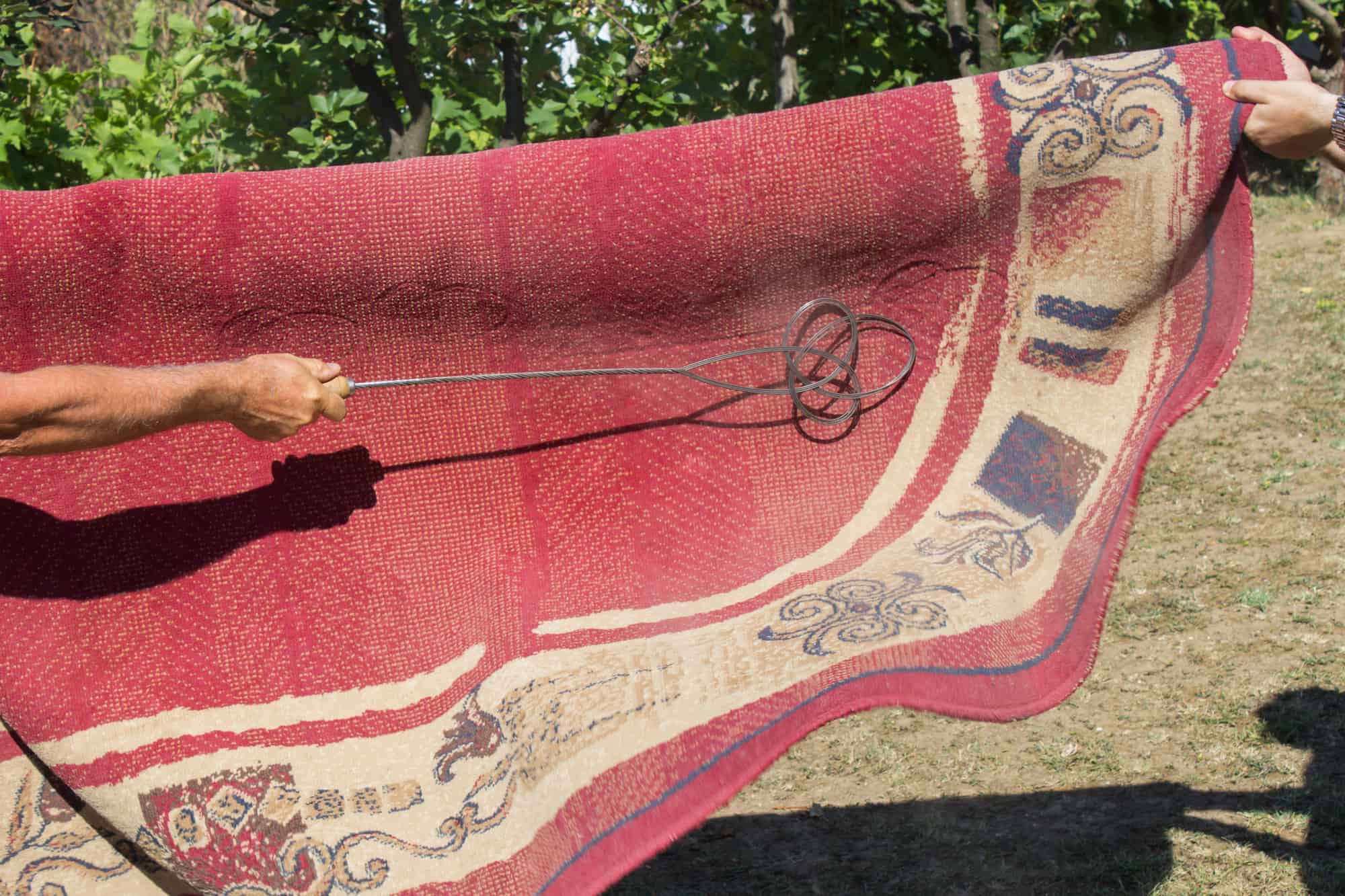 Washing Your Outdoor Rug
Besides this, you can also wash your outdoor rug. Here are the steps that you can take to clean your rug:
Wet your rug completely using a hose.
Mix a small amount of detergent into a bucket of water.
Use a soft scrub brush to lather the soap mixture into the rug.
Let the lather sit for a few minutes.
Hose the soapy mixture off the rug. Make sure that all traces of the mixture are removed and the water running off is clear.
Roll the rug up and let it stand for a few minutes to remove excess water.
Lay the rug flat and let it dry completely.
Before cleaning your rug, take a look at the manufacturer's instructions to ensure that your rug won't have a bad reaction with any of the chemicals present in your soap.
Removing Mold and Mildew
If you live in a humid environment, or you've decided to place your outdoor rug directly on the grass, you can have faint amounts of mold or mildew growing on the rug over time. This can be easily removed using a bleach solution.
If your rug doesn't react well to bleach, you could try using a solution composed of baking soda and vinegar instead.
When bleaching your rug, do it away from your garden as bleach is harmful to plants. Once you're done washing your rug, you can let it sun-dry.
Preserving Your Rug
If you live in snow-prone areas, you should be storing your outdoor rug indoors when it snows. Despite the durable synthetic materials used in creating the rug, it will still break down due to the harsh winter temperatures and the constant exposure to moisture in the form of snow. You will also find mold and mildew forming in patches on your rug if you don't store it.
When winter comes around, roll your rug up in a tight bundle and store it in plastic. Otherwise, you could use it as an indoor rug if you want.
Conclusion
Picking the perfect rug will take some time, but if you follow the handy tips above, you'll find the one for you in no time. You can find various rug designs either online or in popular departmental stores such as Target.
Sources