I absolutely love to use my patio for entertaining.
It's a natural pairing — my outdoor space mixed with close family and friends. But when I was new to the patio game and my guests would start to leave, I'd look around notice that there were a lot of used plates and empty beer soda cans.
The Captain certainly doesn't want to be the kind of host that nagged his guests to pick up after themselves. Rather than just find more courteous friends, I decided to put my brain to work and I bought a trash can solely to put on my patio.
But then I had another problem: I had a trash can sitting in the middle of my dang patio. I had to put my brain to work again that day and find out how to hide my outdoor patio trash can.
We've already covered how to stealthily hide your rain barrel, and this guide will be similar in nature. After all, a rain barrel has a lot of the same characteristics as a waste bin!
Whether you've added additional garbage cans to your outdoor space or are simply trying to conceal the bins once you bring them in from the curb, read on. We'll tell you how to hide your outdoor trash can.
Build a Simple Enclosure
Hiding your outdoor trash can doesn't have to be a complicated affair. Sometimes the simplest way to hide it is to simply build an enclosure.
In fact, you may be able to build an enclosure to hide your trash can using left-over materials. Fence planks, lattice, patio pavers, and wooden pallets are all fantastic options to use.
Since this is meant for a trash can, there's no real reason to spend major money on the construction materials.
However, if you have a particular aesthetic you'd like to match, you can certainly use "proper" building materials. Here's an example of someone building one:
Use Nature to Block the Way
Instead of constructing a structure to conceal your trash cans, consider letting mother nature do the job. I've written before about plants to make your patio quieter and block wind, so I'm well acquainted with how helpful plants can be.
Concealing unsightly trash cans is just one more use for them!
However, which plants are suited for the task? Well, the best plant types to conceal outdoor garbage cans are shrubs, climbing vines, boxwood, fan palms, and bamboo forests.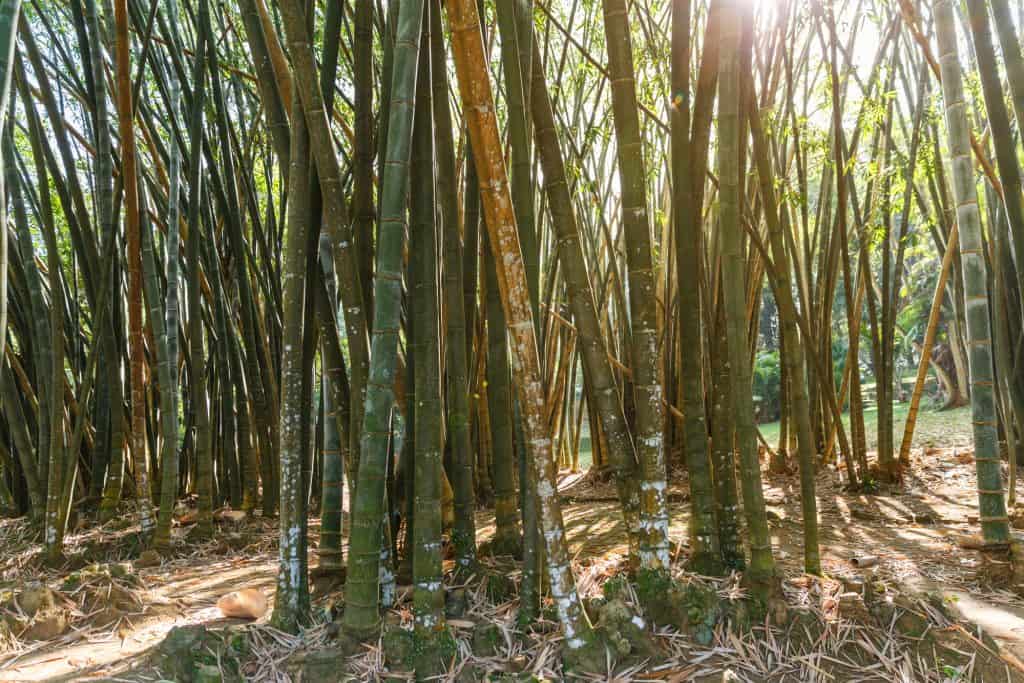 It may be tough to determine which one you should pick. My personal favorite is planting climbing vines below lattice or a simple trellis (I wrote about the cheapest way to build a trellis if you want to check it out). While this requires a bit of work from the first suggestion, it makes a gorgeous fixture.
Don't sweat about the structure itself. There are many lattice/trellis structures for sale at any landscaping store. You can find something cheap until you decide whether this setup is for you.
Use a Freestanding Screen
I use an indoor room separator as a logical partition between my office and our family area. The same logic applies here.
Simply purchase a vinyl privacy screen from an online retailer and set the panels up around your bins. Not sure which one to get? We have a humble recommendation below.
---
---
Buy a Trash Hideaway
Professional products designed to conceal your garbage cans can be had for less than you'd spend on the materials to build one.
The magic of economies of scale means that there are experts that specialize in trash concealment. Those experts have build hideaways and they want your money.
However, are they effective?
Yes, trash hideaways are effective at concealing potentially unsightly trash cans. They come in both large and small options, so you're covered whether or not you want to disguise a waste bin or your curb can.
Here's an example of one of the smaller options.
---
---
And finally, here's one of the big boys!
---
---
As you can see, trash hideaways can fit many aesthetics and may be just the thing you're looking for.
Consider Designer Trash Cans
This may be cheating a bit. However, one of the best ways to "conceal" your trash can is to simply have one that you don't want to hide!
Yes, much like blue jeans or sunglasses, designer trash cans are a thing.
You can choose to throw away your refuse in style (if you so choose).
While it's not quite the same kind of experience as buying a pair of Ray Bans, it does help improve the look of your outdoor space. Need proof? Here is a great example from Rubbermaid.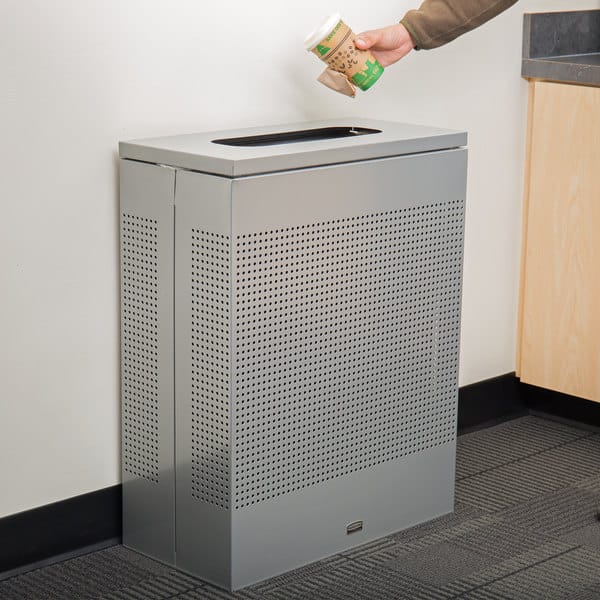 Final Thoughts
No one likes to have an unsightly green/brown container pressed up against the side of their house. Luckily, with a little ingenuity, you can disguise your rubbish bin or turn it into something worth looking at.