If you're like me, you spend a great deal of time in your outdoor space. And when the sun is down, you tend to gather around the available light sources. This is perfect when you have an ample supply of power.
Many folks lack direct power in their backyard. So, how can you light it up without using electricity?
There are seven main approaches you can take to light up your backyard without an electrical outlet — Solar lights, solar generators, LED candles, tiki torches, fire pits, and even glow-in-the-dark fixtures all help light an outdoor space while not using an ounce of electrical power.
Let's explore the different options to determine which is right for you.
Buy a Battery Powered Outlet / Portable Power Station
If you want to enjoy outdoor lighting without electricity, there are amazing solar-powered generators that you can purchase. Some come with already attached lights while others can be used as a regular outlet.
Because of these reasons, solar generators are a great option for keeping your outdoor lighting cost down while still offering you the beauty and convenience of powering outdoor lights.
Safety notice — You should only plug your string lights and other outdoor lighting fixtures into a weather-resistant solar generator. Similar to how you want to be sure that any electrical outlets outside are GFCI, you want to ensure that it is safe to use the outlets on the generators outdoors.
In addition to solar-powered portable power stations, you can also find solar-powered outlets. These are great for outdoor lighting or an outdoor light fixture that may not need to be on all night.
Solar-powered power packs and outlets will only have a finite amount of power. While modern lights are made of long-lasting led bulbs, it is not guaranteed that the lights stay on all night.
Install Lights With Rechargeable Solar Batteries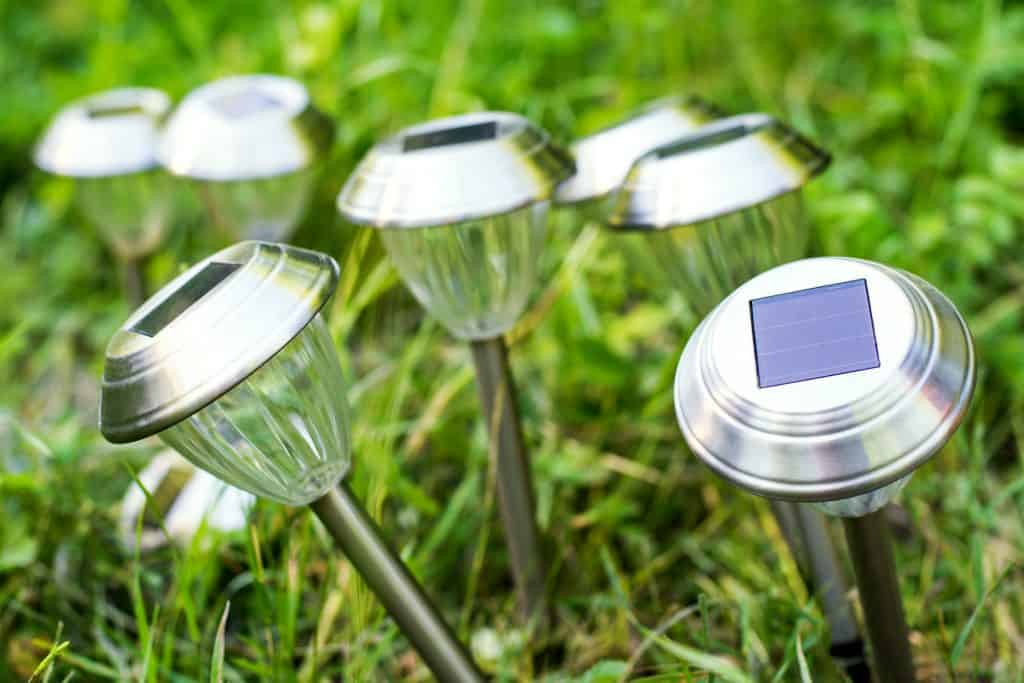 Some wireless outdoor lighting options would include lights with rechargeable solar batteries. Most outdoor hanging chandeliers, security lighting, and path lighting are all available with rechargeable solar batteries.
These allow the sun to charge the batteries while it is out during the day. At night, the lights pull energy stored in the batteries to run and light up all night.
When you first begin to use these sort of light fixtures, it will take about a week for the batteries to become fully charged during the daytime.
Before this, the lights may appear dim and go off well before morning. Once the batteries have fully charged, the lights will brighten and increase their longevity.
Install Standalone Solar Lighting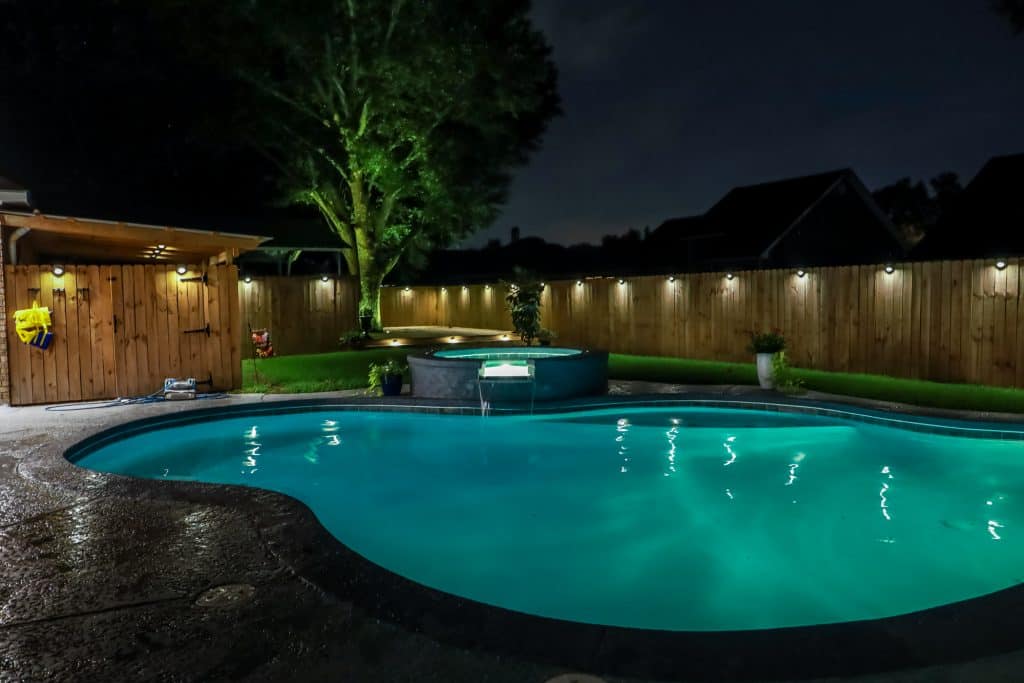 When it comes to path lights or lighting options near a swimming pool, stand-alone solar lights are the best choice. These can come in a variety of colors, shapes, and styles. This variety allows you to create a customized outdoor oasis.
For safety and practical reasons, you need to make sure that you have sufficient outdoor lighting. Stand-alone Solar lights allow you to pick and choose which areas need more or less light. Solar garden lights make a great option for creating extra lighting.
Fairy lights, solar garden globes, led lights, string lights, and even a solar outdoor chandelier can help boost outdoor ambiance all while creating a safe space.
Placing Solar backyard light fixtures is a great way to light up dining and seating areas and keep outdoor furniture in view for guests.
Solar-powered lighting does not stop with ambiance or efficiency, it can also help with security.
Place motion sensor lights near your entryway for security lighting. These lights are part of an intuitive lighting system that can help you feel at ease without electricity.
Installing a sensor-responsive light allows for peace of mind but also is beneficial if you forgot to leave your porch lights on. Knowing that you never have to walk alone in the dark, even during a power outage, is a great feeling.
Set Up LED Candles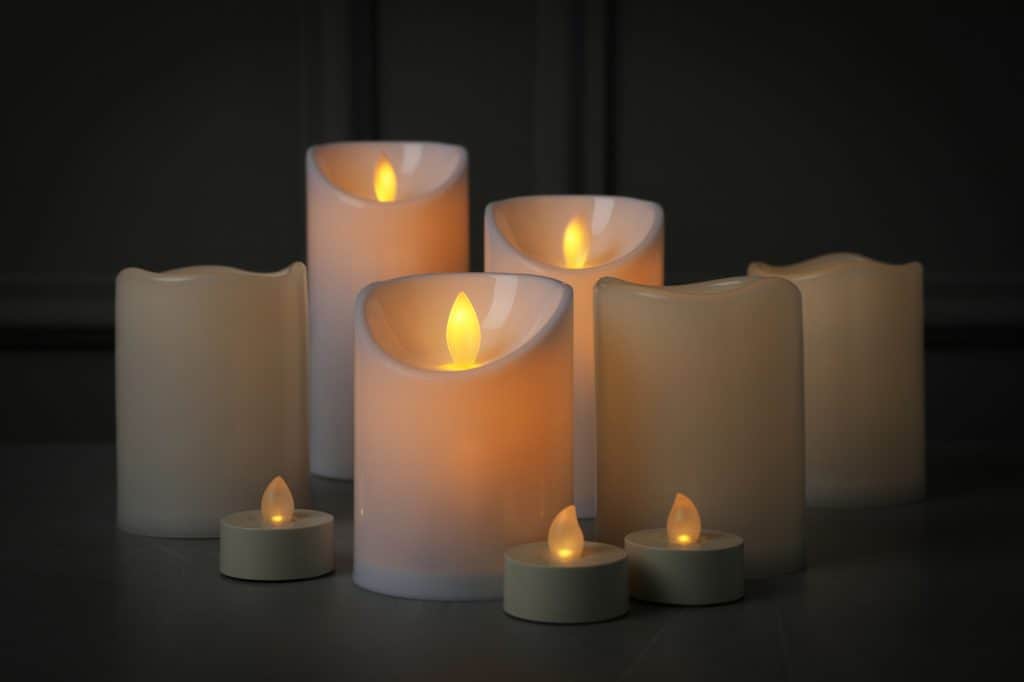 If you are hoping to create a romantic atmosphere with mood lighting (without plugging anything in), LED candles are a great approach.
After you have hung some string lights or a battery-operated outdoor chandelier, grabbing some LED candles helps put the finishing touch on your outdoor lighting scene.
While wax candles can be dangerous and messy, LED candles to resemble real wax candles are safe and stay on for a longer period. These real looking flame flickering led candles truly create mood lighting and help your space feel vibrant and alive. Plus, they're affordable — check the prices here.
Usually, these candles also come with replaceable batteries, allowing you to enjoy an intimate ambiance without having to worry about a fire or finding an electrical outlet.
Buy Tiki Torches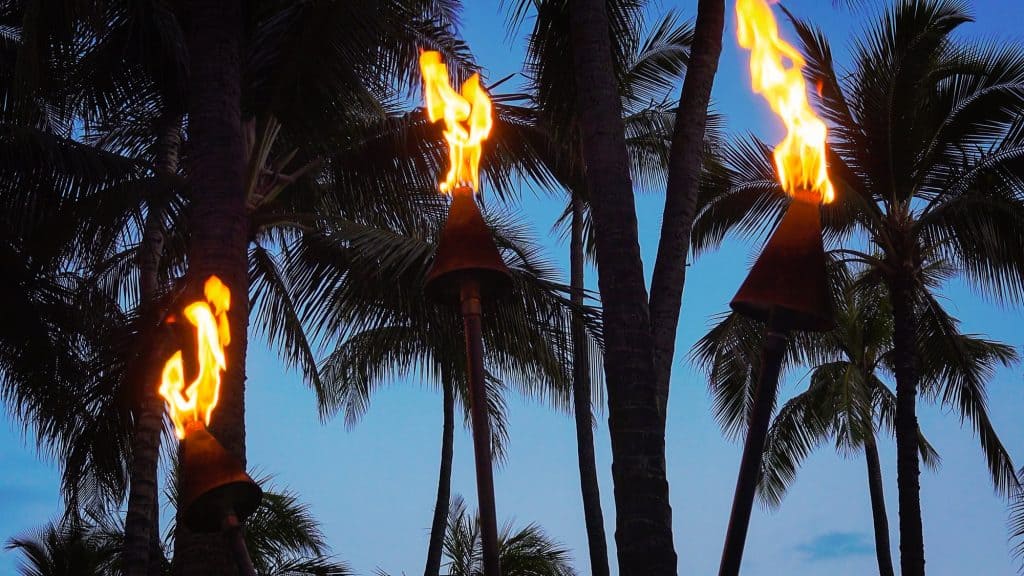 If string lights, outdoor hanging chandeliers, or battery operated outdoor lights are not your thing, do not overlook using tiki torches as a source for backyard lighting. Not only is this lighting option an efficient way to light the space, you can also use it to keep mosquitos and other pests away.
Purchasing mosquito repellent tiki torch fluid is a great way to enjoy your evenings and stay bug-free. You also do not have to worry if your solar lights got enough sun to stay on all night since your tiki torches will burn as long as you have fuel.
While this is not the most ideal outdoor lighting option, it has its own fun vibe.
When I was a kid, we would line outside the swimming pool with tiki torches. This had the added benefit of keeping the bugs off us while night swimming.
It is also best not to use tiki torches where children could bump into them. It is also advised not to use these torches near long-hanging foliage or if the area has been dry lately. As with all fire safety, keep a fire extinguisher on hand in an emergency.
Build or Buy a Fire Pit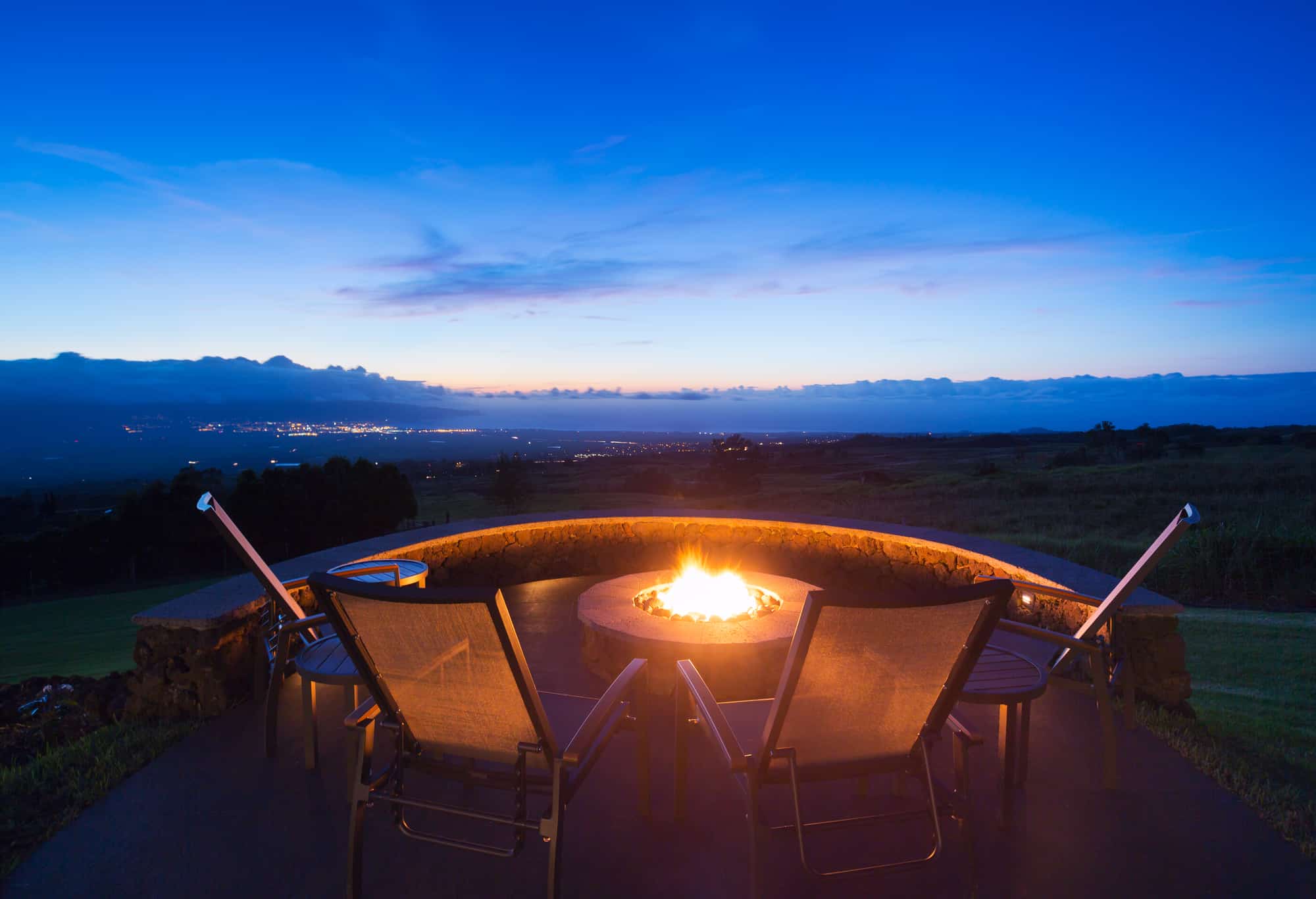 Fire pits are another great option for both power-free lighting and bugs.
Usually, the smoke alone is enough to keep the bugs at bay, but you can also buy repellents meant to be burnt in the fire pit. Usually, the repellent releases essential oils like peppermint, clove, or citronella to discourage bugs from bothering you while you are trying to enjoy your s'mores.
Fire pits come along with their own pros and cons. While the ambiance of sitting by a fire pit is pretty much unbeatable, maintaining the fire and enjoying it safely can be a challenge. You can purchase propane fire pits that allow you to control the fire.
These are also beneficial because you won't have to mess with trying to light a fire or worry if you will run out of wood to burn. Some of these fireplaces have wonderful artistic effects like colored fire or beautiful colored glass or rocks.
Safety notice — Always keep a fire extinguisher on hand whenever you are using fire. Safe fire practices can help protect you, your guests, and the environment from injury. Never light a fire if the area has been extremely dry, as this can increase the risk of starting a forest or brush fire.
Glow in the Dark Fixtures
A simple way to increase the amount of light in your backyard or other spaces is to incorporate glow in the dark fixtures. While your brain is immediately running to those small green stars you stuck on the ceiling as a kid, hear me out.
There are many benefits to using glow in the dark tape or paint to help light up your space. If you are hoping to just create a visual on where things are located in the night, slapping on some glow in the dark tape can be helpful.
Many people use reflectors as a way to know where edges of driveways or where trees are, the only problem is that without light, the reflector will have nothing to reflect and is essentially useless. Glow in the dark paint or tape will glow all night without light, letting you see where it is without issue.
For my cabin, I chose to line the edge of my dock with glow in the dark tape. This way I could always know where it was if I was enjoying a late night stroll or an early morning fishing trip.
I also painted the boulders at the front of my driveway with glow in the dark paint, this allowed me to see where the ditch began so I could always be on solid ground.
Conclusion
Lighting up your backyard while keeping your electricity costs down is totally possible. In today's market, there are so many solar and wireless options for outdoor lighting. Whether you choose to use a solar powered or battery powered generator or use goo old fashioned fires or tiki torches to light your space, the possibilities are endless.
Stand-alone solar powered lights make great path lighting and can be used in a variety of outdoor settings. These are also incredibly safe to use in places where electrical outlets are not around.
In wet areas, solar lights make the best option to avoid any serious injury.
Adding some splashes of glow in the dark paint or tape can create a really unique ambience in your outdoor lighting scene. These are great options for lining the edges of stairs, decks, docks, and even pathways to prevent tripping.
No matter how you choose to light your backyard space or what your design aesthetic is, you can find endless options for solar or battery operated light fixtures.