Rain barrels are great to have on hand, however, they can easily start to smell bad.
If you have a rain barrel, you know exactly what musty smell I am talking about. Luckily, you found the perfect guide to stop that from happening!
There are a few different ways to prevent rain barrel odor — baking soda, vinegar, chlorine bleach, charcoal, and cedar chips all work for different situations with varying degrees of efficacy.
For my money, I prefer to use 3% household hydrogen peroxide. A bottle or two works great to eliminate strong odors while also destroying the organisms responsible for the stench. Vinegar can also be used, so whichever you have on hand will work.
Overall, no one wants to have to smell a stinky rain barrel. Be sure to keep reading if you want to know the easiest and most effective ways to take care of this common problem at home.
Why Do Rain Barrels Start to Stink?
Rain barrels will start to smell bad when they have been full of water for too long. Stagnant water can start to stink for a few different reasons.
Mainly, pollen, algae, and bacteria can build up in still water. This releases an unpleasant odor as time goes on.
If this is happening to you, it means that you are not using the water fast enough. Be sure that you are cleaning the barrel regularly and not letting the water sit for too long.
Foul-smelling water can also attract insects, such as mosquitos.
If you do not want your yard to become a breeding ground for annoying insects, be sure that you try out some of my rain barrel cleaning methods listed below.
How to Prevent Rain Barrels from Smelling
Clean them Monthly
Be sure that you are emptying your rain barrels completely at least once a month. When the water is gone, be sure that you clean them thoroughly. You will want to start by sprinkling baking soda on the inside of your rain barrel.
Then, use a hose to add some clean water to the barrel.
Simply scrub the inside of the barrel well with the water and baking soda mixture. Be sure that you are reaching everywhere that you can on the barrel.
Baking soda works as an odor eliminator (which is why it is used in refrigerators and cat boxes to keep it smelling fresh). But you might want to clean it more thoroughly with other materials if the water was sitting for a very long time.
Mixing water and vinegar makes a great, natural cleaning solution that reduces odors. You can spray the barrel with vinegar before scrubbing it down. Be sure to rinse the barrel out and let it air dry once you have cleaned it.
You might want to consider leaving some vinegar in the barrel as it refills with rain water, to prevent the smell from coming back and discourage the growth of additional organisms.
A light bleach mixed with water can achieve this same effect.
Cycle Your Water
When rainwater is stagnant, algae and bacteria can start to grow. As long as you are keeping a cycle of using the rainwater and new water flowing in, there will never be a chance for something to make a home in your barrel.
This method is easy, although you should still be cleaning your barrel at least once a month. All you need to do is use the water often or drain the water when it has been sitting for too long.
Add in Mint Leaves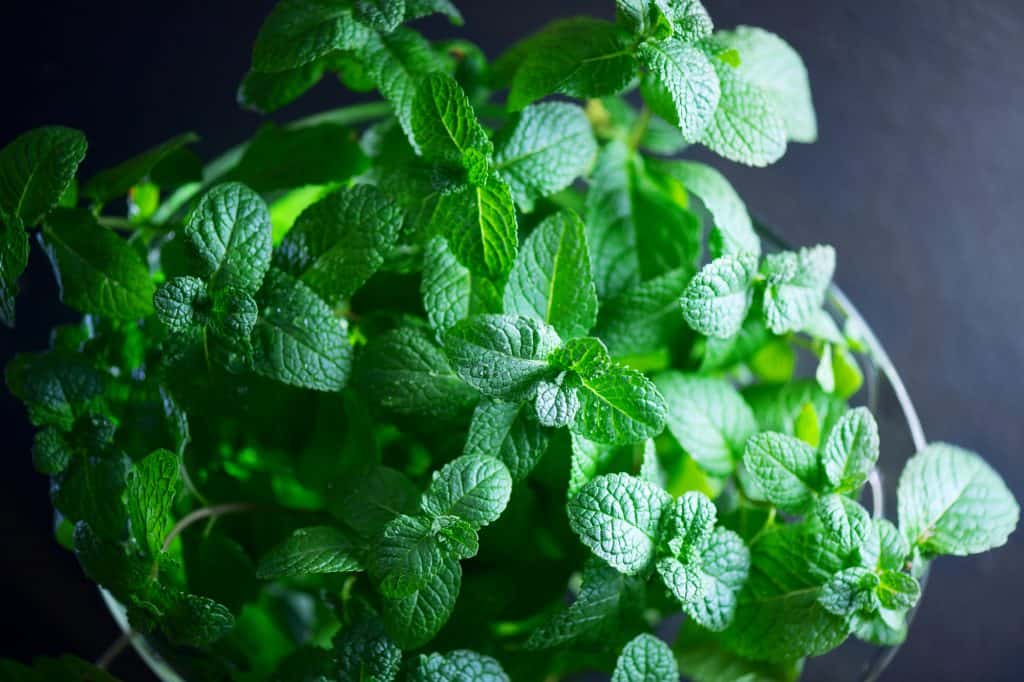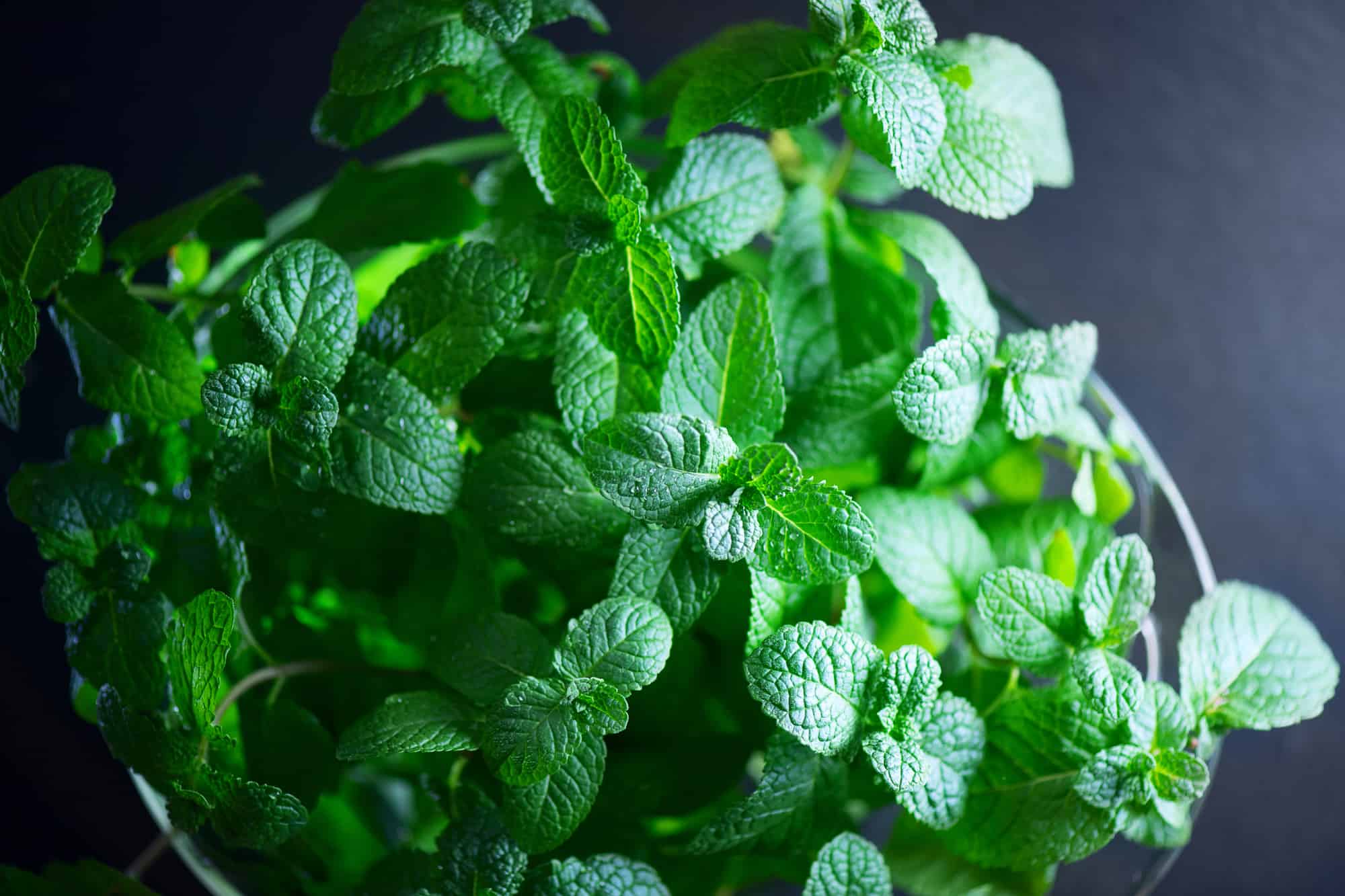 Mint leaves can grow anywhere — even inside of your rain barrel!
And the best part? They mask any offensive odors with a pleasant, minty fresh smell. Of course, you will want to be sure that your water is not contaminated before you throw some mint in.
To do this, clean and air dry your barrel completely.
Next. add some clean water to the barrel from your garden hose. You only need an inch or two of water in the bottom.
Finally, toss some live mint plants inside. They will take care of the rest as they grow in the water.
Is Rain Barrel Water Safe When it Stinks?
No, this is a sign that your collected rainwater has been contaminated. You will want to sanitize the rainwater before you use it — or at least do this to get rid of the smell.
You can sanitize the water with bleach since it will kill any bacteria present. This is easy to do, although it does require a little bit of patience. You will want to only add a single ounce of unscented chlorine bleach to 55 gallons of water.
The water will not be completely sanitized until 24 hours later, so be sure to wait that long. Plus, if you use the water too early, the chlorine will still be too concentrated and wreak havoc on your garden.
Remember that rain barrel water is not safe to drink without a specialized filter. It can contain a variety of bacteria, parasites, and viruses that can cause illnesses.
Conclusion
So, if you do have a smelly rain barrel, do not get discouraged! They can be cleaned easily and stop stinking if you follow the advice I left for you in this guide.
It is important to remember that stagnant water is not good. It can grow bacteria and attract annoying pests. Be sure that you are properly cycling your water and using it often. This can stop anything from growing in your water and contaminating it.
Overall, you want to remember to clean your barrel at least once a month. There are many ways to do this, but just do not forget! Leaving your barrel dirty will make it even harder to clean- and smell much worse.
If you have any questions, please reach out to me. I have a lot of gardening experience and can assist you. Finally, we wrote an entire rain barrel guide if you're hungry for more information about rain barrels.