It might seem like a west facing patio dooms you to sweltering, squinting evenings outdoors. And to be honest, there's some truth to that. When you have the sun beating down on your patio for the second (hottest) part of the day, it's going to raise the temperature of your outdoor space measurably. Not only that, but it moves closer to eye level as it falls into the horizon. This causes unwelcome brightness! However, there are steps you can take to at least mitigate some of the brightness and heat you and your guests experience. I've listened to suggestions and compiled the best ways to deal with a west facing patio.
Shade Solutions
It shouldn't surprise you that the only way to truly eliminate patio unwelcome brightness and heat is to provide proper shade. Luckily, you have many different options when it comes to providing a shade solution for a west facing patio. This can cost as much as you want to pay — retractable patio shades can cost thousands of dollars. However, shading your patio doesn't have to cost an arm and leg. Here's a comprehensive table of the options available.
| | | |
| --- | --- | --- |
| Type | Cost | Effectiveness |
| Plant trees | $ | Medium |
| Buy patio umbrellas | $$ | Medium |
| Construct a pergola (view guide) | $$$ | Medium |
| Hang curtains / canopy | $$ | High |
| Construct a roof / awning | $$$ | Medium |
| Build a fence / wall | $$$ | High |
| Grow vines | $ | Low |
| Hang plants | $$ | Low |
| Add retractable shades | $$ | High |
| Wear sunglasses | $ | Low |
As you can see, there are many different options, each with varying levels of relative cost. Each also have their own pros and cons and no one but you can know which suits your needs best. With that being said, here are the options that stick out for the Captain.
Cheapest Shade Option for West Facing Patios
If you're on a budget (like I am), you're probably interested in the cheapest shade options for patios with western exposure. Besides "avoiding your patio in the evenings", the next cheapest depends on the problem you're trying to solve. If you solely care about brightness, the cheapest course of action is to simply pick up a pair of shades and use them judiciously. Quality sunglasses with UV protection can be had for less than $15! However, if you care about the heat as well, the solution isn't as simple.
Planting trees or other flora might be the cheapest option. However, this all depends on how much you value your own time. You'll need to plant them, take care of them, and make sure that they reach adulthood. This might also take years. It's definitely not appropriate for all situations.
If you don't have the time to wait for trees to grow, your cheapest shade option is probably free standing blackout curtains or a canopy. They can usually be found online for less than $30 and go a long way to keep you cool.
My Top Pick
RYB HOME Outdoor Blackout Curtains
These blackout curtains from RYB HOME are an amazing addition to any outdoor space. As long as you have something to hang them on, they'll suit your needs fine.
The cost definitely increases if you don't have anything to hang the curtains on. However, it's still one of the cheapest options you have for blocking out the sometimes-pesky sun. It's also super easy to remove if you decide you'd like to let the sun's rays shine on in!
But what if you don't have something to hang curtains on? Retractable shades are a great (if a little more expensive) option that can work for any patio setup.
My Top Pick
The Tangkula sun shade is both an elegant and practical way to block the sun's unwelcome rays. It's both easy to assemble and compact enough to store away. If you have a western exposure and no natural location to put curtains, this is a tremendous alternative.
Wall Heat
Wall heat is a different matter entirely. If you're trying to prevent your exterior walls from heating up, you first have to understand how the sun is heating them in the first place. Let's look at this handy diagram.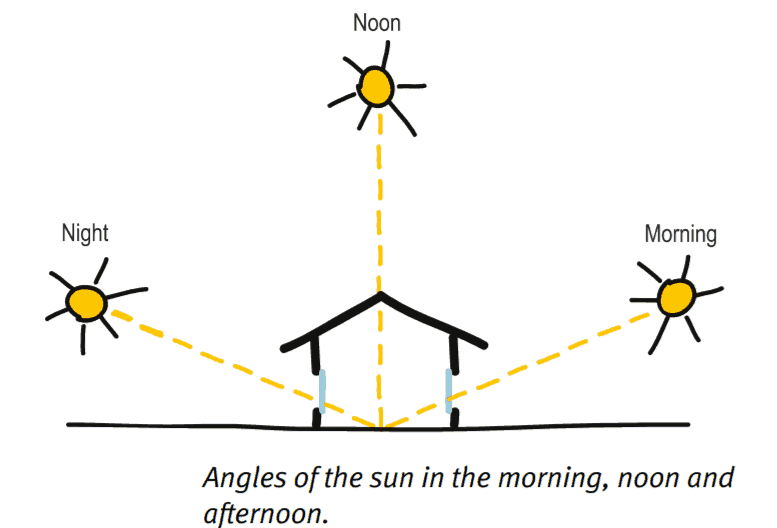 As you can see, the western wall (and the associated doors / windows) are directly in the path of the sun's rays during the evening. The longer the wall is exposed to the sun, the hotter it becomes. The only way to reduce the time the wall is exposed is to construct an awning or another roof overhang. Observe the difference: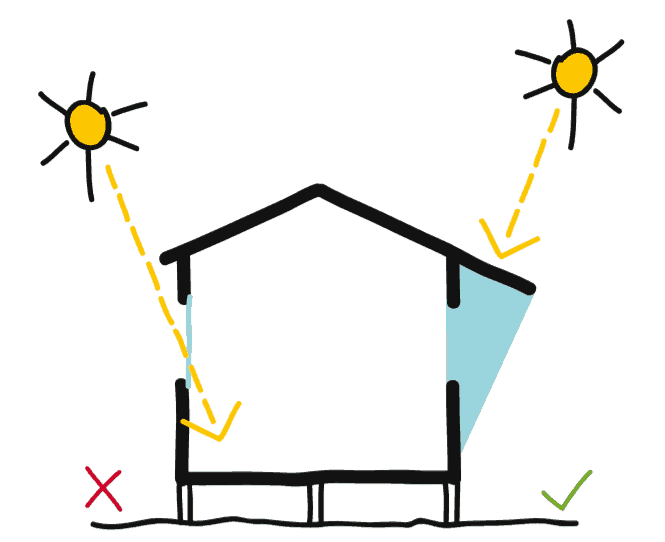 Unfortunately, this can be a costly improvement to add. If you don't have the means to add an awning all around your house, there are some cheaper options to pursue.
Windows and Doors
The wall heat alone doesn't lose much energy efficiency for your home. You're primarily heating the interior of your home up through doors and windows. It usually suffices to provide some sort of shade just for these problem areas. Here's an example: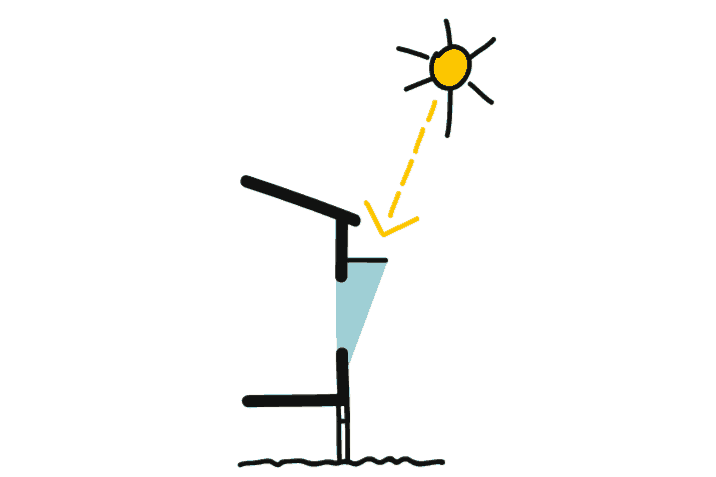 This gives you 95% of the benefit at a fraction of the price.
However, for the truly least expensive option, you might simply choose to coat your windows and doors in window film or privacy glass. Many of these barriers are rated to reject over 55% of the total solar energy and 99% of UV rays. This not only keeps your house cool, but ensures that your furniture, rugs, and knick-knacks aren't subject to fading from the harsh rays. If you choose to go this route, here's my recommendation:
My Top Pick
The Gila Privacy window film is an excellent and affordable way to prevent solar heat and harsh UV rays from entering your home. If you simply place this over a window or glass door, many of your energy efficiency concerns will be solved. Of all the available options, this is one of the most economical for keeping your home nice and cool.
Naturally, the window film won't have an effect on your actual patio. But it will go a long way for solving your holistic needs. Don't let a west facing patio get you down — there are options you can pursue! Hopefully I've prepared you to go forth and tame your western exposure.