Since the state of the world has us spending way more time at home, I've been reaching for ways to keep my kids occupied. I know I'm not alone here!
Very recently, I decided to create a backyard playground for my little ones to help stave off the boredom. Now, one thing I'll note — creating a backyard playground can be as complicated or simple as you want it to be.
I'll be honest: it usually doesn't take too much to occupy children. However, you want to make sure they have enough variety to avoid coming in after ten minutes looking for something new to do!
If you're looking for some great backyard playground ideas, here are the best ones we could find!
Traditional Swing Set
We will start our list with the most simple backyard playground idea — a swing set.
There are literally hundreds of swing sets you can choose from and the list of available options grows every day. Folks make swingsets out of wood, metal, plastic, rubber, and most other materials you can think of.
Some of these will cost a few hundred dollars, and others will be thousands of dollars.
In addition to price, you'll want to consider features, safety rating, durability, and novelty. Your kids will get tired of a simple swing. Does it have monkey bars? A lookout? A climbing wall? Try to consider the extras as those are the things that will keep kids busy long term.
Rope Swing
A rope swing is a super-easy way to add some extra entertainment to your yard. If you know how to tie a few knots and you have a strong rope in your garage, you can set this up today.
The most important thing about a rope swing is to make sure that you have plenty of clearance all around the swing. Kids will be creative with rope swings and try to fly them in all different directions. Look for anything near the swing that could cause an injury (including other children).
Web Swing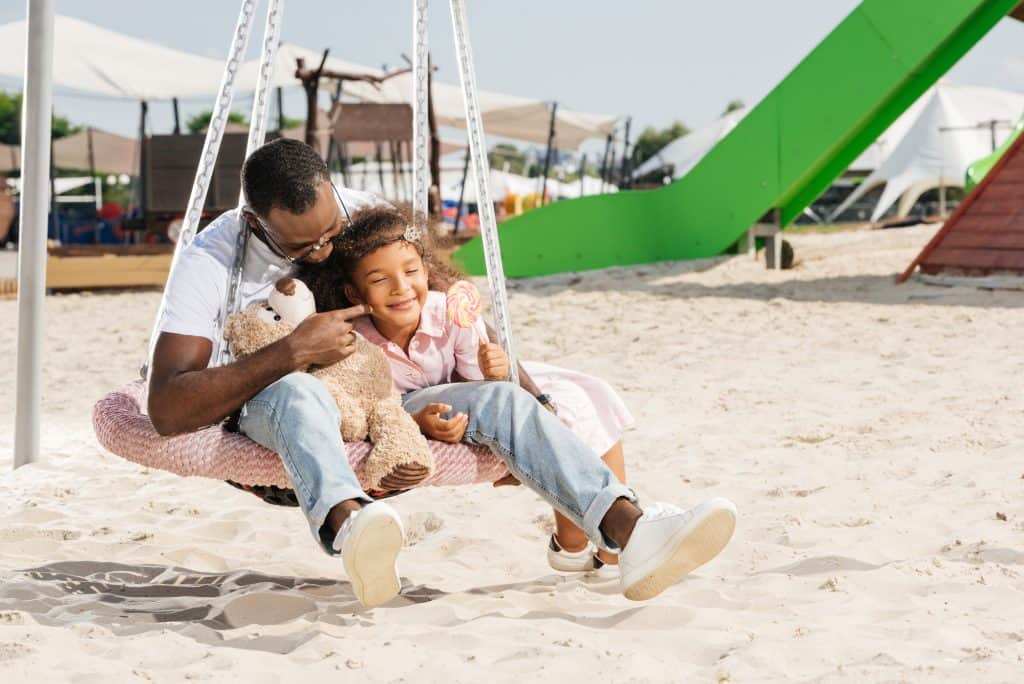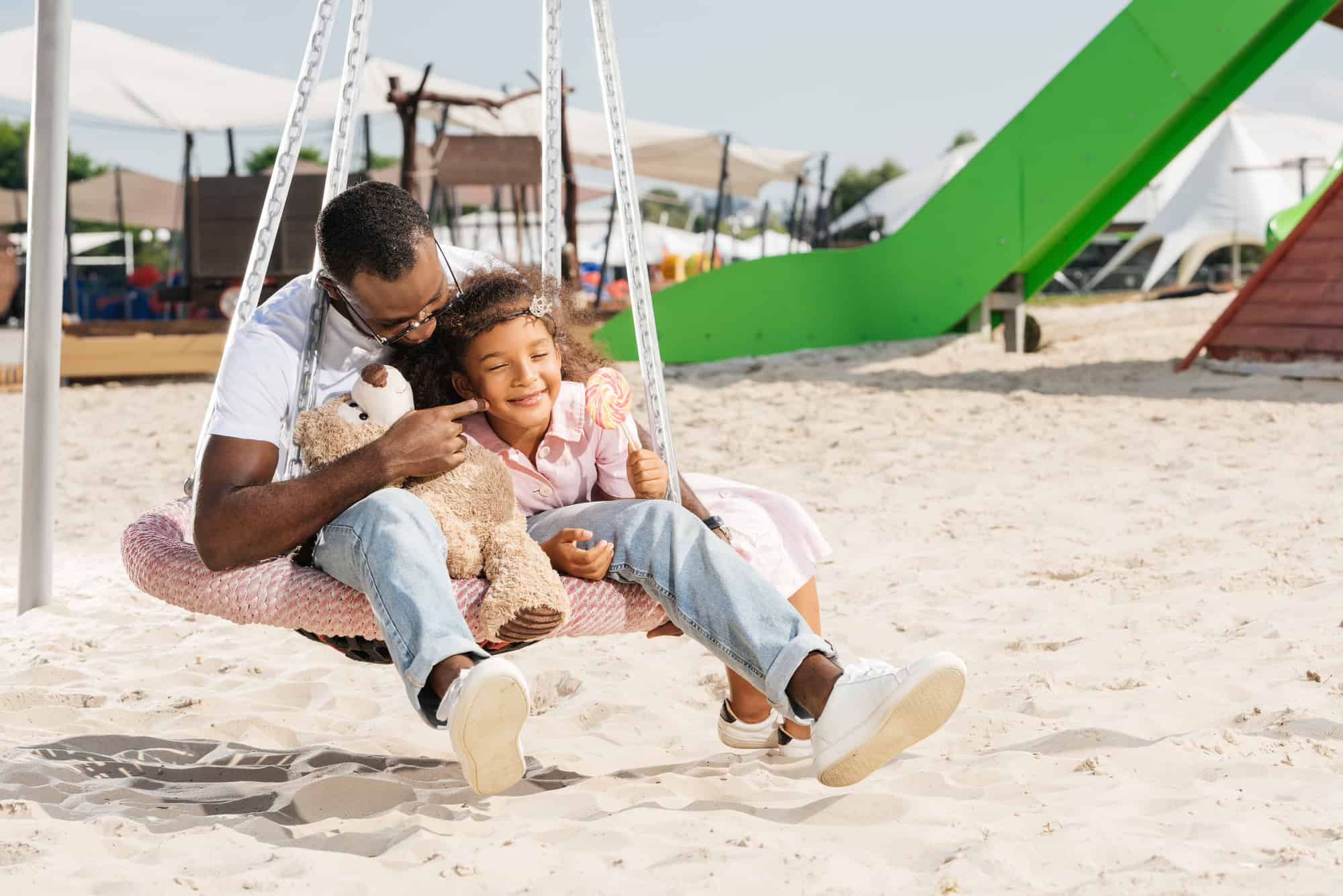 A web-swing is similar to the rope swing, but it gives a much broader base to sit on.
We love rope swings for younger kids that need a stable and safe area to sit as opposed to trying to hang on a piece of rope. The web swings come in a variety of sizes, and they are rather easy to hang in a tree. If you have a few kids, you can get a rope swing that will accommodate more than one child at a time.
Balance Beam
One of the cheapest and easiest activities to add to your backyard playground is a balance beam. It's so easy in fact that it can be made with a spare piece of old wood or a felled log you have lying around.
You can make one long balance beam or a series of them with other logs to step on between the beams. This project doesn't have to cost anything if you have some trees on your property!
One of the best things about balance beams is that you can change the height of them based on the age of your child.
You will be surprised how quickly your kids will learn to use this balance beam as a road for toy cars. Kids are incredibly creative; sometimes, you just have to get them started with an idea.
Stepping Stones Obstacle Course
Along the same lines as the balance beam, you can use stepping stones (large rocks or spare patio pavers) to create a path for the kids in the yard.
Remember "the floor is lava" game? Simply let them pretend that they have to step from one stone to the next without touching the ground. The course can be as intricate or simple as you'd like, and additional elements makes this even more entertaining.
Again — don't feel the need to purchase high-end stepping stones from a designer landscaping warehouse; you can do this with rocks and stones you already have in your yard.
Sand/Rock Box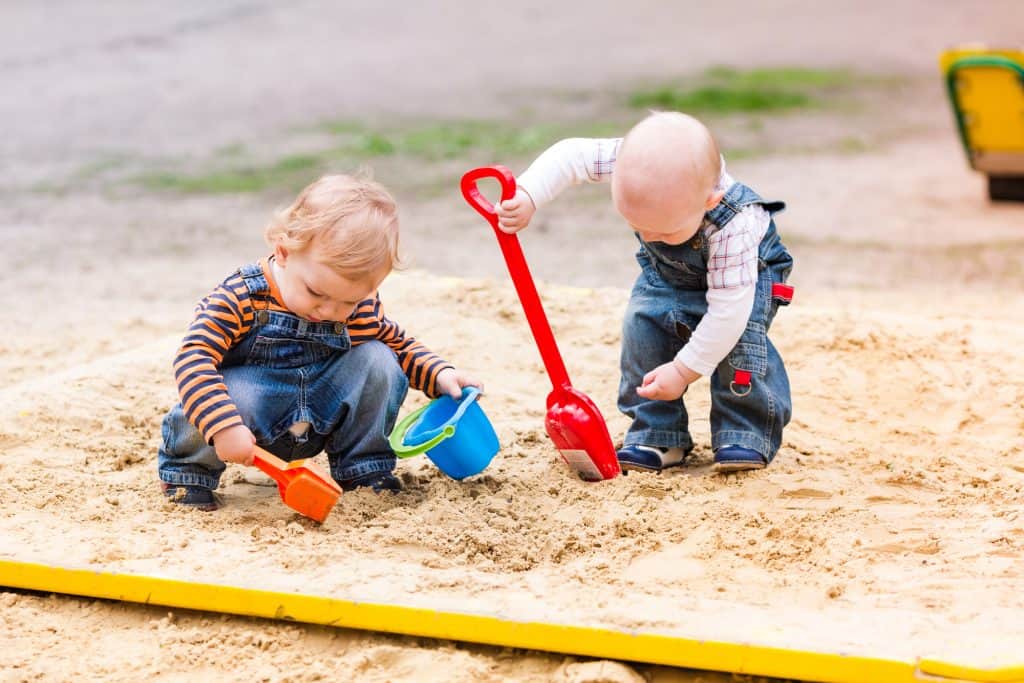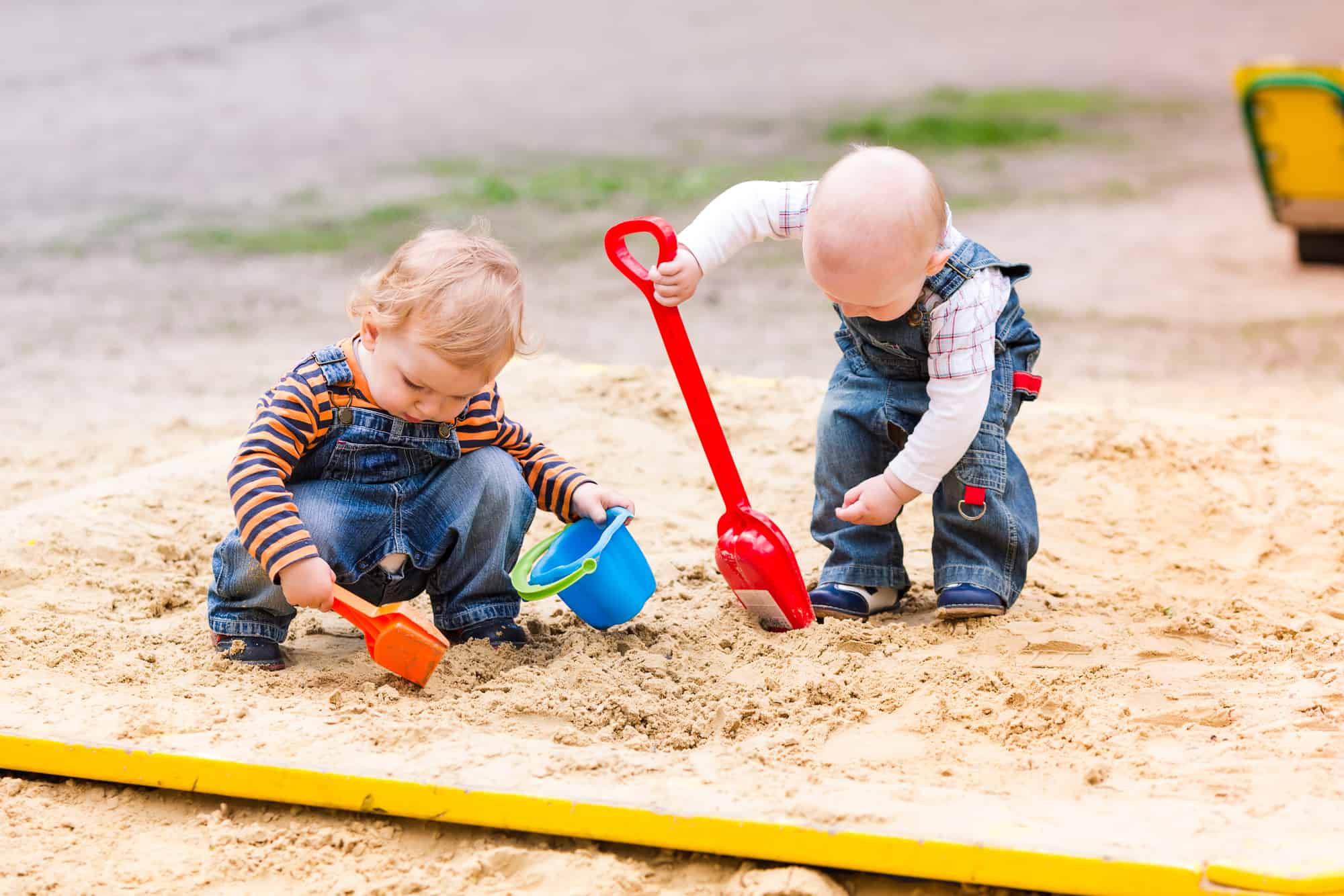 Even before the COVID-19 lock-downs, you may have already considered putting a sandbox in your yard.
There are additional considerations to make when determining to go down this path. For instance, are you going to remember to put the cover back on top when the sandbox is not in use? A sandbox is a very attractive spot for animals to do their business, and the last thing you want is surprises during playtime!
Additionally, have you thought about clean-up? In the immortal words of Anakin Skywalker about sand: "It's coarse… and it get's everywhere".
Speaking from personal experience, your kids will find a way to spread sand in places you never thought possible!
To handle these shortcomings, a recent trend has been to put in a rock box instead of a sandbox.
Now, you won't be able to build a sandcastle, but most kids end up just pouring and scooping sand anyway. Rocks are much easier to clean up, and some kids like the fact that the rocks don't stick all over their hands.
Water Wall
If you have a fence or an exterior wall in your yard, you can easily set up a water wall for your kids.
The water wall is a simple concept that allows children to learn about water flow. Simply attach pipes, pool noodles, fans, and containers to a flat service to get this activity going quickly.
Anytime you can add adjustable pieces to your water wall, you guarantee that your children enjoy spending more of their time outside!
Zip Line
To set up a zip line correctly, you will need at least two solid trees at the correct height. Additionally, the trees need to be an adequate distance apart for the zip line to work effectively.
As long as you have the above, zip lines are an excellent backyard playground idea.
In addition to being a joy to use, they help build upper body strength and get a child's blood pumping. No matter your child's age, they should enjoy this activity..
Tree House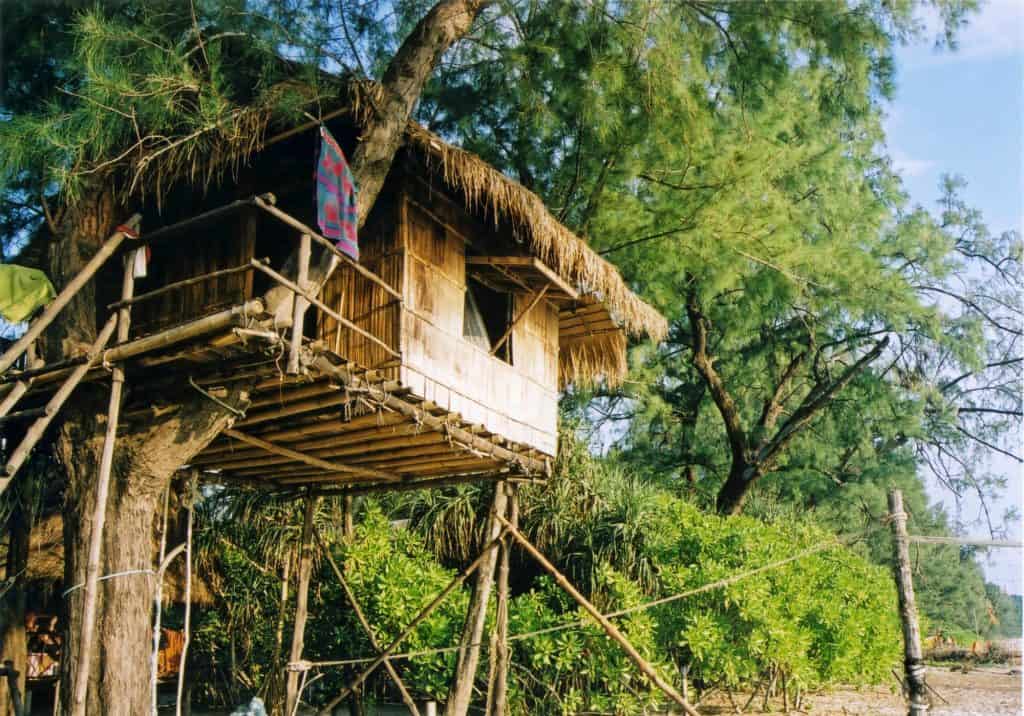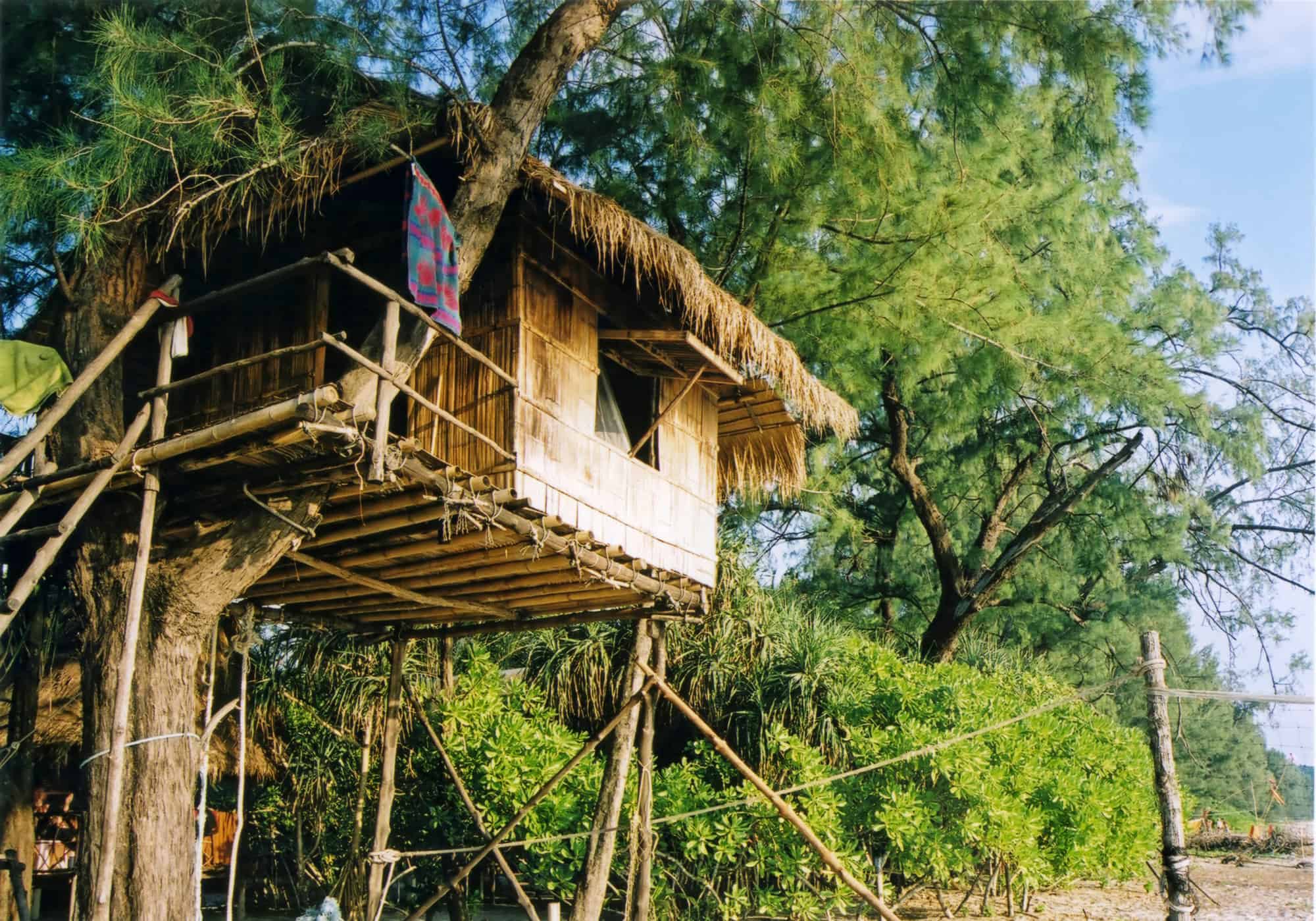 A tree-house is something that every kid wishes they had in their yard., and the memories made are timeless. Just think of the Sandlot, or Little Rascals — so many fun times can be had from above.
What you get with a tree-house isn't just a single activity. It enriches snack-time, reading books, and all imaginative play. Make no mistake; a tree-house is an excellent addition to any backyard playground.
Creating a tree house may seem like a major project that you are not up for, but you can simply build a platform for a tree to get started. Any time kids have a chance to get off the ground and enjoy playing; they will be happy.
Toy Car Track
Just like most of the ideas on our list, you can take the idea of building a toy car track to any extreme you'd like.
The simplest thing you can do is make a small track using pavers or rocks. That'll get you rolling in no time (pun not intended).
If you want to take the track up a notch (and if you have the space), you could build a human-sized one in your yard. Not only could your kids play with their toy cars, but they might even be able to ride their bikes and scooters on it.
This idea could be a significant investment, and you may want to stick to the smaller track for toy cars that can be designed and customized.
Final Thoughts
Making your backyard more kid-friendly does not need to be expensive. The most important thing you can do is be creative with your backyard playground ideas and try and think about activities that will take them more than two minutes to complete (we also wrote another article about the best patio activities for your kids).
Regardless of what you pick, you want to choose things that make your kids think, play, and get creative.