Porch swings can add a homey, fun aesthetic to anyone's house. Unfortunately, not everyone has a porch big enough to support a porch swing, which can be somewhat disappointing. So the question is, are there other places you can hang a porch swing, and can the space underneath the deck be one of those places?
A porch swing can indeed be hung underneath a deck as long as it is done correctly. The swing's bolts must be secured to the deck's joists/ceiling joists to be fully secure. An adequate amount of swinging room will need to be created both for safety reasons and swinging efficiency.
If you want to know more about where you can put a porch swing (other than a porch of course) you have come to the right place!
Read on to learn how to install one under your deck as well as the pros and cons of doing so. Hopefully, you'll be able to decide what's best for you, your home, and your porch swing!
Mounting a Porch Swing Under the Deck
Whether you mount a porch swing under the deck or on the porch, you will need to take similar steps. You will also need to take into account similar factors when hanging it. We wrote about those factors in-depth in our collection of porch swing articles here.
First, locate where the ceiling joists are. As mentioned before, the joists are where you will find the most support and security for your swing. 2×8, 2×6, or three 2×4 joists should be sufficient to support any average two-person porch swing.
Once you have located these joists, please make sure they have enough support on both ends. The last thing you need is for inadequately supported joists to become damaged under too much weight and stress.
This will not only be bad for your deck and your swing, but it could also prove to be a safety hazard. Don't skimp as far as support and safety are concerned!
Porch Swing Hardware
Next, you will need to purchase either chains or ropes with a rating of at least 500 pounds (if not more — we wrote all about how much weight a porch swing can hold in this article). This will ensure that pretty much anybody will be safe to sit in the swing without fear of it crashing down. You will also need to buy hooks, screw eyes, or eye bolts to mount on the ceiling joists. If you are unsure about what size/length you need, talk to a professional.
You can even buy something like a hanger kit that contains lag screws and swivel-type hanger mounts. This will make the mounting process easier for sure! We also wrote about the best hardware to hang a porch swing here.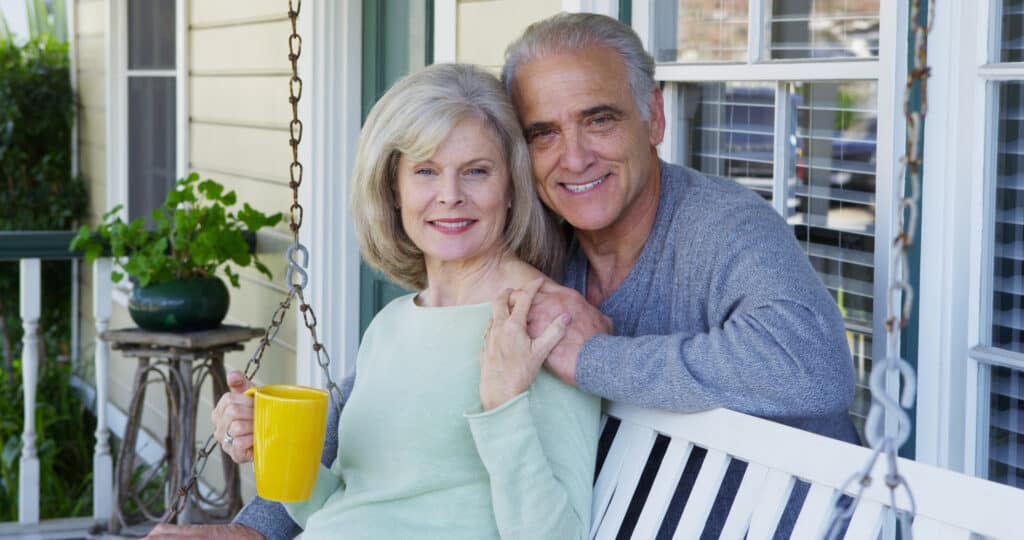 Measuring
You want to measure for swinging space! The last thing you want is to be knocking into your house or decor while sitting on your porch swing. That will get irritating fast, plus it won't be good for the swing or your house.
As a general rule, it's best to have at least fourteen to sixteen inches of clearance on either side of the swing and forty-eight inches of swinging space. You will also want to have seventeen to nineteen inches of ground clearance, so plan accordingly when buying/measuring your rope or chains.
Since you have already located the ceiling joists, you can now begin installation! Install the eye bolts (or hooks), then your chains (or rope), and finally, the swing. Make sure it's secure, and again, please make sure your joists can handle the weight so no accidents will happen.
The next and final step is to take a break and take a ride on your new swing! For a more detailed step-by-step guide, take a look at HomeDepot.com
Different Types of Porch Swings
As mentioned before, you must know what kind of porch swing you want before you start any kind of installation process. Let's take a look at a few different kinds of swings!
First off, we have wooden swings. Basically, the biggest downside of having a wooden swing is the fact that it requires some upkeep since wood can rot and split or get discolored in the sun (cedar is the best pick, as we wrote about here). Otherwise, you simply can't go wrong!
Wooden swings quite possibly have the largest selection of styles and designs to choose from. You can pick anything from rustic to farmhouse, and even then, the swing can be stained or painted to match your house.
Metal swings are a great thing too! These are pretty durable and will hold up under all kinds of stress. The only problem is, metal can get really hot in the sun which means the swing may not be all that comfortable to use during the summer months. Otherwise, it's a great choice! Because metal doesn't break as easily, you can choose a much more elaborate and delicate design for your swing.
Adirondack or Polywood swings are also growing in popularity. Adirondack furniture is made from high-density polyethylene (HDPE) whose largest component is recycled plastic and cardboard. This material does not spoil under chemicals, water, or even heat. It will take a lot to damage these swings, so a lot of people opt for them, especially since their color doesn't usually fade over time.
The only downside is that they are super expensive!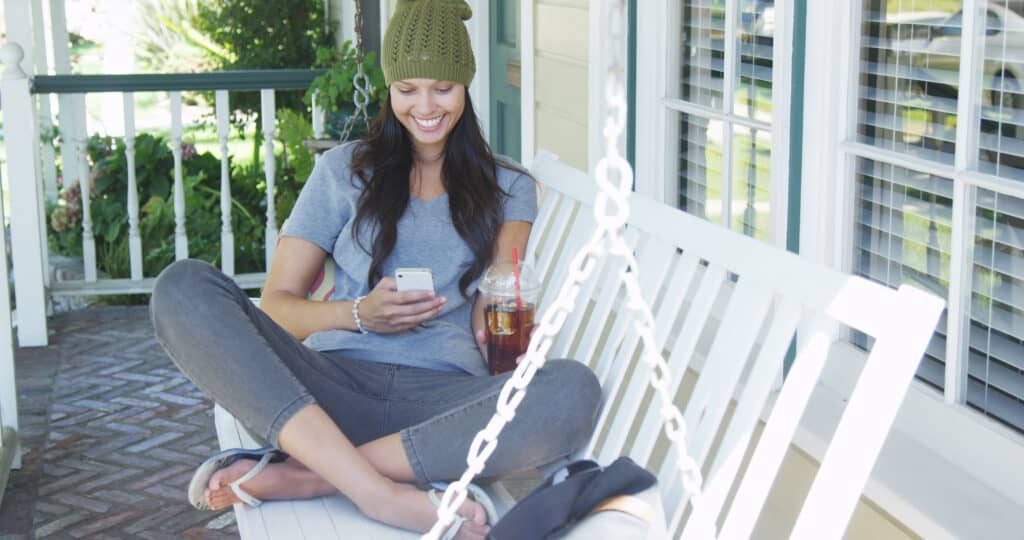 If you'd prefer more of a classic style and look, you can always go with the timeless wicker swing. Wicker is one of the most comfortable options listed here because it can flex slightly when sat upon and will therefore conform more to your body shape.
Wicker can usually hold up with the proper care and should last you for several years. The only con to having a wicker swing is that it will probably take more maintenance than any other swing here, or at least more attention.
You can't really leave a wicker swing outside all year round because the temperature and weather will do a number on it. It is recommended that you either bring it inside (especially during cold months and bouts of humidity) or cover it up when the weather is not agreeable.
If you are diligent in doing so, you should have a nice swing on your hands for years to come! To learn more about and purchase porch swings, go here!