Woodworkers, mechanics, artists, pottery makers, and all craft-based business people will jump at the opportunity to own a workshop at home. Unfortunately, building one can be very cost-intensive. How can you keep the costs down and still build an effective workspace?
The cheapest way to build a workshop is to use steel as the building material and keep the size down to the barest minimum. You can keep roofing costs down by using MSR roofing and equip the shop with power tools absolutely necessary for your job. Hire larger tools only when required.
In this article, you'll learn the cost of building a workshop and how you can get yours at the cheapest possible construction cost.
How Much Does It Cost To Build a Workshop?
According to Home Advisor, it costs $6,000-$120,000 to build a workshop. The final total depends on the size of the structure, the materials you choose, and the quality of interior finishing you choose.
Metal or steel workshops cost as little as $15 per square foot (0.09 sq m), while stone or brick workshops can cost up to $150 per square foot (0.09 sq m). Your roofing material and the doors and windows style can also affect the overall cost.
The cost of special services you can't complete on your own, building permits, and other such miscellaneous expenses can increase the overall cost of the workshop.
Remember, we're only looking at the cost of erecting the structure at this point.
The Cheapest Way To Build a Workshop
To build a workshop in the cheapest way possible, here's what you should do:
Decide on the Size of the Workshop
What do you intend to build in the workshop? How much space do you think is the barest minimum to work comfortably in your shop?
The amount of space you'll need comes down to your type of craft. If you're a woodworker mostly using hand tools, you won't need as much space as another craftsman working with high-power tools or a mechanic that needs a shop that can hold a few cars inside at the same time.
Experiment and rearrange your dream space using 3D modeling programs like Sketch Up if you're technically inclined to do that.
Alternatively, you can go with 2D layouts on graph paper.
Here's a video to help you with space planning in 2D:
Don't forget to include the tools you intend to have in the shop, the storage, benches, etc. Whatever space size you arrive at, increase it by 25% to get the final size. The extra space gives you wiggle room in the construction and ensures enough room for expansion in the immediate term.
Still, you need to consider the laws in your area when designing the space. There might be a limit on how much space you can use when building a shop. You may run into zoning issues if you want to build a shop that will take more than yourself and a maximum of one employee.
Decide on the Building Materials
As I've mentioned above, the key to building a cheap workshop is to use the cheapest materials available. On paper, steel and concrete are the cheapest materials you can work with. They cost as low as $15 per square foot (0.09 sq m) on the low end. On the high end, you can expect to pay up to $70 and $50 for both, respectively.
Wood is the next in line, at $20-$100 per square foot (0.09 sq m). So, look through these three options and choose which material works best for you. If you live close to a wood mill, wood will likely work out cheaper compared to driving a couple of hours to transport steel frames. On the other hand, if you're closer to a steel prefabrication business, you'll save more money going with steel than wood.
Concrete is the default fallback if both wood and steel are impractical. However, the construction process can be tedious. The cost of labor can eat deeply into your budget. Stone or brick costs the most and shouldn't be an option if you're looking for the cheapest solution overall.
Once you've settled on the core building material, you have to choose your preferred roofing material. Your main options include:
Corrugated sheets
Composite shingles
Roll roofing
Roll roofing (also known as mineral-surfaced roll) is the cheapest of the lot. It is a thinner and less expensive variant of shingles. The roofing material is easy to install as you only need to roll it out and nail it down. However, the material typically has a life expectancy of 5 years. Most people won't mind as the material only costs around $0.50 to $1 per square foot (0.09 sq m).
Consider the Foundation
Just like any other building, your workshop needs a strong foundation to withstand harsh environmental conditions. Ideally, your foundation footings should go 4 ft (1.21 m) below ground level to ensure it's sturdy enough to carry your workshop.
Alternatively, you can go with concrete slab foundations designed to bear the weight of the entire structure.
If you intend to attach your workshop to your house, you must ensure both foundations match. Tie the two structures together to make sure one doesn't affect the other in the event of a shift.
In that scenario, you may need a concrete block or poured concrete foundation. Get expert advice on the type of foundation you need if you're unsure.
Decide on the Construction Approach
Do you have the skills to carry out the construction on your own? Can you do some of the jobs? Make a list of the stages you can complete independently and the ones you'll need external help for. Once decided, get quotes from the contractors you might hire for the different roles.
It's at this stage you also have to finalize your decision on what should be in the shop and what shouldn't—assuming you've not done this already in the floor planning stage.
Here are a few things you might consider:
Plumbing
If your workshop isn't close to your house, you may need to run plumbing to supply water for your craft and fit a toilet into the shop. It's also a good idea to have a bathroom and a small kitchen in there if you intend to put your property on the market someday. It'll likely improve your home's resale value.
Windows and Doors
If you're building a workshop for just yourself, a door and two strategically placed windows should do the job. However, if you intend to have employees there with you, you'll need to increase the number of doors and windows.
You also need to consider the quality of the doors and windows. For example, installing a standard garage door exposes you to drafts in cold weather. If you intend to take advantage of sunlight, you need to pay attention to the type of glass in your windows.
Electrical Fittings
Depending on your specific needs, you may need to upgrade your electrical architecture to ensure adequate power for your home and shop. You can't skimp on the power needs in your shop.
Some people choose to go with battery-powered equipment to keep energy use down, but that's counterproductive for non-hobbyists. You'll still have to keep the equipment charged and lose work hours waiting in between charges.
It makes sense to install a separate service meter in your shop if necessary so that you can keep better track of your shop's energy use.
Interior Finishing
How far are you willing to go with the finishing on the interior? You can choose to leave the wallboard unpainted or properly paint and trim out the spaces.
The decision here should come down to how your work surroundings affect you or the impression you'd like to create in the minds of clients visiting you at the shop. If you don't need the most relaxing environment to work, and if your work doesn't require clients coming to the shop, you have some flexibility with your finishing.
You should make all of the above construction decisions with your budget in mind. We've tried to put numbers to it, but "cheapest" will mean different things to different people. If you have $15,000-$20,000 to spend, you'll have more wiggle room with your decisions than someone else who wants to stay below $10,000.
With everything squared off, it's time to start your construction.
How To Budget When Building Your Workshop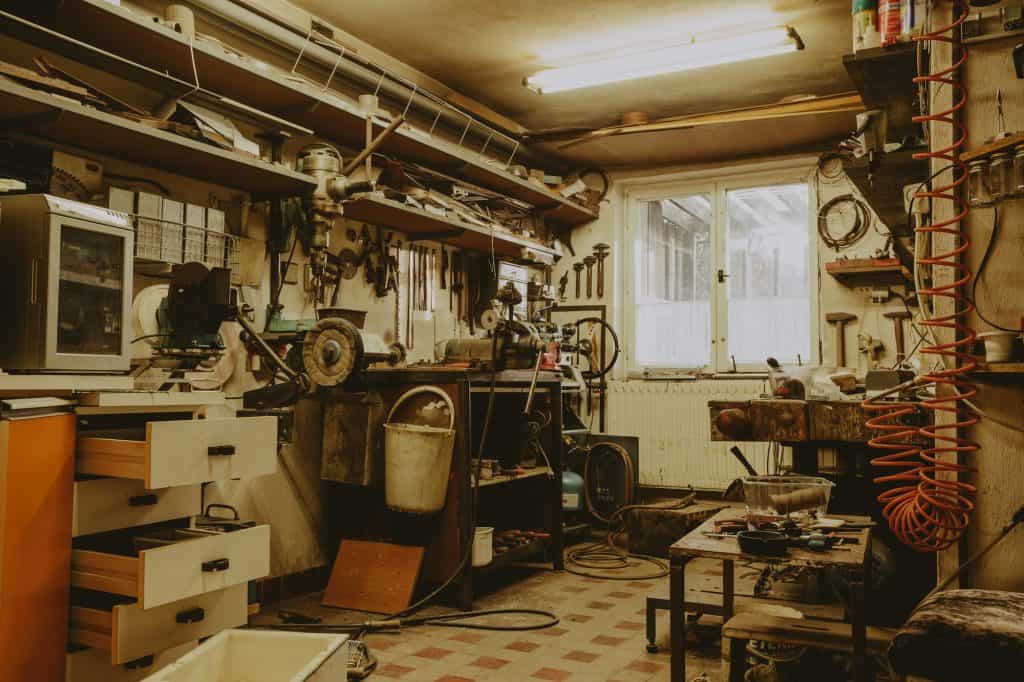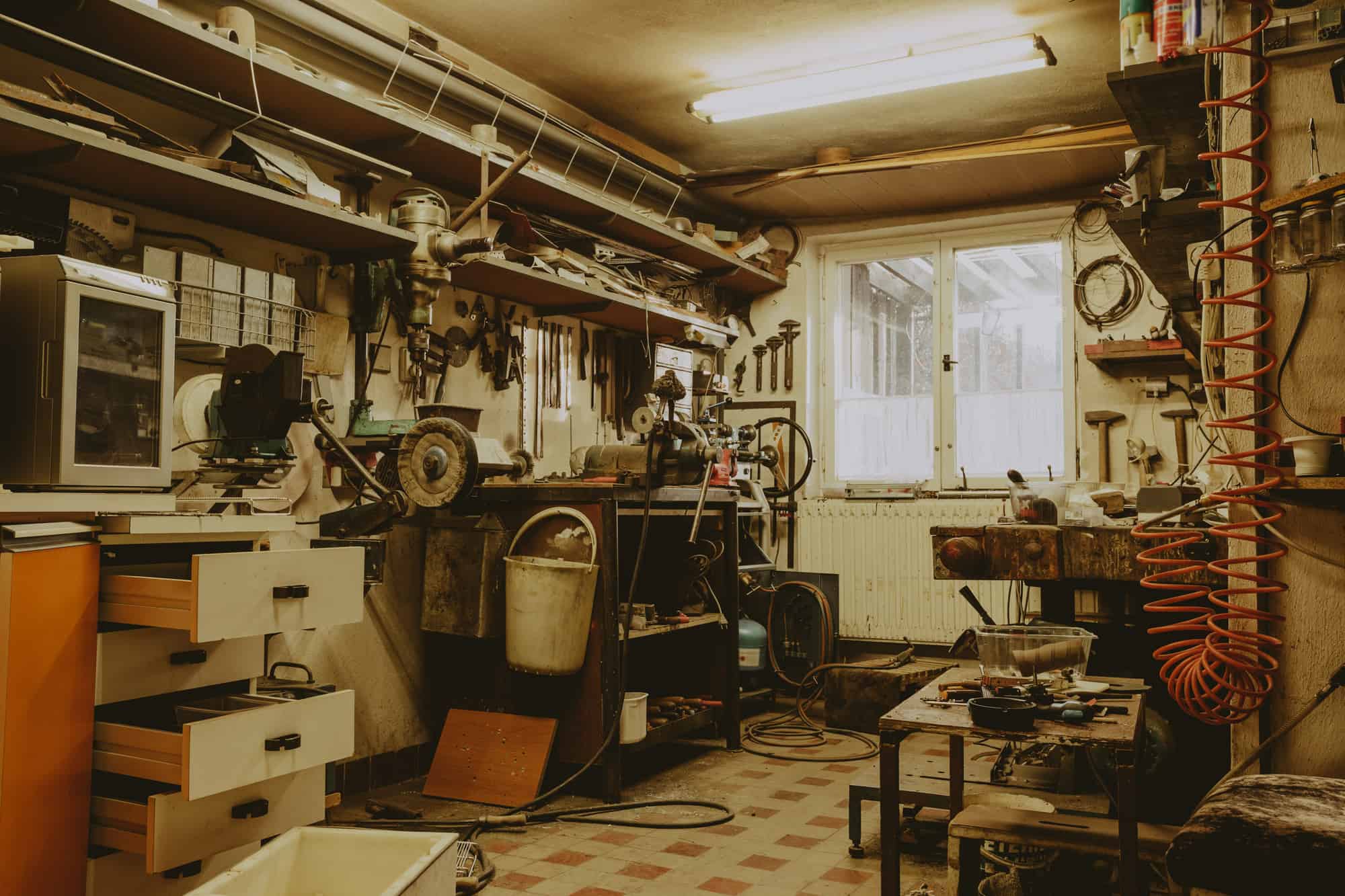 To draw up a budget for your workshop build, here are some tips to guide you:
Make a detailed list of the various stages of the construction, from drawings down to finishing.
Map out work you can do and the aspects you have to contract out.
Get quotes and estimates from the contractors and estimates on the materials you'll need to do your part of the job.
Work out how much time you'd spend on the project (if your income is time-based).
Put together the numbers from the various quotes and add an extra 15% to cover possible overruns.
With a proper budget, you can keep track of materials and costs as the project moves along. If you're struggling with the funding, consider doing the basics like raising the structure and putting a roof, and leaving stages like installing windows, doors, plumbing, etc., for later.
Spend as much time as possible on the quotes stage. You should ideally compare quotes from 3-4 contractors before making a decision. The costs quoted from the various contractors on the specific project should give you a baseline to work with.
However, you should avoid choosing a contractor because they provide the cheapest quote for a specific project. Will they get the job done right at the first time of asking? Are they experienced enough? What guarantees are they offering?
The wrong contractor will only waste your time and money, cutting deeper into your already strained budget.
Constructing a Workshop and Building Permits
Like most buildings, you'll probably need a permit to build a workshop on your property. Your city's county or city zoning and building office is the right place to go for confirmations. You might run into difficulties if your shop contributes to noise and traffic near your neighborhood.
Discussing permits with your local authority will give you a clearer picture of what's possible and what isn't.
Drawings You Need To Submit
The drawings you'll need to submit when applying for a permit for your shop are mostly those relevant to the construction. The submitted pieces have to be professionally drawn. However, you can submit drawings you made yourself as long as they comply with the relevant technical requirements and the prevalent building codes you're bound to.
The drawings required include:
The site plan: It should show an aerial view of your property and the surrounding properties, streets, etc.
Floor plan: The plan should show an overhead view of the floor(s) in the workshop. The plan should detail plumbing fixtures, doors and window sizes, placement of partition walls, and other finishing details.
Structural details: These drawings will show cross-sections of the structure floor, wall, roof framing details, foundation details, the location of footings and posts, etc.
Demolition plan: You'll need to submit this if you intend to demolish an existing structure to build your workshop. The plan will demonstrate how you intend to demolish the structure and any other changes you may want to make.
If all your drawings meet the requirements set by your local building code and there are no other limitations, you should get the permits to build your shop.
Final Thoughts
The cheapest way to build a workshop is to use the cheapest materials possible and do the bulk of the work required to get it from the ground up. If you have the DIY skills to lay a foundation and put up a small metal or wooden structure, you can keep the construction cost down.
You also need to pay attention to the finishing and fittings to choose the bare minimum options to get the workshop up and running. As you start to get income from the workshop, you can improve the finishing and fittings.
Sources